In today's fast-paced digital landscape, images have emerged as the lifeline of visual communication. Whether it's captivating social media posts or eye-catching website graphics, the demand for top-notch visuals has reached new heights. However, not everyone possesses the expertise of a professional photographer or graphic designer. This is precisely where Fotor comes into the picture. As a revolutionary AI-powered image editing tool, Fotor is changing the way we create stunning visuals. In this article, we will delve into the myriad features of Fotor, including its AI Photo Editor, Remove Background, and AI Image Generator, designed to cater to the needs of diverse creative professionals.
Fotor: A Versatile Image Editing Tool
Fotor has cemented its position as a versatile online image editing tool, catering to graphic designers, photographers, and marketers with equal finesse. Boasting a user-friendly interface and a plethora of robust capabilities, Fotor has become the go-to choice for generating exceptional images. From basic editing functions like cropping, PNG to JPG conversion, resizing, and color correction, to more sophisticated options such as creative filters, artistic effects, and precise beauty retouching – Fotor has it all.

AI-Powered Photo Editing with Fotor
At the heart of Fotor's appeal lies its AI-powered photo editing prowess. The AI Photo Editor carefully analyzes photos and dynamically adjusts vital parameters, such as brightness, contrast, color balance, and sharpness, enhancing the overall image quality. This automated process not only saves time but also delivers superior results. Furthermore, Fotor's AI photo editing feature skillfully removes imperfections, smoothens skin, and accentuates facial features, resulting in captivating portraits. With the AI technology taking care of intricate details, users can effortlessly create professional-grade portraits without the hassle of manual alterations.
Seamless Background Removal
Another standout feature embraced by Fotor users is the AI-powered Remove Background tool. Quick and efficient, this tool eradicates cluttered backgrounds from photos, leaving a clean and transparent canvas. Driven by cutting-edge artificial intelligence, the technology automatically detects and erases backgrounds, while still providing room for manual adjustments to ensure precision. Once the background is removed, users can replace it or create a translucent effect, simplifying the process of crafting graphics for websites and social media. This powerful tool effectively streamlines workflows and significantly reduces time-consuming tasks.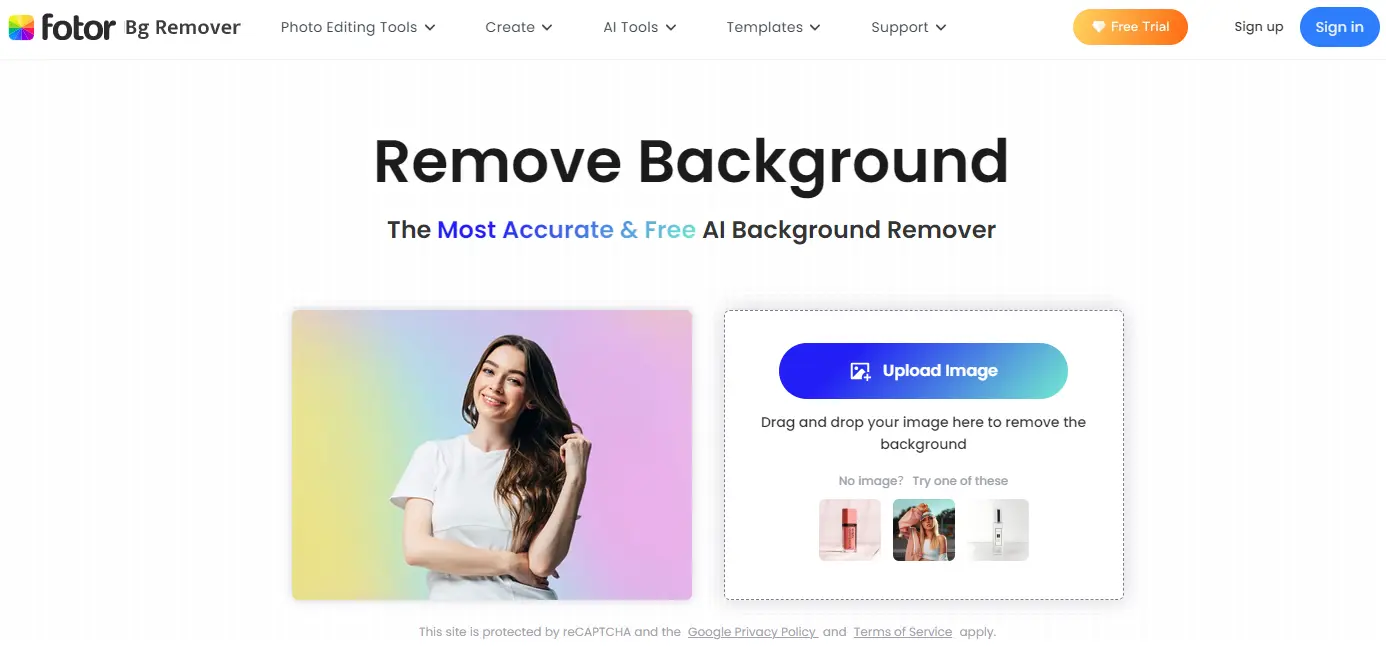 The Creative Power of AI Image Generator
In addition to its photo editing and background removal capabilities, Fotor empowers users with the AI Image Generator, an extraordinary tool for crafting a diverse range of graphics. With just a few clicks, users can input text or upload images, and AI algorithms, based on deep learning techniques, analyze vast image datasets to identify patterns and features that form the foundation for creating novel images.
AI Image Generators unlock exciting avenues for creative expression. Artists and designers alike embrace this feature to bring their concepts to life and explore new visual horizons. Photographers, too, find immense value in this functionality, generating an array of backgrounds, filters, lighting effects, and more to elevate their photographs. Beyond creative pursuits, AI-generated images fuel dynamic advertising and marketing campaigns, producing engaging visuals that set brands apart from competitors. From interior design and logo creation to headshot photography and poster production, Fotor's AI Image Generator broadens the realm of image creation for users across diverse industries.
In Conclusion
To sum it up, Fotor is a formidable AI-powered image editing tool, equipped with features designed to produce high-quality visuals. Its AI Photo Editor, Remove Background, and AI Image Generator exemplify the platform's commitment to empowering designers, photographers, and marketers with efficient and user-friendly functionalities. Whether users aim to curate mesmerizing content for social media, design captivating graphics for websites, or enhance their photo portfolio, Fotor provides the perfect platform to unleash creative potential. Embrace Fotor today and unlock a world of limitless possibilities for elevating your visual content.