Steve Gadlin is a web developer and creative artist from Chicago with a flare for the dramatic. I Want to Draw a Cat For You was just one of Steve's many brilliant ideas throughout the years. The notion was straightforward. People would submit him a scenario or incident, and Steve would turn it into a cat artwork. Because of his knowledge in the IT field, he was able to develop and create a successful website. Local media sources began to promote the idea, and he began to get attention and traffic.
Because he wasn't offering a patented product, he didn't have any great financials to show for it. Steve Gadlin's strength was his ability to amuse. He went into Shark Tank hoping that one of the panellists would trust in him and his ingenuity enough to put money into his current business.
On Shark Tank, I'D Like To Draw A Cat For You
Season 3 Episode 2 Of Shark Tank
Steve kicked off his first appearance on national television by doing what he does best: entertaining. He sang a song for the Sharks about his one-of-a-kind service of personalised cat paintings, which he characterised as his "signature move." Steve began his pitch to the Sharks by stating that he thinks there is a market for "dumb." People pay him $9.99 to have him draw them a cat in whatever location or condition they describe. People like seeing their ideas come to life in one of Steve's drawings, and they especially enjoy seeing their drawings published on his website.
Getting Right To Work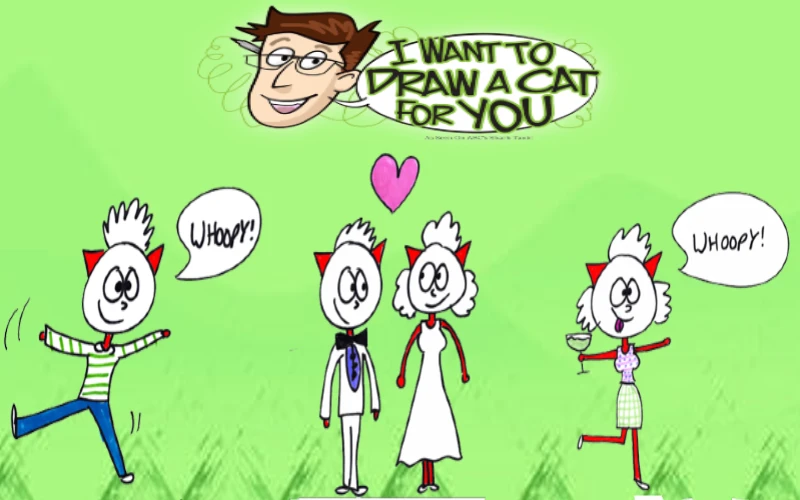 Kevin pondered how large Steve's company might go if he had to draw each and every order by hand. Steve calculated that he could generate 1,000 drawings every week, with a profit margin of $9.23 per drawing. In a single year, he sold almost 1,200 drawings. He was seeking a $10,000 investment from the Sharks in return for a 25% stake in the company. The funds would be used to extend his e-commerce business, and he hoped to use the panel's expertise and connections to turn the concept into a massive moneymaker for both him and them. Steve's knowledge of internet marketing helped him get a spot on Groupon, where he sold almost 1,000 I Want to Draw a Cat For You drawings.
Kevin was also concerned about Steve's status as a "one-man show," and questioned what would happen to the company if anything happened to Steve that rendered him unable to draw. He left out because he didn't view I Want to Draw a Cat For You as a realistic commercial possibility for him. Robert was concerned that Steve had only earned $7,000 profit despite all of the free media exposure he had gotten. He was also gone.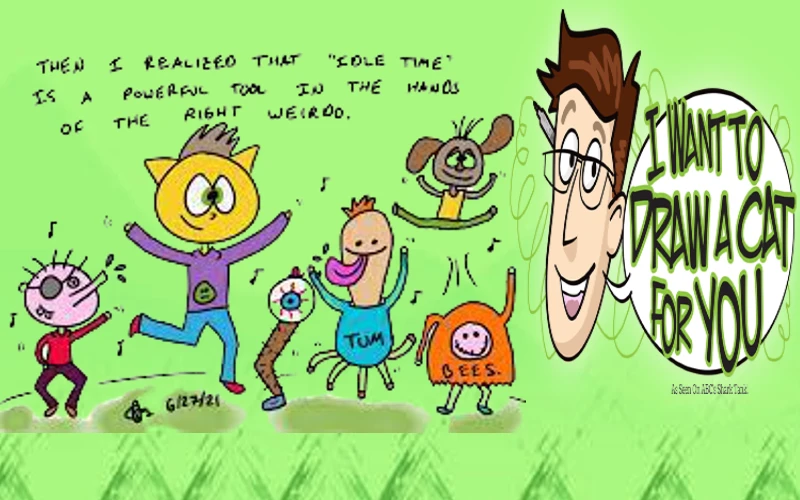 Mark Cuban loved Steve Gadlin because he was a contestant he liked. He was full of energy and zeal. He was confident in his goods and did not hesitate to demonstrate it. One of the pillars of Mark's lengthy line of successful businesses, I Want to Draw a Cat For You, was innovation and thinking outside the box, which was a significant reason fan tuned in to Shark Tank every week year after year.
Mark offered Steve $25,000 in return for a third of his company, but only if Steve accepted the offer straight away without consulting the other Sharks. This was a take-it-or-leave-it proposition. He hoped Steve would be so enthusiastic about working with him that he would accept the offer right away.
Steve paused as he considered Mark's offer. He hesitated long enough for Daymond and Barbara to persuade Steve to listen to them, as they may be able to give him a better contract, netting him a lot more money for his drawings. Steve, on the other hand, was ecstatic about the possibility of working with Mark. He assured Mark that he would gladly accept his offer on one condition: Mark would draw the 1,000th cat image. Mark consented, and the agreement was signed. On stage, he joined Steve, and the two new partners performed Steve's opening dance again.
After Shark Tank, I'D Want To Draw A Cat For You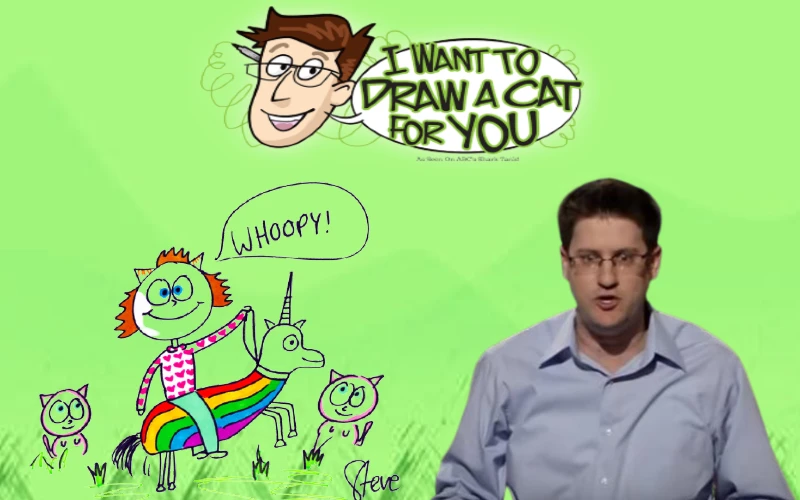 Steve got thousands of email purchase requests for his I Want to Draw a Cat For You drawings after his Shark Tank appearance. Mark was profiting from Steve's artwork and was overjoyed to have struck a contract with such a fun and talented individual. Since the show aired, he has drawn almost 19,000 cats.
Steve's creative production was barely slowed after his triumph with I Want to Draw a Cat for You. He founded "Blewit," a firm that promotes novel concepts like "I Want to Write a Song for You." While Mark owns a third of that side of the company, those initiatives have not been as successful as the original.
Steve had considered putting down his sketch pad and ending his popular and lucrative cat-drawing company at one time. He thought he'd pushed it as far as he could. It took a long time and was excessively upsetting. He also wanted to dedicate more attention to his most recent project, a television programme called Steve Gadlin's Star Makers that showcased unusual and bizarre entertainment acts on a small Chicago station.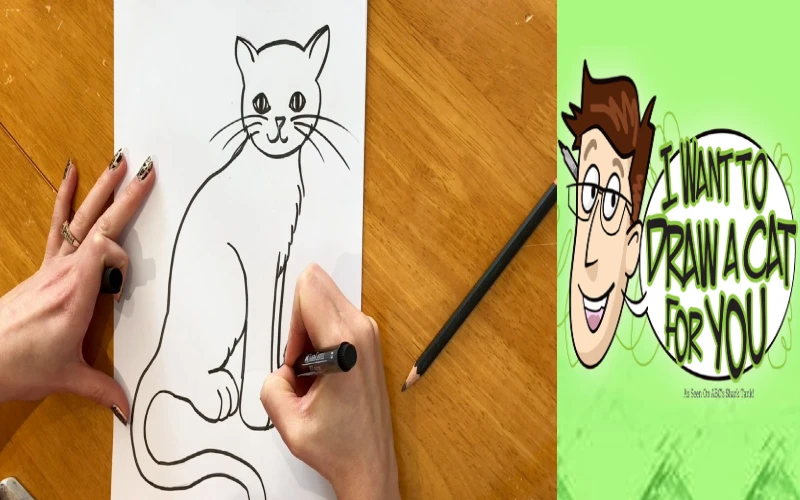 To get the TV programme off the ground, he used a Kickstarter campaign to raise $20,000. Steve didn't want to take time or attention away from the programme, which had developed a cult following, to keep sketching cats.
He never did give up the I Want to Draw a Cat for You thing, thankfully. He did boost the price to $29.99 in the hopes that orders would be easier to handle. On his website, customers can still place orders and see drawings. Mark continues to profit from each drawing Steve completes, and he still draws every 1,000th order.
In Its Second Season, Steve Gadlin's Star Makers Is Still Going Strong.
Disclaimer: This material is for informative purposes only; Royal Pitch is not linked with I Want to Draw a Cat for You, Shark Tank, or any of its companies.
Visit the rest of the site for more articles.