Ethan Smith, the proprietor of SmithFly, was tired of the fly fishing equipment available at camping and outdoor shops. He desired a more streamlined fly fishing vest, a bigger waist pack, and a broader variety. He devised the concept of removable compartments and modular gear in order to tailor his setup for each fishing trip. Ethan's solid expertise in industrial and product design helped him much, and his goods quickly became internet sensations.
Ethan started designing his vests and modular bags at home and prototyping them himself, using his wife's sewing machine to manufacture a few rough product samples. Soon after, he was able to hire sewing contractors who upgraded his concept to something more robust by using the military's popular Molle webbing system. Ethan was ecstatic to see his idea come to life.
Ethan also created the Shoal Tent, a floating tent for SmithFly that is so distinctive and exciting that it went viral almost immediately when he put pictures of it online. He employed a weatherproof tent covering and an inflatable raft foundation with an anchor mechanism. SmithFly has a full array, including clothes, totes, bags, their Shoal Tent, and lightweight boats suited for shallow-water fishing.
Despite Ethan's exceptional marketing talents, which included making numerous SmithFly goods go viral on social media, the company's operating cash was limited, and they struggled to meet the huge demand for their products.
The Profit By SmithFly
Episode 10 Of Season 6 Of The Profit
Marcus Lemonis was interested in learning more about SmithFly and its products. His passion for outdoor activities and curiosity in the Shoal Tent led him to Troy, Ohio, to look into Ethan and his company.
Marcus met Jules, the office manager, and soon recognized how Ethan's poor management abilities were preventing her from doing her job efficiently. Ethan struggled to tell her what she needed to accomplish since he spent his time micromanaging her every action. Ethan didn't have time to concentrate on the more important components of the company since he was spending his time performing the things Jules should be doing. Marcus advised Ethan to delegate Jules' responsibilities so he could concentrate on product development. Marcus advised Ethan that he should devote his attention to either upgrading or producing new items.
Marcus appreciated SmithFly's goods and the technological innovation that he hadn't seen before in outdoor gear. He did, however, offer some recommendations for improvement, as is customary. The boat trailers needed to be stronger, the boat seats were too flimsy, and the Shoal Tent arrived with merely a pedal pump that took too long to inflate the foundation.
Marcus looked into the company's finances and discovered that it had been losing money for the last two years. At best, he expected that the third year would break even. Not only that, but Ethan had been able to keep his finances afloat owing to a number of open credit lines. Even though he owned 100% of the firm, he couldn't afford to pay himself.
Marcus wanted to assist Ethan's firm get out of the hole it was in since he believed in the goods and recognized SmithFly's potential. He proposed a $1 million agreement in return for 50% of the firm. Ethan accepted the offer, and the two of them proceeded to Gander Outdoors to speak with shops and get feedback.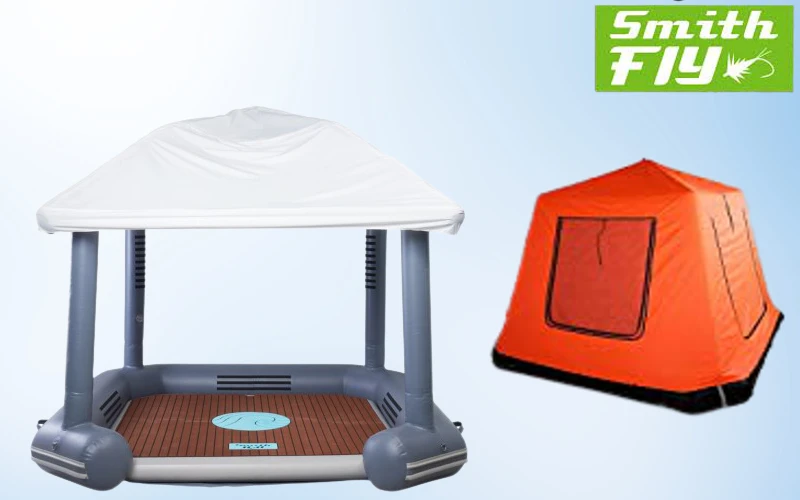 Gander Outdoors liked what they saw and proposed that Ethan construct a boat with a foldable frame as a more accessible form of transportation. They were, however, worried about the company's name and branding, "SmithFly." They thought it gave the impression that the firm was primarily focused on fly fishing while the items could be utilized by a wide range of outdoor sports and enthusiasts.
Marcus's reservations regarding the Shoal Tent's foot pump were mirrored by Gander Outdoors. They thought it required a kickstart to help the setup procedure go more quickly and smoothly. They also suggested that Ethan make and sell add-on equipment like anchors, paddles, and life jackets, as well as promote the tent as a recreational "party" tent with built-in cup holders, Bluetooth speakers, and a cooler.
Ethan was not a fan of constructive criticism. He retorted with nasty remarks and concentrated only on whatever compliments he got for his items. Marcus, embarrassed, requested a private meeting with Ethan. He basically advised him that if he wanted his company to grow and flourish, he needed to listen to other people's perspectives and be open to recommendations.
Ethan showed Marcus a facility in Ohio that he wanted to acquire for inventory, but there were some issues. The location required extensive restorations, and hazardous material was present in the soil. Despite Ethan's desire to work in that field, Marcus thought that the company was not yet ready to consider such a move. He believed the funds should be used to update their present space and goods. The ideal financial option would be to invest the funds in areas that would provide the highest return on investment for the organization, rather than wasting it on areas that would cost them more money.
Ethan buckled down at the conclusion of the episode and opted to concentrate on SmithFly's existing goods and workplace. He also heeded Gander Outdoors' branding advice and rebranded, changing his name from "SmithFly" to "Smith." Marcus admired Ethan's decision to make the adjustments he did, as well as Jules' new position within the organization. CalaMarine and Realtree were invited to a meeting with Jules with the intention of collaborating with Smith and increasing sales.
SmithFly's Life After The Profit
It's unclear how serious Ethan is about the ideas he received on The Profit. At the conclusion of the presentation, he appeared to hint that he was on his way to implementing the changes, including the name and brand change. He seems to be running the firm under the SmithFly brand and website, though. His website emphasizes their delight in producing small batch amounts of things created in the United States. He argues that working in smaller quantities allows them to better oversee and ensure the quality of their goods.
The Gander Outdoors, Camping World, and Realtree websites do not sell SmithFly items.
Royal Pitch is not linked with SmithFly, The Profit, or any of its subsidiaries, and the material presented in this article is only for educational purposes.
Visit the rest of the site for more articles.