Many jobs require workers to wear uniforms. Uniforms help identify workers and signify the type and importance of their job to others. Unique uniforms also serve a functional purpose; they often offer personal protection for those wearing them.
Show these essential uniformed workers your appreciation with high-quality branded merchandise they can use while working, including backpacks, water bottles, and masks. Explore five common jobs with uniforms and practical items their workers can use on the job.
1. Healthcare Worker
The United States Occupational Safety and Health Administration (OSHA) offers guidelines on the uniform, including personal protective equipment (PPE), that healthcare workers should wear. Although guidelines continue to change as pandemic-related conditions shift, basic PPE equipment for healthcare workers includes:
Gowns or scrubs
Gloves
Face masks
Eye protection
Healthcare workers' duties and working environment vary. Doctors, including surgeons, typically wear white surgical gowns that reflect their position. Nurses, medical assistants, and other healthcare workers usually wear scrubs as their daily uniforms.
Scrubs differ from gowns because they aren't kept in sterile conditions until used. They are also typically short-sleeved and can come in various styles and patterns, often indicating the department of the medical facility the employee works for.
2. Firefighter
The firefighter uniform has been around for centuries. Although its origins are difficult to trace, the first firefighter helmet was likely designed in the 1730s and made of leather. A more traditional helmet was created in 1836, and firefighters began wearing wool uniforms with red cotton or wool shirts underneath to protect against burns.
Today's firefighter uniform consists of PPE such as a helmet, boots, gloves, breathing apparatus, and personal alert safety system device. These items go on in addition to the full turnout gear (coat, pants, suspenders) made of fire-resistant materials like Kevlar and Nomex. These materials protect the brave men and women who charge into the heat and smoke to protect and save fire victims.
Firefighters must don their gear quickly, typically in two minutes or less. Their gear can weigh between 80 and 120 lbs., making their uniform one of the heaviest in any industry.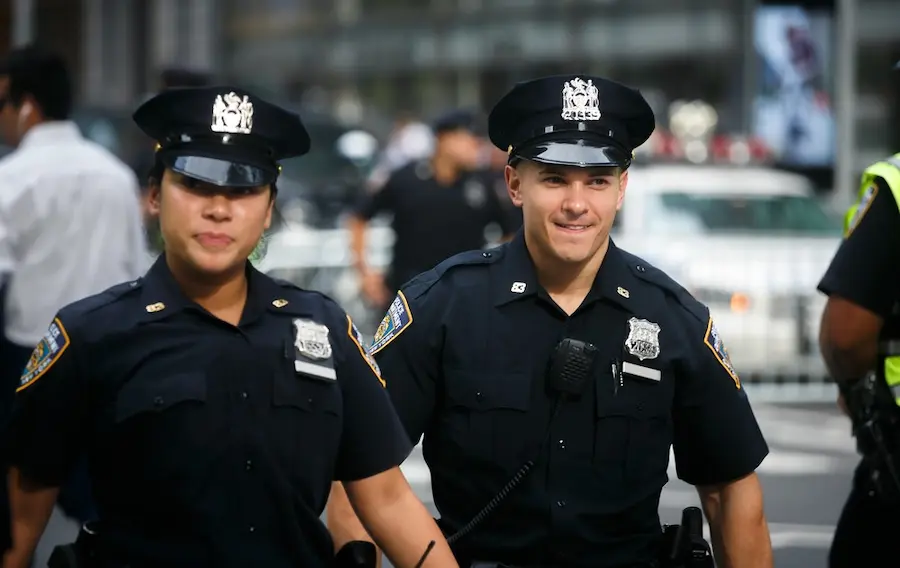 3. Police
The American police uniform is one of the most widely recognized globally. The colloquialism "boys in blue" refers to police forces that don a traditional blue police uniform and conjures images of clean-cut, crisp uniforms and officers with badges.
The police uniform has changed over the years, moving from the small-town khaki pants and long-sleeve button-down with a tie look to today's militaristic, sharp-lined blue uniforms.
A police uniform serves several purposes for the officer that wears it. The cut and color of an officer's shirt identities their important role and can signify the department and location they serve. Their badges set them apart as an authority and offer citizens a way to identify an officer who helped them.
Police officers also wear holsters around their waists. A holster carries their equipment like guns and tasers. Holsters are made of various materials such as Kydex (a polymer that can be created to fit a particular gun model), plastic, leather, and nylon.
The bullet-proof vest that an officer wears under their shift highlights the necessity and purpose of their daily uniform. It is made of Kevlar, a material that protects against bullet injuries. These Kevlar vests are relatively lightweight and made from woven fibers that can stop bullets from reaching the officer wearing the vest.
4. EMT
Emergency Medical Technicians (EMTs) work in the healthcare field, but their uniform more closely resembles a police officers. EMTs must respond to 911 calls under various circumstances, and their uniforms are made to support the work they do daily.
Generally, EMTs wear crisp, Class A, or Class B short-sleeved uniform shirts with functional chest pockets and a pressed collar. Shirt colors vary by department, with white and blue being the most common. These shirts also have military creases and shoulder epaulets to give an authoritative look.  EMTs typically wear patches or badges on these shirts to signify their role.
EMTs pair their shirts with special pocketed pants. These pockets allow them to keep medical tools like scissors, stethoscopes, and gloves within easy reach when responding to an emergency. An EMT also wears heavy-duty, steel-toed boots while on the job. These boots protect their feet when entering unknown locations and using wheeled stretchers to transport patients.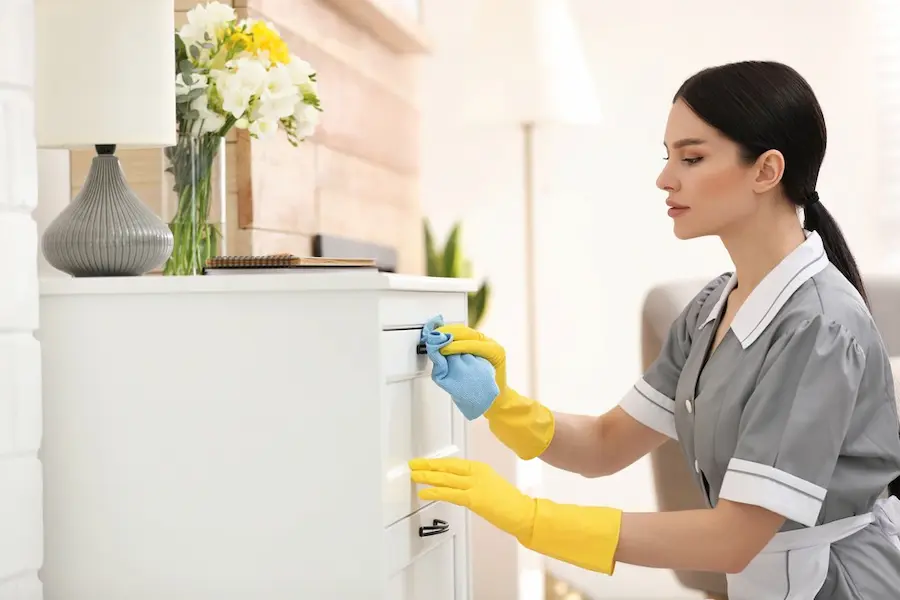 5. Housekeeper
Although housekeepers don't have a standard required uniform, many in the industry wear an unofficial list of items. A housekeeper uniform may include:
Comfortable, slip-proof shoes
Crisp, short-sleeve button-down shift (typically with a white fold on the arm)
A collared tunic and pants resembling scrubs
Gloves
A vest
Housekeeping dress and apron
Housekeeper attire varies based on the working environment. Hospitality staff may wear a more professional, standardized uniform. A housekeeper with a privately owned company may wear a more subtle uniform or be allowed to wear breathable street clothes to the job. Housekeepers who clean medical facilities likely wear scrubs and PPE, similar to those worn by healthcare workers.
These uniforms reflect the practical, functional role that housekeepers play. They don't feature many pockets or decorative elements; instead, they offer a look with clean lines that highlight the housekeeper's job of keeping a space sanitized and organized.
Ways to Support Those in Uniform
To show your support for uniformed workers, consider providing them with practical promotional products they can use during their day. You can place your company's logo on the products for passive marketing or customize a message or logo to support those you provide the products for.
Opt for useful items like:
Water bottles
USB chargers
Backpacks
Masks
Notebooks
Tote Bags
You can also give fun items like gift baskets or safety promotional items like hand sanitizer, keyring flashlights, or safety whistles to show your support.
Show Your Appreciation for Uniformed Workers
The uniformed workers of the world provide critical services for society. Healthcare workers and EMTs care for those who are sick, police and firefighters keep people safe, and housekeepers take care of residential and commercial properties. Whether you are an employer or a third-party organization, supporting these workers with high-quality gifts brightens their day.