Why Are Travel Blogs So Popular?
Tourism is an industry that has been growing rapidly in recent decades. With its rise, the need for tourist services has also increased. Tourists are looking not only for hotels and restaurants but also for attractions and activities during their stay. Many travel bloggers have already taken advantage of this by creating online tourist guides with information about destinations and travel tips. These guides are very helpful for tourists before they travel or even during their stay using a smartphone or tablet.
Indeed, such a blog is beneficial to both tourists and a blogger. You can give tips from personal experience and sell digital goods in one place. Moreover, your blog can be an affiliate site through which you help sell airline tickets, book hotel rooms, or book transfers, earning a commission.
It all sounds very tempting. And if you also decide to get into it, you need a memorable online presence. That's why we're here. We'll tell you where to find web design inspiration and how you can use travel templates to build an awesome website as if a professional had created it.
What You Need First: Domain, CMS, and Hosting
There are many CMSs and domain/hosting companies to choose from when building your website.
Domain. You should pick a domain name that is easy to remember and describes your blog. You can purchase domains for around $13/year through sites like GoDaddy or NameCheap.
Hosting. Hosting services include everything from website building software to servers for your site. There are many providers, but you must find one that best fits your needs. The popular providers are BlueHost, ScalaHosting, HostPapa, and SiteGround.
CMS. Content management systems, like WordPress, Joomla, and MotoCMS, are extensions of a website that help create a blog. They allow you to edit content like posts, pages, and images without knowing the code. Advanced users can even make a site without such platforms. Therefore, there is no extreme need for CMS. But still, most site-builders prefer to do everything through the admin panel, which provides many customization options.
Also read: How To Improve The Domain Authority Of The Website?
Here's a little more visual aid on what you need for a trendy travel blog:
Create Your Online Tourist Guide: Ideas for Inspiration
So, if you are still interested in the industry, the first step would be to develop an idea for your tourist guide. This can be done by:
brainstorming
researching other tourist guides, travel blogs
asking friends for their opinions
using a site like TripAdvisor to see what people are looking for when they travel
Let's make it a little easier for you and show examples of existing sites successfully developing on the web. So, below are three simple website ideas for travel guides and the best travel blog templates that will help make your site look professional.
iFlyMagazine.com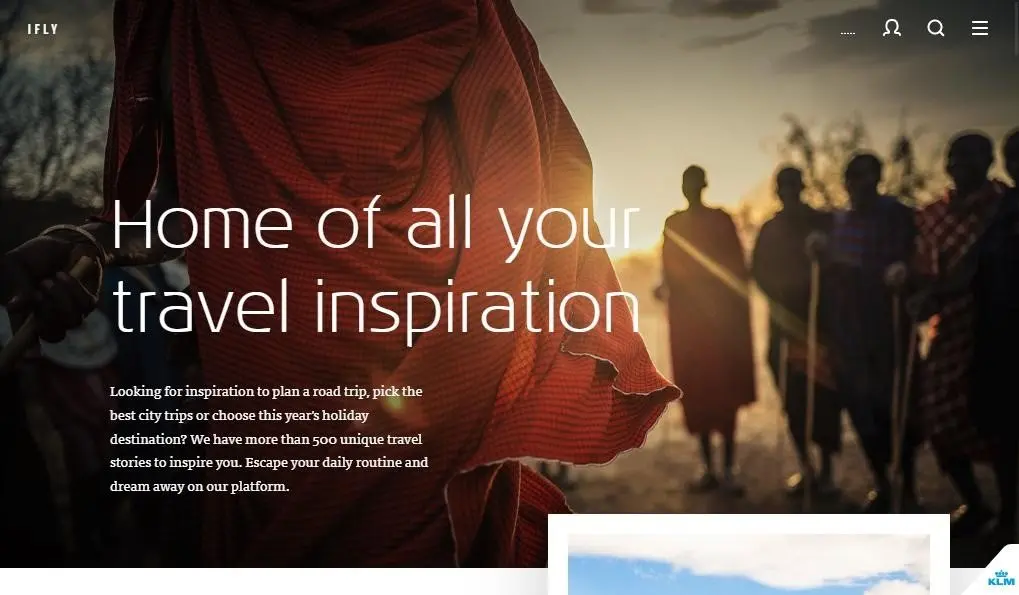 An example of a blog for those looking for inspiration to plan a road trip, choose the best city tours, or pick a vacation destination this year. The site features a vertical pull-out navbar with internal and external key links (including social media). Parallax and lazy load effects create a fascinating 3D atmosphere. The site is generally more of an online magazine than a blog. Each issue of the magazine tells stories about different places on the planet.
IndieTraveller.co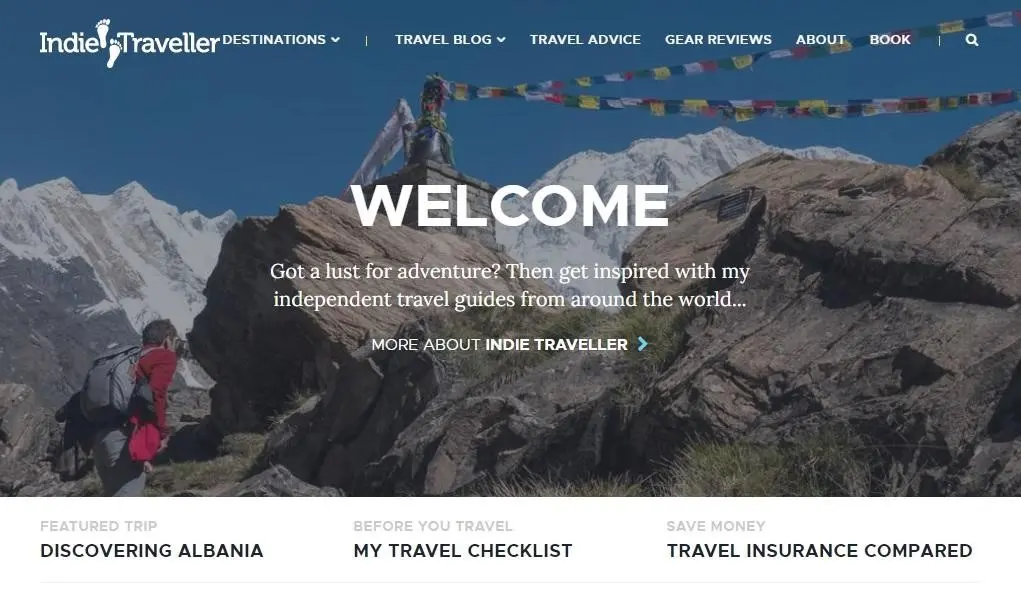 A simple and eye-pleasing travel blog. The blogger talks about travel on all continents, advises aspiring adventurers, and reviews tour gear. In addition, the author sells a guide to planning grandiose adventures. As for website trends, there is a sticky dropdown mega-menu, a tiled interface, a slider, a newsletter subscription form, and integration with social networks.
Also read: 7 Best Ways To Get Viral On Instagram
SaltInOurHair.com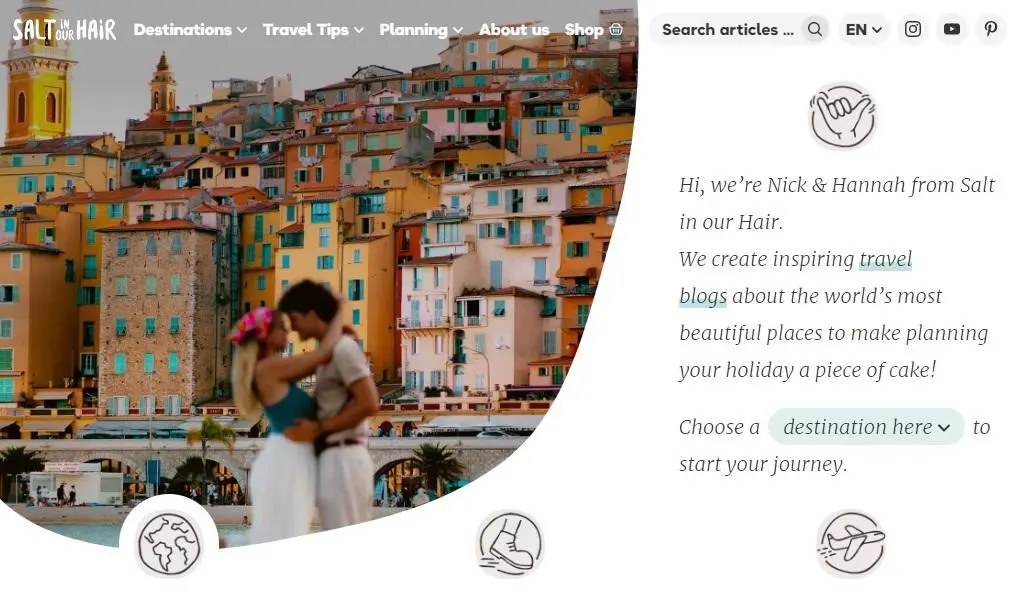 If you're a couple in love and adore traveling together, this website idea will inspire you. In addition to world tour guides and traveler tips, the site provides information on planning a trip (finding a hotel, car rentals, cheap flights, travel insurance, etc.). There is also a shop section, which sells photo presets and a guidebook.
Top 5 Best Travel Blog Templates
Now let's take a look at ready-made web designs that will help you create an attractive look for your site.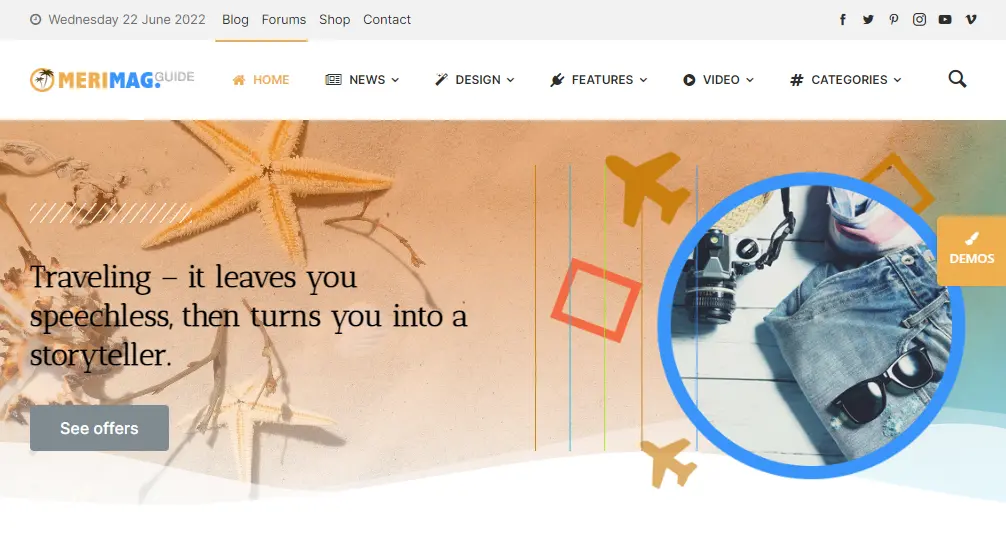 One of the best travel blog templates out there. It is a colorful, fun site design that is a blog, a shop, and a forum simultaneously. Right in the header is all the important information. Presented as a mega menu, it shows previews of the latest articles, videos, and news. Besides, you can rearrange them into your categories and sections if you wish. After all, the user-friendly WordPress dashboard gives you tons of options. Moreover, the homepage shows top stories, travel tips, social links, videos, etc. Everything is organized with the best usability in mind.
Features:
100% responsive
39+ Elementor elements
Sticky header
Scroll-to-top button
RTL-ready
WooCommerce support
Ads unlimited locations
Galleries
Video playlist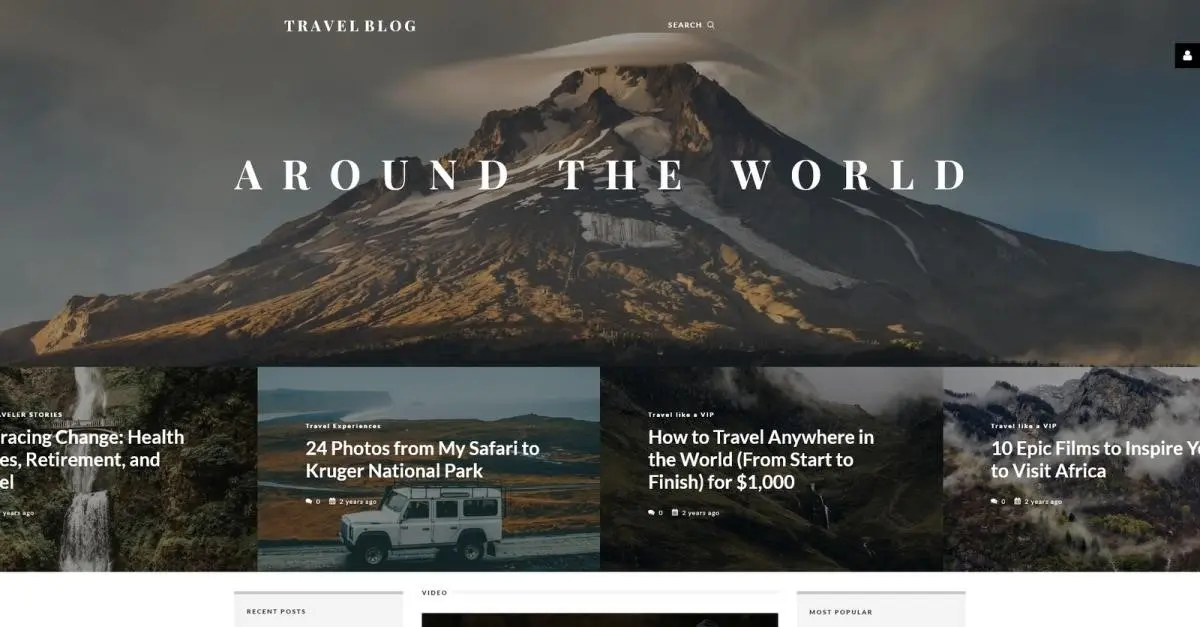 A great theme for travelers and photographers. It's very simple but very clear. The header is not loaded with links and contains only the search bar. At the very beginning, we see the recently published posts. The homepage then begins to be divided into three columns with articles, stories, and videos. There are also blocks with social links and a newsletter subscription form. At the very bottom is a slider gallery. This is a perfect option if you've chosen Joomla as the platform.
Features:
Mobile-friendly
Cross-browser
Scroll-to-top button
Social media integration
Login/registration form
Sliders
Bootstrap Tabs
Komento form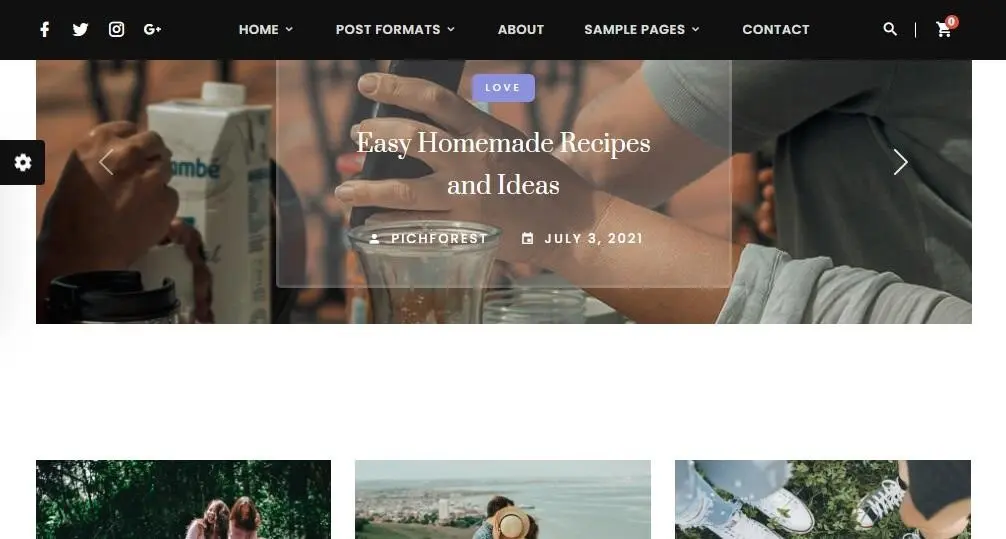 This is the option that would mainly suit developers. It is one of those HTML5 traveling website templates that are not designed for CMS and are not installed through the admin panel. This theme has a very informative homepage. It shows a lot of different article previews. The site integrates closely with the Instagram account, but there are links to almost all known social networks and video services. In addition, there are several homepage layouts and light & dark modes to choose from.
Features:
W3C validated code
Bootstrap 5.x
100% responsive
Font Icons
Well commented HTML & CSS
Google web fonts
Gallery
Parallax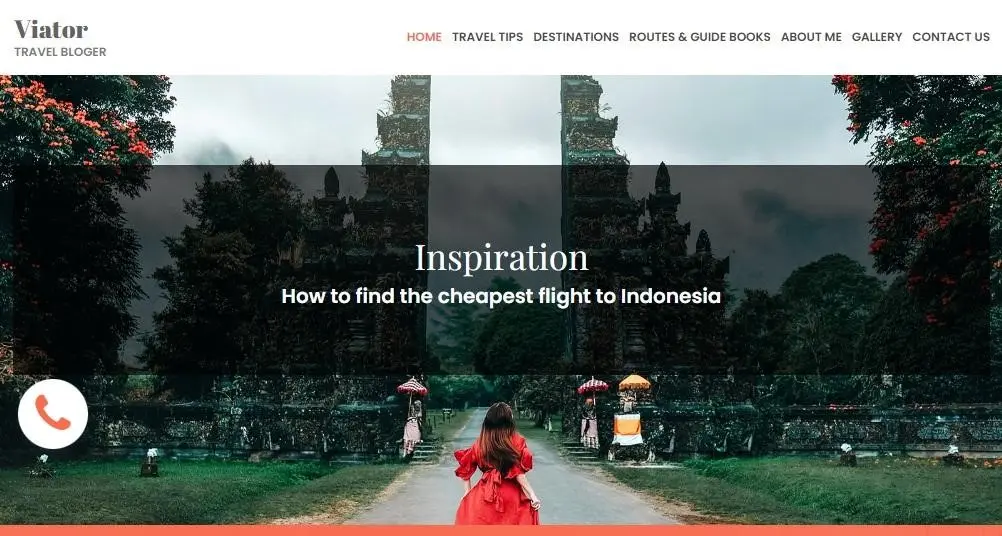 What makes this theme cool is the web platform. MotoCMS is not only user-friendly, but you can also try out its compatible travel-themed website templates in demo mode. Its control panel is intuitive, multifunctional, and works on a drag-and-drop principle (i.e., no code). As for the interface and design of the template, we see a sticky multisection menu, blog previews, widescreen video, and an Instagram gallery. In addition, if you suddenly decide to sell the book through your blog, there is a special form to buy it.
Features:
Fully responsive
Multilanguage support
Subscription form
Galleries
Color picker
Video/audio widgets
Free 14-day trial period
3 Tips on How to Find the Best Blog Design for Travelers
Web design can make or break your site. Therefore, finding a high-quality template that suits your needs and preferences is important.
1) Determine What You Want. Think about what you want for yourself. Do you want something simple and minimalistic? Or do you want something with lots of features? The more specific information you have, the easier it will be for you to decide.
2) Search for Websites with Similar Designs. Look for more sites other than the ones listed above to get inspiration. It's also crucial to look for similar websites in ways such as the type of content they provide, their audience and clientele, and design features.
3) Compare Website Templates. After finding the best travel blog templates, you can compare them. You may want to change a few things on each theme, and where there are fewer potential edits, that's likely to be the go-to option.
FAQ
Are travel blog templates SEO-friendly?
The templates reviewed above are SEO-friendly, follow the latest coding standards, and include valid code. That way, you will be able to manage your site without any worry about SEO issues.
What are the top WordPress travel blog templates?
If you're an aspiring travel blogger and want to jumpstart your career with WordPress, here are some themes that will help you attract targeted audiences. Use the site search or simply select the WordPress category, and then pick the topic you want.
Can I use a free template to create the best website for a travel blog?
To create a "test" website, yes. To create a potentially good site, no. The freebies are available for educational purposes only and should not be used commercially. The paid templates offer more flexibility and variety and have a technical support team to help you with any issues caused by a theme. So the investment (and it's negligible — $59 on average) is worth it.
Where can I find the best travel blog templates?
The TemplateMonster marketplace, for example. It is an industry leader in providing web designs. They offer a variety of customizable and responsive templates designed to suit different needs and budgets.