Trippie's Basics Company
App For Navigating Airports
For A 10% Stock Stake, The Asking Price Is $100,000
None In The End
Ryan Drew spent a lot of time at airports as a young college student and travelling basketball player. Ryan came up with the concept for an app that visitors could use to connect with one another and map out areas at the airport while waiting for connecting flights and walking the airport terminal looking for a nice place to dine while waiting for connecting flights. He built and launched Trippie before graduating, and he and his brother worked together to improve and build the software. Ryan sent Trippie to the Shark Tank in the early phases of growth and expansion to see if he could obtain a cash boost and some advice from one of the panel's successful entrepreneurs.
Shark Tank's Trippie
Season 9 Episode 2 Of Shark Tank
Ryan entered the Shark Tank after one last embrace from his mother, telling the panel that Trippie was meant to be the go-to app for navigating huge airports and interacting with other weary passengers. He was seeking $100,000 in return for a 10% stake in Trippie.
Ryan informed the Sharks that he felt like he was constantly at an airport as a college student from Oakland who was also a student-athlete. Spending hours at an airport terminal may be aggravating, particularly for frequent travellers like him and professionals who travel for work on a regular basis.
Ryan decided to demonstrate rather than tell the Sharks about his experience, so he collected up his belongings. He noted that the directories were never where he wanted them as he was walking down the terminal, so he would travel throughout the airport looking for something that may not even be there.
Ryan said he usually ends up waiting around the newsstand closest to his gate, picking up a soggy tuna sandwich. He told Trippie that he would never have to settle for whatever the nearest store had to offer, dumping the tuna sandwich into the stage trash can. He could easily locate a huge, wonderful burrito instead of that sloppy tuna sandwich. He bit into the burrito he'd concealed behind a stage plant with a hefty mouthful.
Ryan started by demonstrating Trippie's work on a large screen display to the Sharks. "Shark Tank International" was listed in a list of airports. When you click on the airport, a selection of eateries appears, including "Shark Tank Diner." When you click on the restaurant, Trippie displays the restaurant's gate position, how far he was from it, and the restaurant's operating hours. A blue dot on a map displayed the user's position and directed them to their goal.
Ryan said that Trippie would reduce the majority of the tension involved with flying, and he requested the Sharks to assist him in getting Trippie into the hands of millions of frequent flyers across the globe.
Robert inquired about the number of airports that had been added to the programme. Ryan said that he presently has four airports – San Francisco, Atlanta, Chicago, and Toronto – and is planning to add five more.
Barbara said that eateries, particularly in airports, are constantly changing locations, pricing, and menu items. She was curious as to how Ryan added and updated Trippie's information. According to Ryan, all data is now manually entered with descriptions of the restaurant's menu items, such as the kind of cuisine or beers offered.
Calculating The Facts
Ryan stated he had rejected down a dozen employment offers from huge businesses like Google and Facebook to work full-time on Trippie after graduating only a few weeks before the filming. He said that he is always thinking about it. Ryan stated that he still lived with his parents when Mark inquired.
Ryan was in charge of Trippie's coding and IOS development. There have been 850 downloads and roughly 160 active users each month since he originally posted the software. Ryan acknowledged that there were other applications that performed roughly the same thing as Trippie, but Robert encouraged him not to worry about rivals; he wanted to know why Trippie was better than the competition.
Trippie's major purpose was to connect passengers at airports. Trippie, Ryan believed, would become the Waze of the airport. As they neared, he imagined tourists asking each other how long the TSA queue was. Lori felt it was a wonderful idea, but Ryan's presentation didn't contain it.
Ryan tracked passenger movement across an airport using the Google Maps API. Trippie, on the other hand, would develop a community of passengers who could share and exchange information about their airport experiences.
Barbara was curious as to what Ryan planned to do with the investment money he hoped to get from one of the Sharks. Ryan said that the ability to put people's itineraries into the app was his main objective at this time. He claimed that monthly users had climbed 40% in the weeks following graduation, but when he disclosed it was just 179, Mark observed that the growth was negligible at that number.
Robert was perplexed as to why Ryan had not discovered a technique to connect to airport backends. Ryan said that he had not contacted airports to attempt to establish direct contact with them.
Lori said Ryan's concept to become the Waze of airport terminals was a good one, and that he should concentrate on the functionality of displaying security line wait times. She expressed regret for not seeing that some of the extra functionalities were already in the works before backing out. Ryan seemed upset, complaining that he lacked a wealthy uncle or pals who could invest in Trippie. Robert was not pleased with this and chastised the young businessman, explaining that he was an immigrant and that his mother worked as a receptionist. Ryan needed to toughen up, be more creative, and recognise the gravity of his predicament. Robert went out with Rohan after telling Ryan that he needed to produce value for Trippie.
Ryan was extremely unhappy when three Sharks were eliminated. Barbara informed him that she felt Trippie was a nice concept, but that it wasn't nearly a company yet, and that it was too soon to ask for money. She bowed out as well.
Trippie, in Mark's opinion, was more of a feature than a commercial product. He explained to Ryan that he knew how difficult it was to establish a firm of this kind and that the most difficult part was learning to assess his condition properly. Mark wished Ryan well but informed him that he was also out.
Ryan expressed his disappointment, stating that he had invested his blood, sweat, and tears into the project. Mark encouraged Ryan to quit patting himself on the back. All of the Sharks on the panel had put in a lot of effort to get to where they were. Mark reminded Ryan that all he had to do was work hard to show himself and the worth of his company.
What Has Happened To Him? After Shark Tank, Trippie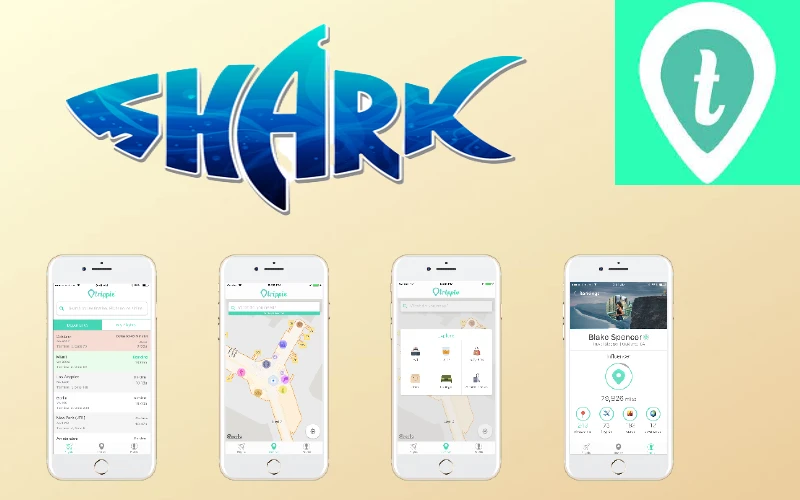 Trippie was only at four airports when the episode aired. Trippie will be at 22 airports across the globe by June 2020.
Ryan may have been depressed after leaving Shark Tank without a contract, but he has not given up. Trippie has received multiple improvements since his debut, including the inclusion of 18 new airports and the growth of international hubs in Frankfurt, Sydney, and Tokyo.
Trippie may now look for eateries at airports based on their category and location. As a tool to connect tourists, the app now includes a restaurant rating system.
While Ryan did not leave the Shark Tank with anything, he did win the $10,000 "Tech Done Right" pitch competition and was named to a list of the most prominent African-Americans in technology.
Disclaimer: This material is for informative purposes only; Royal Pitch is not linked with Trippie, Shark Tank, or any of its subsidiaries.
Visit the rest of the site for more articles.