Autopilot Robin Bart Lomont and Justin Crandall, Shark Tank Dallas locals, started their lawn care firm, Robin, in 2015. Robin, dubbed the "Uber" of lawn care, would hire local firms to do the mowing, trimming, and weeding. Robin had 6,000 consumers queued up in seven locations in only two years.
When Lomont and Crandall started to look into new business opportunities, they learnt about Roomba-style lawnmowers that were gaining popularity in Europe. A Roomba mower, like its indoor counterpart, might use robotic technology to eliminate human labour from yard care. Plus, they were much more environmentally friendly than ordinary gas-powered mowers. They renamed their company Robin Autopilot in 2017 after deciding to integrate robotic mowing into their service packages.
In November 2017, Lomont and Crandall featured on Season 9 of Shark Tank. They'd offer the Sharks $500,000 in return for a 5% stake in the firm.
The Shark Tank's Robin Autopilot
Season 9 Episode 10 Of Shark Tank
Justin started his presentation by informing the Sharks that the lawn care market in the United States is worth $70 billion. People who depend on landscaping businesses to maintain their homes are often let down by unreliable personnel, inconvenienced by a loud noise that might disturb a newborn or disrupt a conference call, and exposed to the horrible air pollution created by standard gas-powered mowers.
When Bart rushed in to say there was a better way, a robotic mower appeared and began winding its way over a plot of grass, mowing it as it went. The robot chops a little quantity of grass as it passes, and the clippings land on the lawn to function as fertiliser, according to Bart. Justin went on to explain how a wire border is constructed to keep the robot inside the property's boundaries.
The technology, according to the inventors, comes from Europe, where households were among the first to embrace robotic lawn mowing. Lori inquired as to whether they were promoting a product or a service. According to Justin, each robotic mower costs between $1,800 and $1,900, with weekly care costs as low as $17. He went on to say that the Robin Autopilot service featured human teams to handle tasks like pruning, edging, and weeding and that customers could choose from three different weekly package choices to get the services they desired.
Backing back a little, Justin noted that he and Bart launched the firm as a "Uber-like" lawn care service, subcontracting services to local landscapers who use standard gas-powered mowers. They had scheduled 10,000 tasks each month for a total of $400,000, or just under a $5 million run rate, with that component of the firm. All of their present clients were to be converted to a robot mower plan. Lori inquired whether the mower makers were attempting to sell the mowers to clients in the United States, to which Justin said that they were, but that if a customer purchased a mower, they would need to hire a landscaping business to handle the extras such as edging and trimming. Consumers would have a difficult time finding a business that would offer a reasonable price for only the edging and trimming services. A customer might be better off paying for robotic mowing as a service rather than as a product.
When asked how much money they had raised thus far, Justin said that they had raised $3 million, had ten full-time employees, and had 80 crews under contract. They had made $3 million in sales the year before, but reckless spending had resulted in a $1 million loss over the same time period. In addition, the company's monthly burn rate was $100,000. Mark inquired whether they had broken even, to which Justin replied that they could if they stopped investing in the equipment. Mark predicted that getting into the company would be costly.
Lori expressed her reservations. Mark agreed, pointing out the high acquisition and personnel expenditures necessary to expand the company. Richard did not believe the $10 million value was reasonable, and Robert did not believe the situation had reached a critical stage. After complimenting Lomont and Crandall's efforts, Daymond returned to underline the significant losses. He, too, dropped out. The Sharks wished the two good luck and expressed gratitude for their appearance on the broadcast.
Bart and Justin exited the tank, but they seemed unfazed. They realised they had the potential to grow into a multibillion-dollar business in the United States, and they were going to be the ones to make it happen.
After Shark Tank, Robin Goes On Autopilot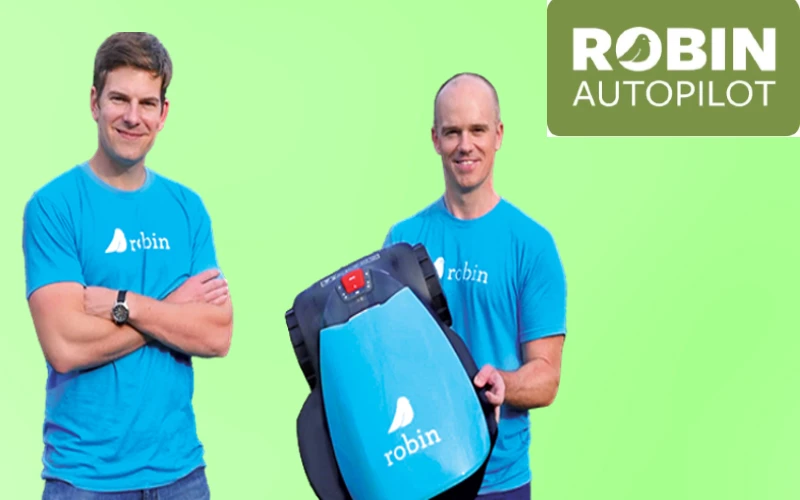 Comment and Crandall sold off the conventional aspect of the firm soon after the show aired, focusing entirely on service plans that included the robotic mower. Then they started selling franchises, which helped reduce installation labour costs by having local franchisees do the footwork and give financial flow to Robin Autopilot.
While Richard was unhappy with the firm's value, the founders were able to find a large investor in MTD goods (along with a few other investors) and the company was able to meet its desired price. With the funding, Robin Autopilot was well on its way to expanding its franchise network.
Fahey Group, an Ohio-based investment group, purchased Robin Autopilot in July 2019. With that acquisition, the firm relocated its offices to Cleveland (where Fahey Group is headquartered), and Logan Fahey, the company's creator, was named CEO. Comment and Crandall will continue to serve as consultants.
Fahey predicts that the lawn care sector will be dominated by robots in one to three years. Large manufacturers have either entered or are planning to join the robotic lawn care sector. Robin Autopilot aspires to be the market leader, and its immediate goals include scaling up its existing businesses.
It will be interesting to observe if the industry moves toward product-based sales, as Lori predicted, or whether the existing service model continues to be the most profitable.
Royal Pitch is not linked with Robin Autopilot, Shark Tank, or any of its companies, and the material offered in this article is only for educational purposes.
Visit the rest of the site for more articles.