When children are ill and must take oral medication, they are frequently terrified and frightened. Tiffany Krumins is an Atlanta native with a medical background and a desire to start her own business. As a nanny, she dealt with a lot of kids who didn't want to take their medication, something many parents can relate to. Tiffany was motivated to develop a way of administering a medication that would alleviate the worry of a, particularly obstinate Down syndrome child. She made a prototype of Emma the Elephant out of cloth, sponges, and a plastic medicine dropper, which she later renamed Ava the Elephant. She even made it speak by inserting a recordable audio chip from a greeting card.
She knew it was a wonderful concept, and it was working for the kids she was keeping an eye on. Tiffany, on the other hand, lacked product development expertise and experience and ran into problems obtaining a patent and distributing the goods in shops. After submitting an application to the Shark Tanks, she was asked to participate in the show's first episode.
Shark Tank's Ava the Elephant
Season 1 Episode 1 of Shark Tank
Tiffany approached Shark Tank with a $50,000 investment in return for a 15% stake in the company. She told how the idea occurred to her and how she wanted to alleviate the stress and worry that comes with giving children medication, for both the kid and the caregiver. She gave the Sharks prototypes of Ava the Elephant and showed how it worked.
Kevin O'Leary's initial worry was that if the kids associated Ava the Elephant with taking medication, the drug would lose its effectiveness. Tiffany defended her product, explaining that youngsters are frightened of the procedure of receiving the medication, not the taste of the medicine. Ava the Elephant really compliments the kid on taking their medication, which makes them smile. Kevin thought Tiffany's firm was more of a concept than a real company, and he doubted he'd be able to make a profit. He was no longer among us. Daymond and Kevin Harrington agreed but refused as well.
Robert loved the product and could sense the creator's passion and dedication. He did, however, concur with his fellow Sharks that Ava the Elephant seemed to be a fantastic concept, but not significant enough to be considered a full-fledged company prospect. Rather than seeking investors for Ava the Elephant, he believed it was in Tiffany's best interests to attempt to work out a licensing agreement with a large corporation. She didn't appear to think of licensing as a viable alternative to making a real commitment. In any case, Robert also dropped out.
Barbara was the last Shark to go. She was enamored with the idea and believed it would work as promised in aiding youngsters in taking their medication. Barbara couldn't see how she'd be able to recoup her investment with just a 15% stake in the company. Tiffany accepted her $50,000 offer, but she demanded 55 percent ownership of the company, giving her a major stake in Ava the Elephant's destiny. Tiffany attempted to work out a compromise that would enable her to keep control of the business, but Barbara was not interested in playing hardball. She was only willing to make this bargain.
Tiffany made her Shark Tank debut on the very first episode. She didn't get to see other entrepreneurs on the program bargain with the panel to figure out what worked and what didn't, what was valuable and what wasn't. Over time, individuals who came to attempt to make a bargain started to examine all of the financial and non-financial advantages of teaming with one of the Sharks.
Tiffany found out on her own what Barbara might contribute to her company, apart from the financial commitment to get a patent and enhance exposure, at the time. Tiffany accepted the arrangement because of Barbara's business expertise, connections, and promise to assist her while she learned the business side of things. Barbara assured her that the two of them would earn a lot of money together.
After Shark Tank, Ava the Elephant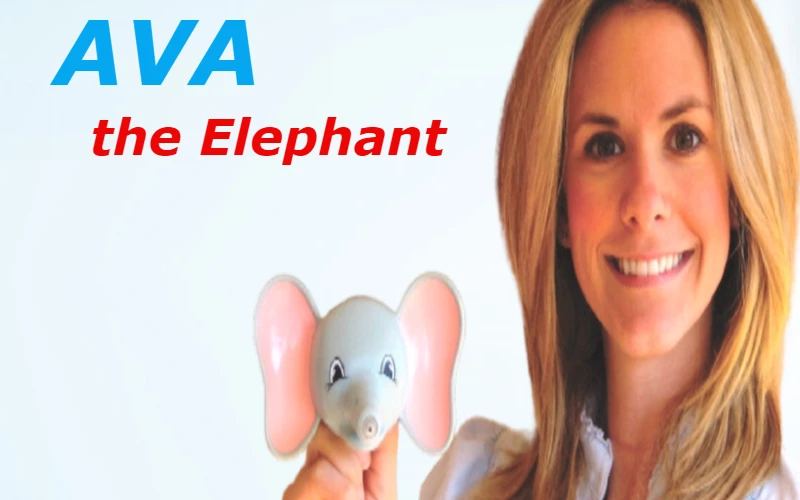 Barbara lost a lot more money than the $50,000 she promised Tiffany on the program. Barbara invested upwards of $285,000 in the company after discovering that getting Ava the Elephant onto the market was more costly than she had anticipated.
The dropper in Ava the Elephant was rendered unusable due to a pharmaceutical recall. Tiffany had no choice but to rebuild the product from the ground up.
Tiffany and Barbara were successful in overcoming these challenges and making Ava the Elephant a great success. Ava the Elephant has in-home and hospital versions, and Tiffany is pleased that she has been able to create jobs for American employees.
Tiffany was diagnosed with cancer at the age of 27 shortly after appearing on Shark Tank. While physicians operated on her cancer, she set up a command center in the hospital and ran her company. With the assistance and support of Barbara's years of business expertise, she learned how to work with suppliers, investors, and manufacturers. Tiffany overcame cancer and now runs a successful company. Thousands of shops throughout the nation carried Ava the Elephant, including Amazon, CVS, Kroger, Safeway, Walgreens, and Walmart. Ava the Elephant is currently marketed in Canada, Australia, Europe, and Asia and is available in many languages.
Tiffany's first guest on "The Tiffany Krumins Show on Business RadioX" was Barbara. Tiffany has been dubbed a "modern-day Mary Poppins" by some. Forbes.com, TVGuide.com, MomInventors.com, and a slew of other online and print media have covered her tale. Tiffany has struck a license agreement with Baby Delight, a support organization for parent-inventors.
Tiffany combined her love for helping children with her professional experience to develop a helpful tool that would bring a smile to their faces while also assisting them in getting well when they are sick. Her dedication and desire to make Ava the Elephant a success was shown by her struggle with her own medical problems while attempting to develop her company.
The material in this article is given only for educational purposes; Royal Pitch is not connected with Ava the Elephant, SharkTank, or any of its subsidiaries.
Visit the rest of the site for more articles.