With hundreds of new supplements surfacing every day and promising drastic results in a short amount of time, it can feel overwhelming to navigate which is best for you and what company you truly want to stand behind.
That's why we recommend sticking with natural herbs and medicines that have a proven track record of success.
Kratom is a natural herb known for its euphoric effects and quick mood boosts, and Hush Kratom is one of the many brands you can purchase this supplement from.
If you're looking for an outstanding kratom brand to start or continue your kratom journey, this article is for you.
What is Hush Kratom?
Hush Kratom is an American Kratom Association-certified kratom extract brand with an established presence and community.
As one of the best-selling kratom companies, most consumers are willing to pay an extra few bucks to purchase Hush Kratom products instead of going to its competitors for cheaper alternatives.
You can find kratom in a variety of ways (like plain-leaf flower), but Hush Kratom uses a unique cold-extraction method to extract kratom alkaloids for a pure dose with heightened effectiveness.
Here are the best reasons to use Hush Kratom products:
Hush Kratom uses an FDA-approved facility to manufacture its products and provides lab results for each batch (you can find this here) so you know exactly what you are taking and how it was made,
What are the Benefits of Hush Kratom?
Because of their cold-extraction process, Hush Kratom extract products are significantly stronger with smaller doses. (You can take less with more results.)
Hush Kratom also offers a variety of products, like gummies, caramel candies, powders, and shots, so you have your pick of the litter when choosing how you want to consume this natural herb.
Many supplement users do not realize that this market is not regulated by the FDA, but Hush Kratom goes above and beyond for its consumers by prioritizing the use of food-grade solvents so that each product is uncontaminated, controlled, and reputable.
Likewise, each product comes with a specific dose mentioned on its label. Because of this, you always know exactly how much of each product you are taking, so you can dose accordingly.
What Makes Hush Kratom the Best Kratom Extract Brand to Use?
Hush Kratom is one of the best brands to choose from for a variety of reasons.
While many kratom supplement companies pump and dump products as often as they can, Hush Kratom chooses to stick with what works, while constantly workshopping new products their users will love.
Additionally, Hush is one of the only supplement brands that uses an FDA-approved manufacturing warehouse–which is a huge pro whenever it comes to a product you ingest.
Unlike many other companies focused on kratom extracts, Hush Kratom offers a variety of products any kratom user can choose from!  From caramels, to gummies, to simple shots, if you're a fan of kratom, there's something for you.
They have some of the best choices for beginners and the strongest doses for long-time users.
7 Most Popular Hush Kratom Products
Hush Kratom has a seemingly wide range of products to choose from whether you are a beginner, intermediate, or veteran user.
Let's look at the top products we recommend trying.
1. Hush Kratom Ultra Enhanced Powder
If you love plain-leaf kratom, this product will be perfect for you. It is stronger than the latter, with 1 gram of this powder being over 3x the strength. You will get 30-35 mg of Mitragynine per gram, and each container houses 50 grams of powder.
2. Hush Kratom Gold Extract Capsules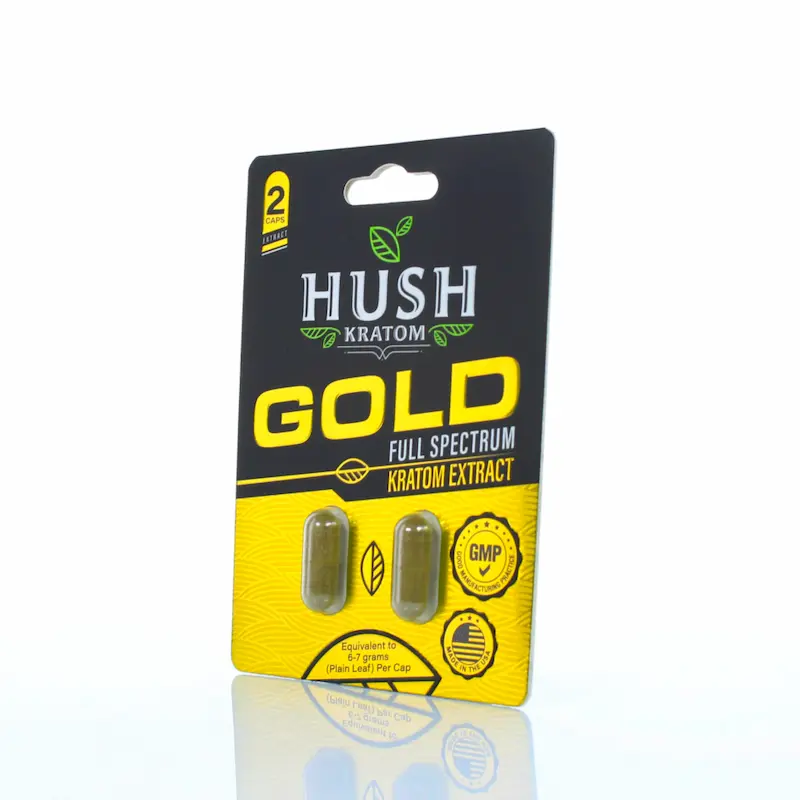 If you are looking for convenience, we highly recommend grabbing this pack of kratom extract capsules. You will get 80-90 mg of Mitragynine with each capsule. While they are a bit pricier than alternatives, the Hush Kratom Gold Extract Capsules are great for long-time kratom users, as they are one of the strongest products available.
3. Hush Platinum Shot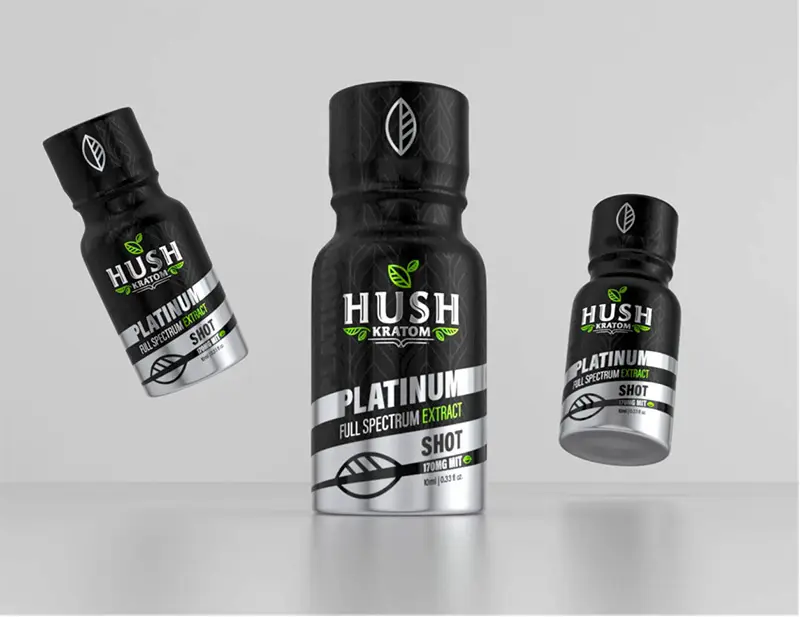 This is the strongest Hush Kratom product available, and possibly the strongest on the market. You can take it as a simple shot and immediately reap the benefits of 170 mg of Mitragynine. Expect to feel more relaxed, due to its 7-Hydroxymitragynine and Mitragynine balance. (We don't recommend this for beginners because of its strength.)
4. Hush Energy Full-Spectrum Shot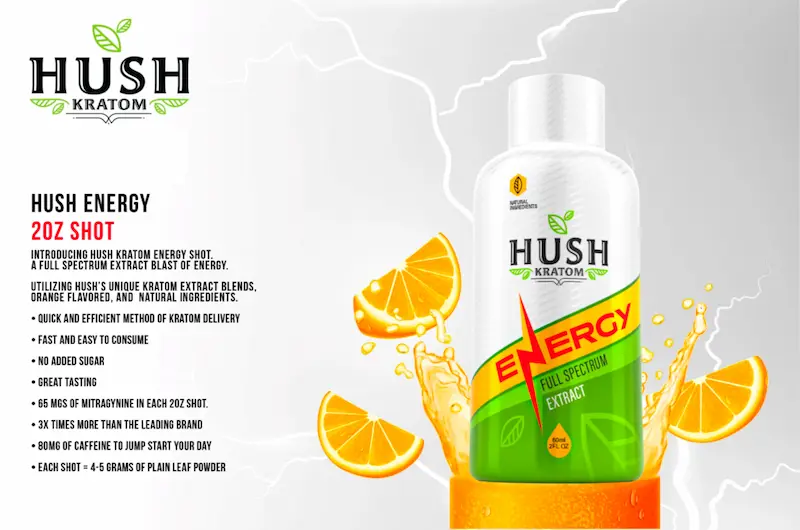 This 20oz shot gives you 65 mg of Mitragynine and 80 mg of caffeine, making it the best option for increased energy, concentration, and productivity. Being a smaller dose of Mitragynine, beginners can consider this product. Plus, with its great flavor, this is a favorite for all users.
(If you want to learn more about mixing kratom and caffeine, read this article about coffee and kratom.)
5. Hush Ultra Shot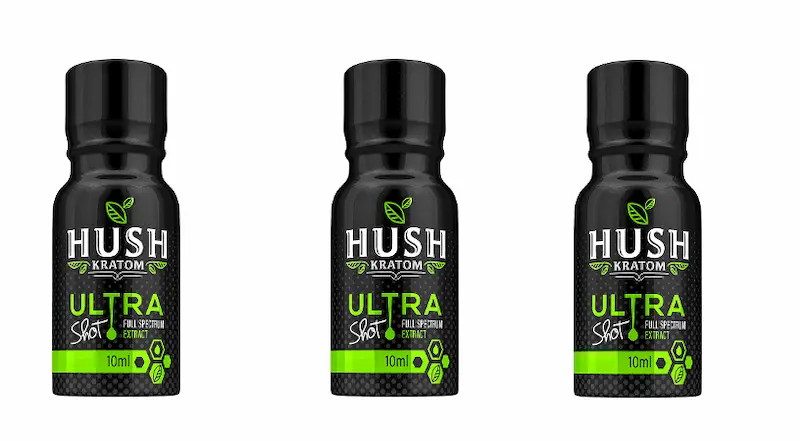 The Hush Ultra Shot is one of our top picks for beginner kratom users. It has 90 mg of Mitragynine within each shot which is subtle, but enough for any beginner user to get the mood-boosting and calming effects of kratom. The lemon-lime flavor of the drink also makes it pretty easy to consume!
6. Hush Kratom Softgels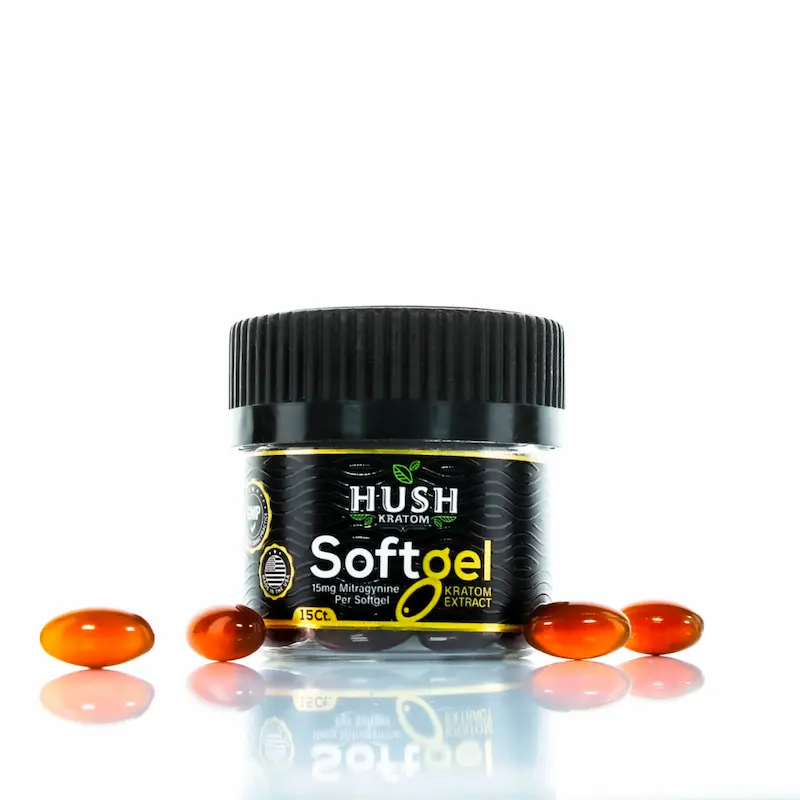 This is another convenient product to have on hand, with less strength than the extract powder capsules. With only 15 mg of Mitragynine within each soft gel, beginners can confidently start their kratom journey in small doses, while intermediate users can dose according to their intended effects! (Something else to consider is that this is a slightly pricey option, considering you only get 15 softgels per container. But, if you do not know what dose you need, this is a great way to begin your journey and you can change products later.)
7. Hush Kratom Extract Infused Caramels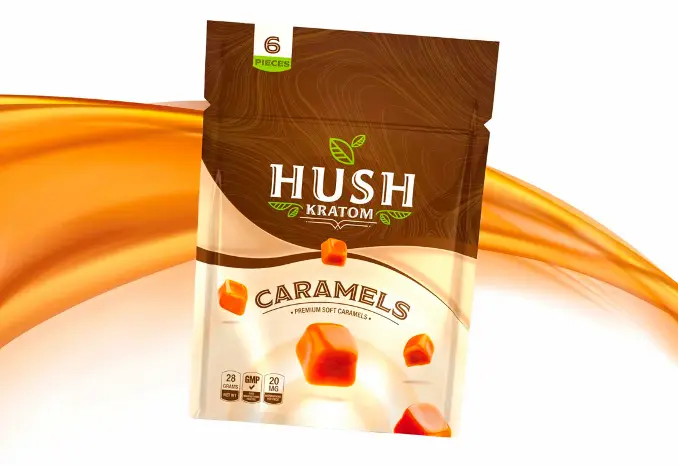 If you have a sweet tooth, this product is for you. These caramel candies come with 6 per pack and 20 mg of Mitragynine per candy. If you are ready to introduce a new user to kratom products, this is the perfect place to start due to its small dosage and phenomenal flavor. (Many users also recommend dropping a caramel candy into your morning or mid-afternoon cup of coffee for added sweetness and sensational effects.)
The Best Hush Kratom Product Review for Beginner
Out of the Hush Kratom line, beginner users have a few different choices.
If you are hoping to try out a small dose that you can later increase, we recommend giving the Hush Kratom Softgels a try.
For those with a sugar craving, consider the Hush Kratom Caramels!
Lastly, you may want to consider the Hush Ultra Shot for both a refreshing flavor and rejuvenating pick-me-up.
If you are unsure which product to start with, drop a comment below and tell us about your goals, current usage, and concerns, and we will let you know our recommendations.
How to Find the Best Prices of Hush Kratom
Although this line does have higher prices than cheap alternatives, we've found it to be competitive with other industry-leading kratom brands.
While Hush Kratom products are available through many reputable sellers, Viable Kratom offers the best prices of this line with phenomenal reviews and customer service.
Click here to buy your Hush Kratom products at the best prices available.
Hush Kratom Review Wrapped Up
Whether you are a beginner hoping to find the perfect kratom product, or a long-time user ready to update your kratom cabinet, Hush Kratom has just what you need.
You will never have to question what's in your products, how they're made, or where they come from because you can always check your batch number for full lab reports. Additionally, all Hush Kratom products are third-party tested (which is almost unheard of in the kratom industry).
You can start with the simple caramel candies for a light effect or go all-in with the Platinum Shot. Regardless, you will never be disappointed with a Hush Kratom product.
The best way to figure out the perfect product for your body, goals, and mood is to test them out for yourself!
If you have any additional questions, drop them in the comments so we can help you navigate your kratom journey.
FAQ For Hush Kratom Reviews
Q: What is the best Hush Kratom product for beginners?
A: We recommend either the Hush Kratom Softgels or Infused Caramels for beginner users. Both of these options come with small doses per product, making them the perfect way to begin trying kratom. You can find these products here.
Q: What is the strongest Hush Kratom product?
A: The strongest Hush Kratom product is the Hush Platinum Shot with over 170 mg of Mitragynine per bottle. Check for the best price of this product here.
Q: Can anyone use Hush Kratom?
A: While anyone over 18 can purchase and use Hush Kratom legally, we recommend doing your due diligence in researching the product of your choice before consuming it.
Q: Are Hush Kratom products safe?
A: Hush Kratom is one of the safest kratom brands in the industry. They are an American Kratom Association-certified brand and manufacture their products in an FDA-approved facility.
Q: Is Hush Kratom the best brand of high-quality kratom?
A: We do believe that Hush Kratom is one of the best brands of high-quality kratom available on the market. Click here to find the best product for you.
Related Articles