Many things go behind achieving the perfect look. A lot of creativity and effort goes behind turning a look idea into reality.
In recent years, ponytails have returned to style. They are never really out of style, and they never can be, but their popularity is skyrocketing as many fashion icons are rocking a high ponytail nowadays.
However, if you have short hair or thinning hair, achieving a high pony hairstyle might not be possible. But, if you do not have the right length of hair or the right volume, that does not mean you can not create the perfect look.
So, you should use a ponytail extension to add volume and length to your hair in such a case. No matter what kind of hair you have, adding ponytail extensions is a sure-shot way of achieving a great hairstyle.
Ponytails are arguably the most versatile hairstyles one could carry anywhere. They are suitable for a formal office, informal part, or even a laid-back casual look.
You might be thinking that you can use other extensions to create a ponytail hairstyle; that is not an ideal solution as you have to ensure that the ponytail stays in place. So, you must use only ponytail extensions for this hairstyle; otherwise, the hairstyle would become a mess.
Benefits of ponytail extensions.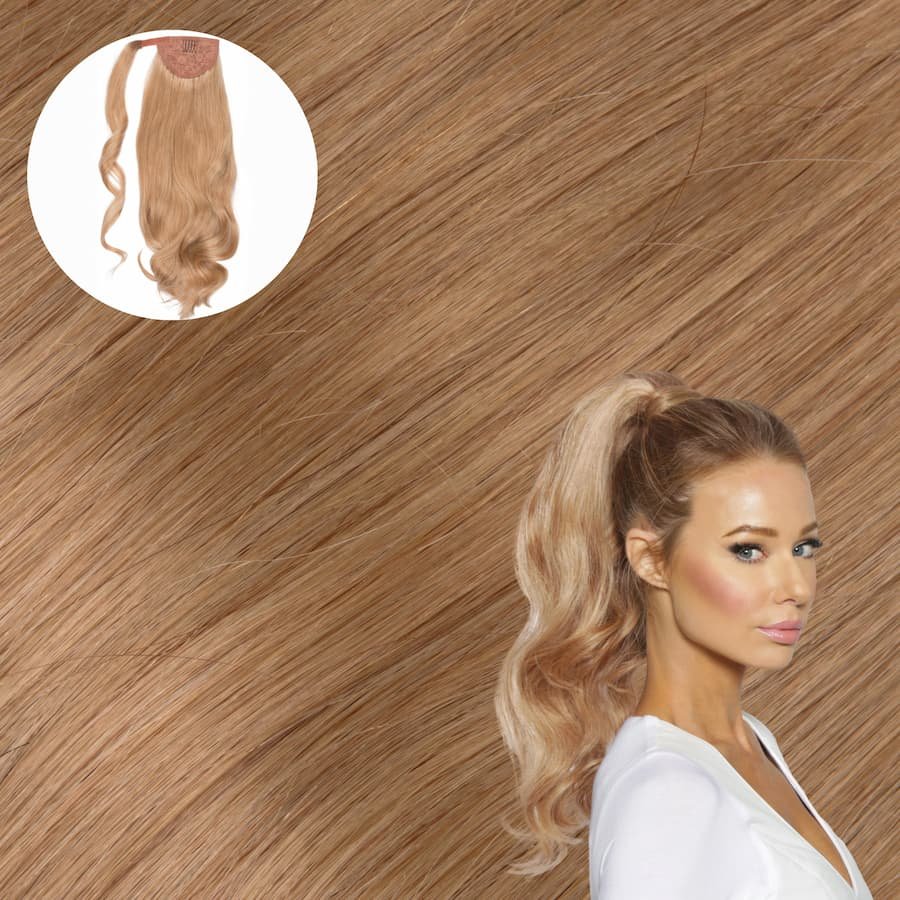 1. They are comfortable
The main drawback of other hairstyles is that they might look good, but many are quite formattable to carry. Initially, it might feel good, but it becomes tough to roam around with a hefty burden on the head as the day progresses. Moreover, often, the hairstyle gets ruined as you are unable to maintain it throughout the day.
On the other hand, a ponytail is the most simplistic and easy-to-carry hairstyle that is very comfortable. Even if you wear the ponytail extensions for twenty-four hours, you will not feel uncomfortable. These extensions are more comfortable to wear than others.
2. Affordable option
There are other methods to elongate and volumize the hair, but they are often not as cost-effective as buying these extensions.
Moreover, you do not even have to wait for the products to affect your hair. The moment you stick the wefts onto your scalp, you notice the difference.
Besides, you can buy tons of different colored ponytail extensions at affordable prices compared to such treatments.
3. Convenient
There is nothing more convenient than achieving the desired look by putting minimal effort and having the option to take it off as soon as you come home.
With ponytail extensions, you can apply them whenever you want and remove the extensions as per your whim.
Herein, you are not making a long commitment as you can remove the bobby pins and unhook the clip-on from your hair to remove the extension.
4. Versatile
A ponytail is the most versatile hairstyle, as you can rock them for a formal occasion or an informal one. Moreover, these extensions blend naturally with your hair, so it will be challenging to determine if you are wearing extensions.
You can even curl the extensions if they are made from original Remy Hair for an extra flair.
So, no matter the occasion, you can wear a ponytail.
While choosing the extensions, you can either choose the similar or the same colored extensions to blend without your natural hair. On the other hand, you can choose a different or contrasting color if you wish to highlight the ponytail and add some extra bling to the look.
5. Multiple sizing options and colors
Like other extensions, ponytails are also available in multiple color options and sizes. So, if you want an extra-long ponytail or a shorter one, there are a variety of options for you to choose from, and having a plethora of options makes it easier for you to choose the best one.
6. Remy Hair
In the hair extensions industry, Remy Hair is considered the cream of the crop, and they are the best kinds of hair for hair extensions and other related accessories.
These are actual human hair acquired from various countries worldwide and processed to make extensions, wigs, etc.
So, if you buy ponytail extensions from a reputed seller, they will be of Remy Hair only. You can treat these extensions as you treat your natural hair, and this means that you can use heat to straighten, dry, or curl the hair as per your choice.
These are some benefits of choosing a ponytail extension to make the best ponytail. Ensure that you buy the best quality hair extensions for your hair so that you do not have to worry about replacing them soon.
Read also: Which Types Of Haircolor Are Non Oxidative