Japan is a country that is at the forefront of new technology and digital innovation. It's no surprise, then, that Japan is also one of the best countries in the world to buy cryptocurrency. In this article, we'll list eight of the best exchanges to buy cryptocurrency in Japan. So, if you're looking to get into the cryptocurrency market, read on!
BitFlyer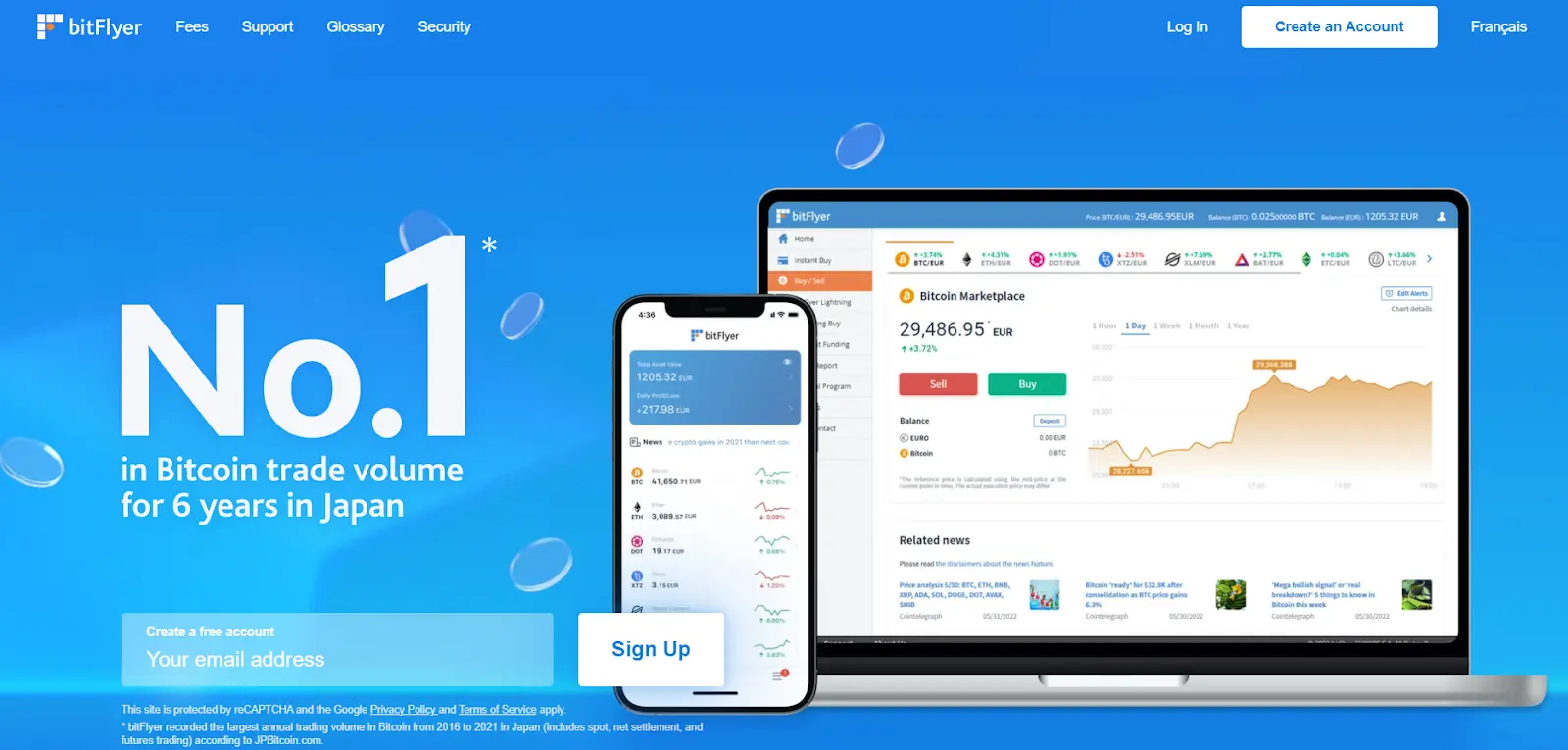 BitFlyer is one of Japan's leading crypto exchanges and arguably one of the best in the business. The exchange has top-notch security features, including multi-sig (more than one signer) Bitcoin wallets, SSL certification, and 2FA account authentication. With BitFlyer, you can get the peace of mind that comes with knowing that they store 98% of their crypto assets offline in cold storage. On the downside, it only has seven cryptos available for trading. 
Key Features
BitFlyer has a limited range of cryptocurrencies but is the largest exchange in Japan in terms of users
You can find all the major cryptocurrencies on it, including BTC, ETH, LTC, DOT, and XLM
Bitflyer does not charge trading fees for standard sell or buy orders. However, they charge a spread
The spreads on Bitflyer range between 0.1% and 6%, although they can be above this margin during times of market volatility
Fees are reduced as your 30-day trading volume increases. The spreads can go as low as 0.03% for a $500,000,000+ trading volume
You can get BitFlyer on both Android and the Apple App Store.
Binance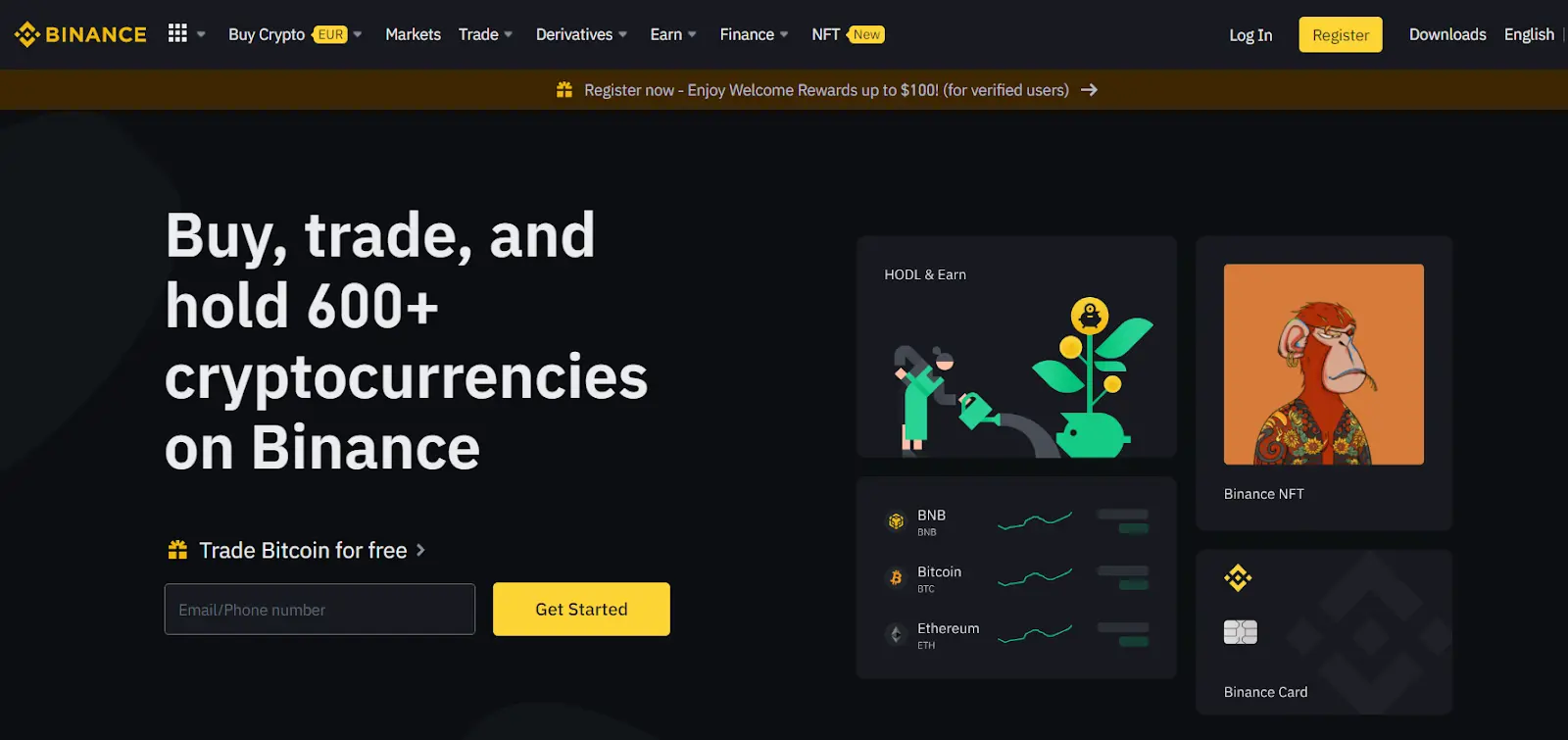 Binance is not only the largest exchange in the world, it is also the most popular. The platform is accessible from Japan, and contrary to many native exchanges, it offers a greater choice of trading pairs. In addition to that, Binance offers a wide range of trading options and trading bots for users to improve their trading experience. Binance has 600+ cryptocurrencies, so you are sure to find the cheapest crypto to transfer here.
Key Features
Binance offers low fees and an extremely wide range of cryptocurrency selection
The platform has many order types, ranging from limit orders, market orders, stop-limit orders, stop market orders, and trailing stop orders
The platform also has most of the major cryptocurrencies, including DASH, ATOM, BTC, ETH, SOL, and COMP, available for trading
Binance is available both on the Android and iOS mobile operating systems and also on Desktop
Binance takes maker/taker fees even though it offers an option to pay discounted fees when using BNB in trades
The exchange allows direct JPY bank deposits on the platform
Coincheck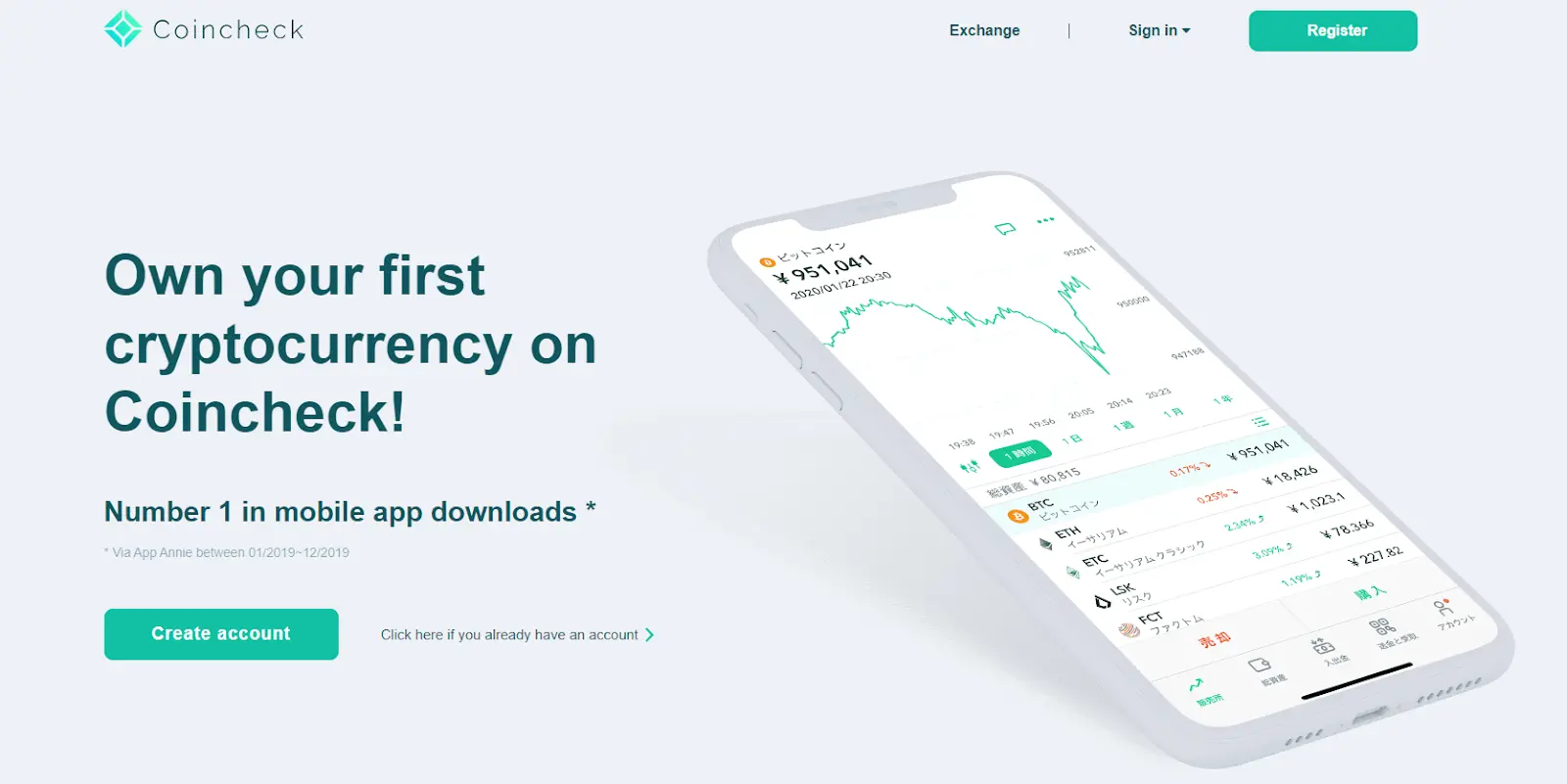 Coincheck is a high-quality crypto exchange that offers useful services such as accepting prepaid Visa cards. It is also one of the largest and most secure Asian crypto exchanges since they store their cryptocurrencies offline. Coincheck supports JPY and USD fiat currencies and offers a period of trading where they charge you no fees. 
Key Features
Coincheck has KYC requirements that must be fulfilled when it comes to transferring large amounts of money
Wallets on the Coincheck exchange have a 2FA security measure and are stored in cold storage, only accessible at the point of transaction
The platform supports free Yen bank transfer deposits. However, USD deposits incur a 2500 Yen (approx. $25) fee
Yen withdrawals are charged 400 yen, while USD withdrawals get a 2500 yen fee
The platform has many notable cryptocurrencies, including BTC, ETH, ETC, DASH, and LTC, among others
BitBank
Bitbank markets itself as one of Japan's most reliable and trusted crypto exchanges. Launched in 2014, Bitbank prides itself on offering top-notch services at an extremely competitive fee. Bitbank supports both crypto and Japanese Yen (JPY) fiat currency deposits. Any Bitcoin withdrawals from the exchange incur a 0.0001 BTC fee and 0.001 LTC for Litecoin withdrawals.
Key Features
Bitbank is regulated by the Japanese Financial Services Agency (JFSA), and therefore, investors can rest easy
The platform is very easy to use, and the cryptocurrencies exist offline in cold storage
Bitbank charges neither deposit nor trading fees. It only charges a very small withdrawal fee
The platform is accessible from both web browsers and mobile devices.
Coinmama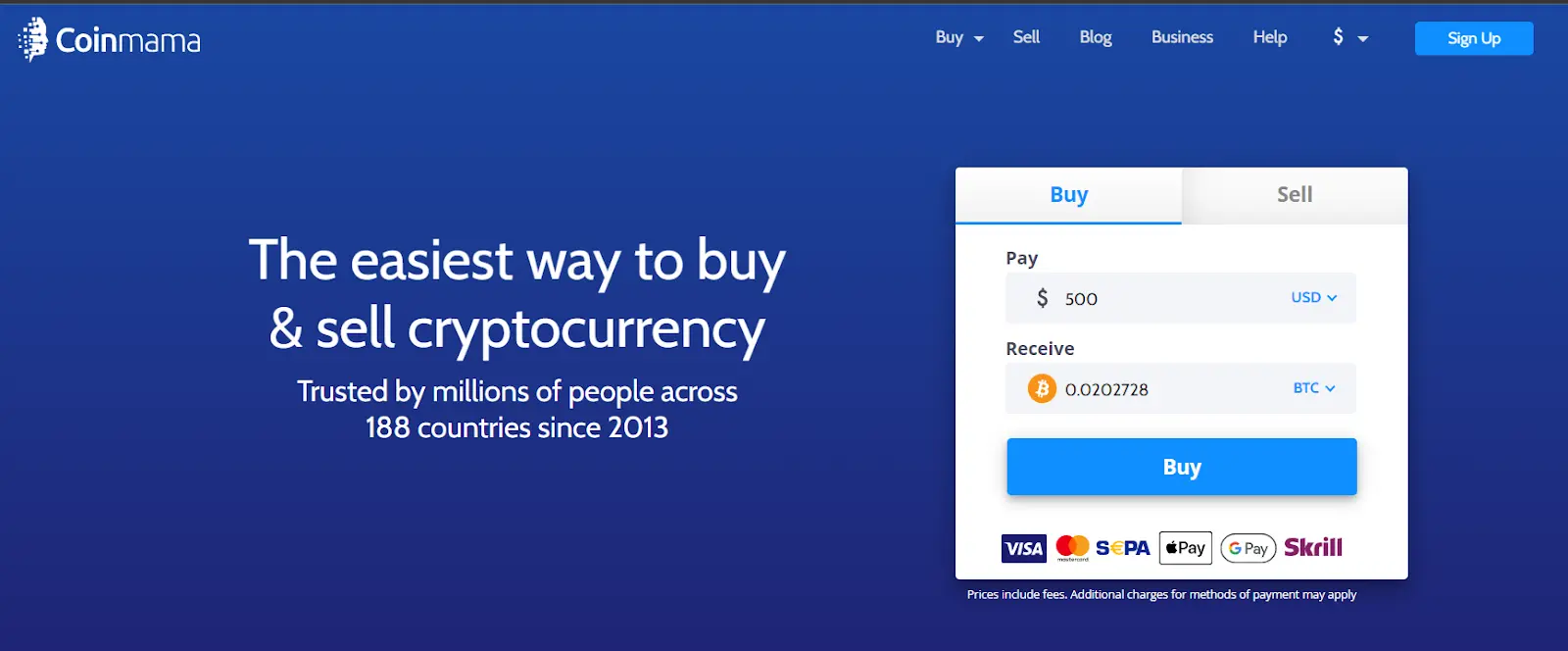 Coinmama is popular in Japan for its easy interface. The flow of transactions on the exchange is simple, making it one of Japan's most popular exchanges among crypto newbies. Coinmama charges way higher than its competitors and has fewer cryptocurrencies to choose from.
Key Features
Coinmama only allows users to purchase crypto with fiat. You cannot exchange one crypto to another directly
The exchange has 10 cryptocurrencies on its list of tradable assets, including BTC, TEZOS, LTC, BCH, XRP, ADA, DOGE, UNI, LINK, and ETH.
There is a 12.5% reduction in fees if you make $5000+ purchases over 90 days. This percentage reduction increases as the volume rises.
Credit card and Apple Pay purchases incur an additional 5%, but SWIFT bank deposits of $1000+ incur no fees
Coinmama only supports web browsers and the Android OS
The minimum amount to buy BTC is $30, while the minimum to sell is $100
Coinbase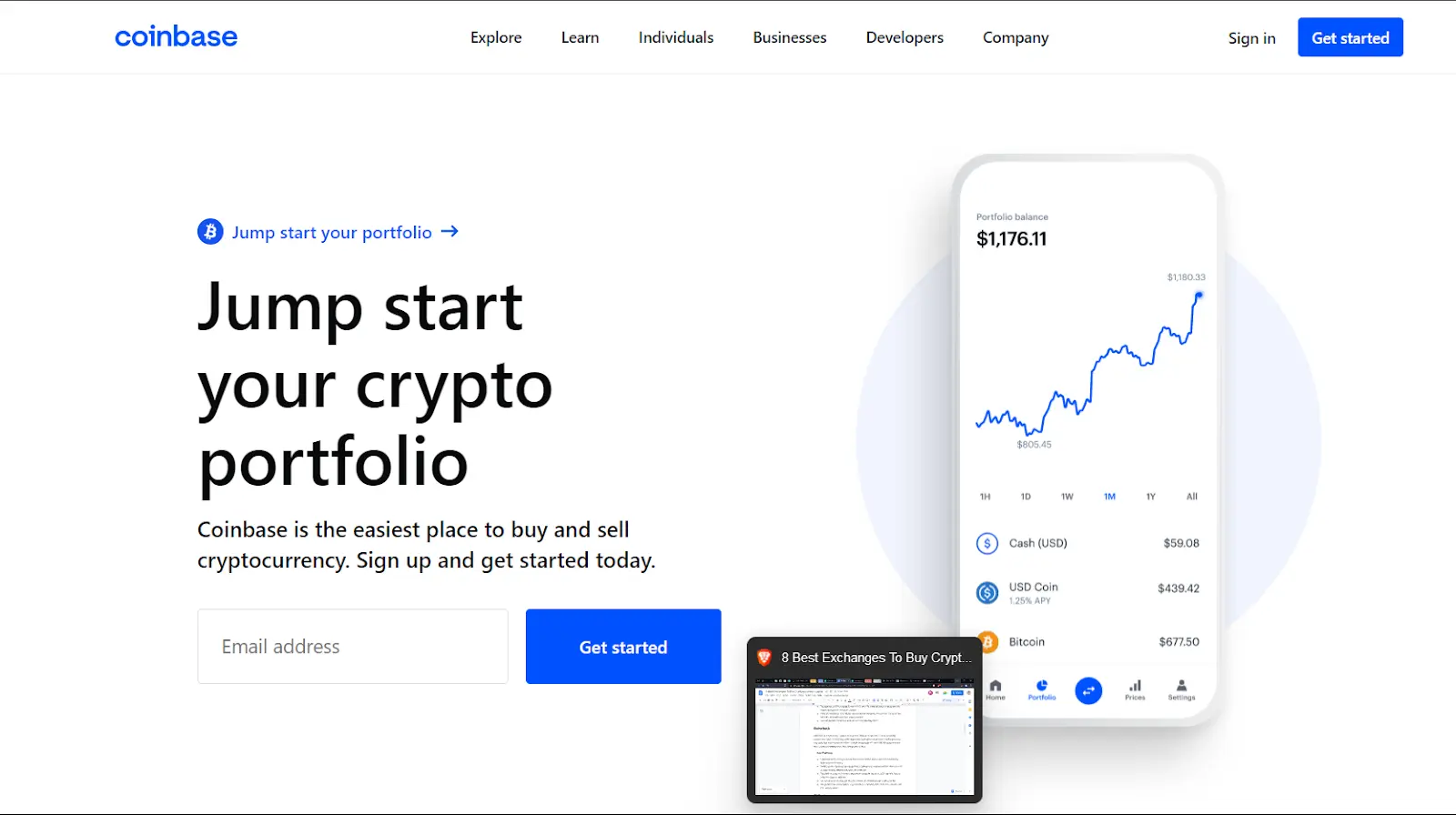 Coinbase is one of the world's most prestigious and well-known crypto trading establishments. With Coinbase, it is extremely easy to buy and sell cryptocurrencies. Coinbase also allows you to carry out crypto-to-crypto exchanges. The platform will launch in Japan in 2021 after partnering with Mitsubishi UFG (MUFG). Since then, Japanese users have had easy access to trading using MUFG quick deposit services.
Key Features
Coinbase is easy to use and is best for crypto beginners in Japan
Coinbase also has a wide range of fiat deposits, including the Japanese Yen
The platform also charges maker/taker fees and also deposits and withdrawals
You can access Coinbase on both iOS and Android mobile devices, as well as web browsers.
The exchange requires KYC to use but also stores users' funds in cold storage, ensuring high security
Coinbase has a wide range of cryptocurrencies to trade, and the most popular ones can be found on it
Huobi Japan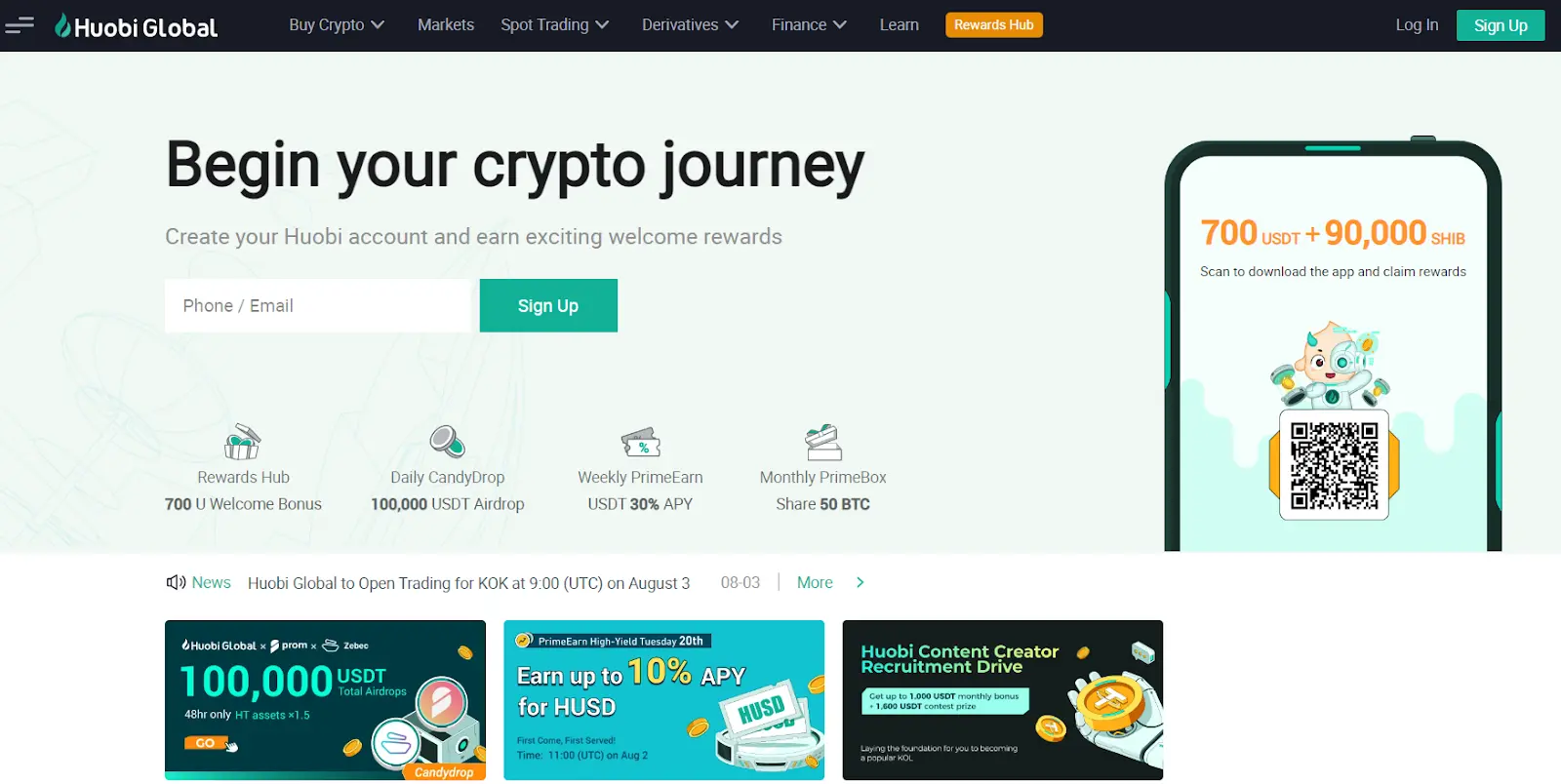 Huobi is an awesome exchange for any crypto user who wants to access various cryptocurrencies. The exchange quickly adopts up-and-coming cryptos, allowing extremely active traders the opportunity to buy these projects while they are still cheap. Moreover, the trading fees on Huobi are low, making it one of the best places for small retail traders to carry out their trading.
Key Features
Huobi has over 350 cryptocurrencies available for trading among platform users
To insure itself against hacks and liquidity crises, Huobi has a Bitcoin reserve holding over 20,000 BTC in cold storage
There is also 2FA and self-account freeze if you suspect fraudulent activity on your account
Trading fees are low, starting at 0.20% (base)/ 0.18% (using HT token), and reduce from there as your 30-day trading volume increases
The platform has interactive charts and a wide range of trading options and order-types
Most popular cryptos are available, including BTC, ETH, XRP, and DOGE
FTX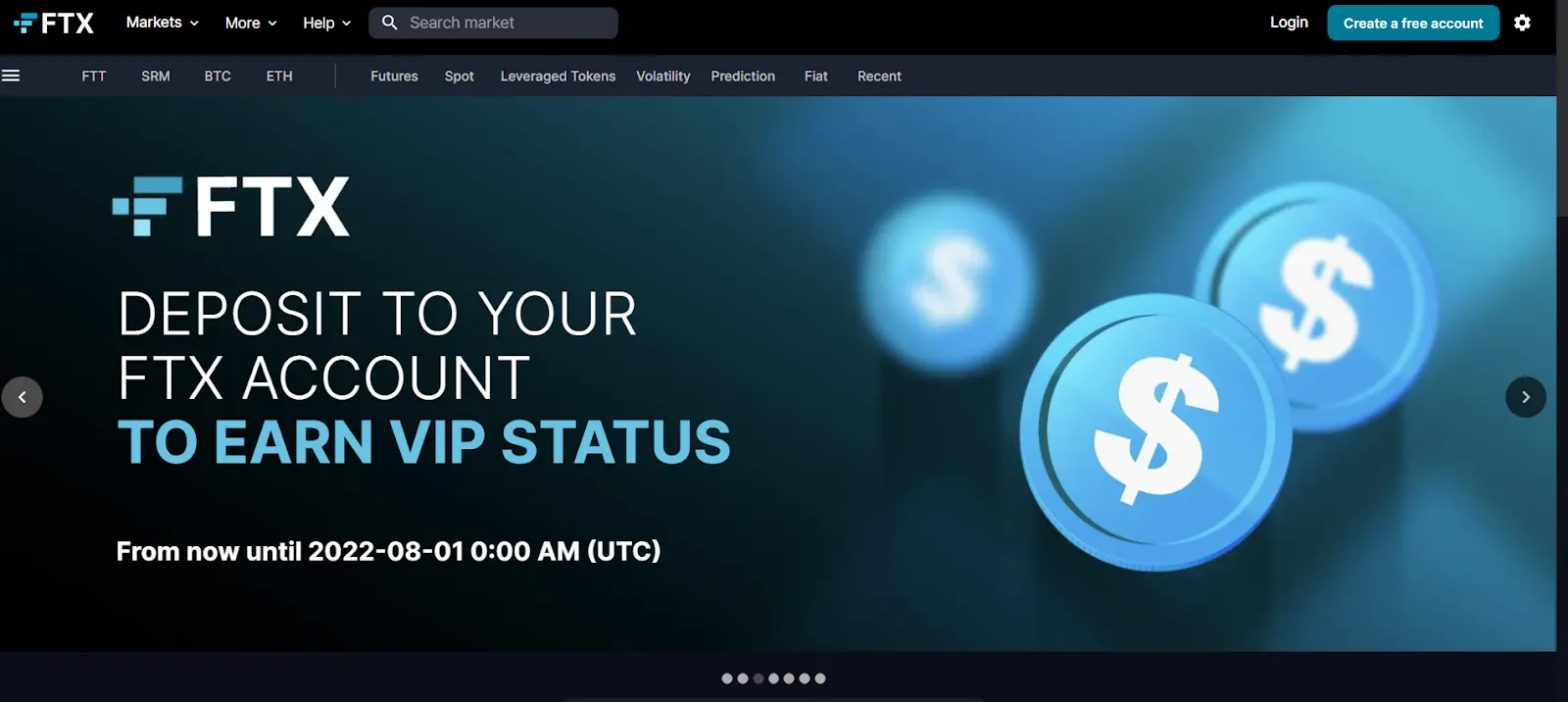 FTX is one of the most rapidly growing crypto exchanges in the world. It can be accessed from Japan and allows crypto deposits. The platform is built to accommodate both newbies and experienced traders. Launched in 2019, the exchange has grown massively, offering over 270 cryptocurrencies. 
Key Features
FTX can be accessed on both Android and iOS mobile devices, as well as on web browsers
Users need to satisfy KYC requirements to trade on the platform
The platform offers a wide range of trading options and order-types
The platform supports NFT trading on their own in-app NFT marketplace 
FTX has a 0.02%/0.07% maker/taker fee that reduces progressively as your trading volume increases
Read also: Best-Going Cryptocurrency Exchanges In 2022