Before The Profit, WorldWide Trailers
Tom Etheridge and Nancy Pappas started a firm in 2001 that designs manufactures, and distributes concession trailers to food vendors and other businesses. The business was facing two life-threatening issues by the time Season 2, Episode 4 of The Profit came around.
The second factor was personal: Tom and Nancy were married when they founded the business. However, they had had a terrible split after seventeen years, and there was little – if any – trust between them. While they claimed to try to keep personal drama out of the job, Nancy's unresolved anger had a habit of surfacing throughout the workday.
Marcus' initial impression of WorldWide Trailers was that it was a tiny company with few employees. When he met Tom and Nancy, he discovered that the Tampa business was smaller since the trailers were made elsewhere. He didn't see why the business required two separate buildings in two different states, and he reasoned that if the activities were integrated, they could save a lot of money on real estate, personnel, and transportation. Why weren't Tom and Nancy living in Georgia, where manufacturing was closer? Nancy was adamant about keeping her Florida beach home.
Marcus pays a visit to Tampa's WorldWide Trailers
Episode 4 of Season 2 of The Profit
Marcus inquired about the company's sales results. They sold 125 trailers for $4 million in revenue and approximately $400,000 profit, according to Tom. Marcus inquired about their expenses, but neither Tom nor Nancy appeared to have any idea how much a trailer cost.
Tom and Nancy were thankful for Marcus' assistance with their business, but Nancy mistakenly believed the producers had contacted them when it was Tom who had requested to have their firm featured on the program. Nancy was irritated by this since she thought Tom was withholding vital information from her. Marcus wanted to speak with Nancy privately to figure out precisely what was going on between the two of them since her rage appeared out of proportion to Tom's transgression.
Nancy revealed all of the juicy facts of her split with Tom, which was obviously too much for Marcus to handle. While this made him uneasy, he was more worried about Nancy's relationship with Tom. He believed that their lack of trust and poor communication were detrimental to their company.
Marcus believes the procedure may be improved
Marcus went to the Georgia plant and saw a number of components strewn throughout the grounds, some of which were rusted. He was curious as to whether the employees had ever taken inventory. They hadn't done so. Marcus highlighted that they would need to address this issue immediately soon in order to get a better grip on expenses and increase efficiency. However, he was generally happy with the individuals he encountered in Georgia and was struck by their passion and commitment.
Marcus had supper with Tom and Nancy in Tampa. He believed that the inventory and transportation inefficiencies could be resolved, but he was concerned about the owners' communication. Tom attempted to reassure Marcus that his personal connection with Nancy would not interfere with their professional relationship. Despite the fact that Nancy consented, she immediately went on a tirade about not being able to work with Tom's girlfriend. Marcus got up from the table and went outside when the debate devolved into a brawl. Nancy pursued him and persuaded him to return inside.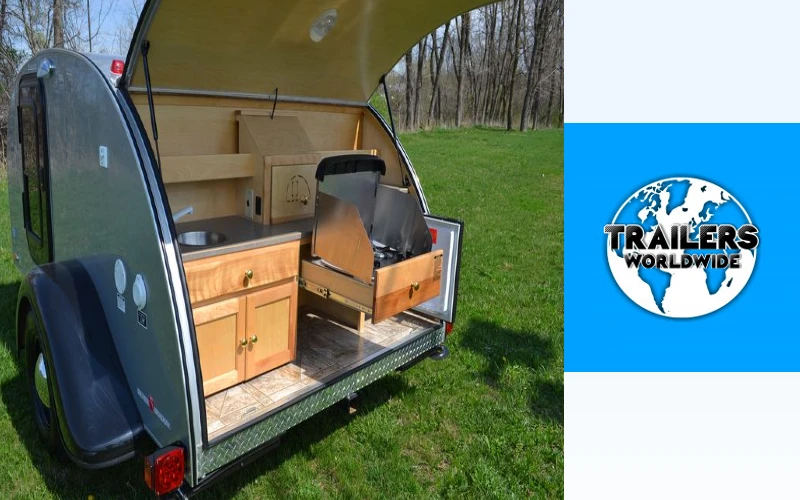 Marcus asked Tom to validate the $400,000 profit he earned the previous year, and Tom confirmed that the figure was accurate. Marcus countered with a $500,000 offer for half of the company. Tom seemed to be willing to strike a compromise, but Nancy didn't think it was enough. She was looking for a million dollars. Even when Marcus explained it wasn't realistic, she still felt uncomfortable about just owning 25% of the company after all the work she had put in. Marcus responded with $700,000 for 50% of the business, with $100,000 divided between the two owners and $600,000 going to the company. Tom and Nancy came to an agreement, and the transaction was sealed.
The Truth Is Revealed
The owners and Marcus returned to Tampa after a short meeting in Georgia to announce the agreement, only to discover significant quality problems with a trailer that had just arrived. Once again, it became obvious that neither Tom nor Nancy had any idea how much their trailers cost. Marcus requested that Tom bring him the financials, and he immediately saw that the profit was $200,000 rather than $400,000. Were they deceiving him? Was anything taken from them, or were there any criminal activities going on? Or did Tom have some information that he didn't want Nancy to know about? Marcus sought a private meeting with Tom, during which Tom admitted that he had kept certain transactions hidden from Nancy. Marcus informed Tom that it was bad for business and that it needed to stop.
Marcus flew Tom and Nancy to Georgia to do an inventory, and he enlisted the assistance of an inventory auditing team. The auditing team had to perform the majority of the work since the WorldWide Trailers team didn't have a system in place to keep track of inventories. They discovered that WorldWide's estimate of $100,000 in goods on hand was closer to $20,000 in reality. Nancy was irritated by Marcus's admission of their company's difficulties. She didn't appear to be able to take blame or responsibility.
Marcus believed it was essential for Nancy to relocate to Georgia, so he showed her a lovely home close to the facility. She was adamant about not leaving her seaside home. She went on to say that Tom would never leave Tampa.
The deal is no longer valid
Marcus landed in Tampa for a meeting with Tom and Nancy. He was curious to see how they collaborated on a new project. Nancy, on the other hand, walked in and said that she needed a meeting, and then she phoned to have all of the workers come to the office. Nancy handed along with a client order from a dealer when the workers arrived. Nancy didn't want Tom's girlfriend to have any link to the company, therefore Tom's girlfriend worked at the dealership. Tom followed Nancy's lead and started shouting and cursing as she got increasingly upset. Nancy abruptly shouted that the agreement was off. Marcus agreed wholeheartedly and moved away from the business.
After the Profit, WorldWide Trailers
WorldWide Trailers is still in operation, but income is said to be half of what it was when the program first aired in 2014. Although Nancy seems to be the sole contact for the company on many platforms, Tom's LinkedIn profile indicates that he is still one of the proprietors. It's conceivable that he hasn't updated the page in a long time.
With the most recent post on April 27, 2020, WorldWide's Facebook Page seems to be up to date. According to the company's Facebook page:
"Many of you have inquired as to whether we are still open. We are completely functioning, therefore the answer is yes. We are outsourcing raw supplies as needed to keep up with our bespoke food trailer construction, even though some of our suppliers have temporarily shuttered their doors due to the Pandemic."
(which is followed by a beautiful photo of a custom BBQ concession trailer)
Although the business has a number of good Google reviews dating back to 2018, a recent complaint on its Better Business Bureau website blasts Nancy for her poisonous and aggressive conduct, accusing WorldWide Trailers of poor ineptitude.
Nonetheless, WorldWide trailers seem to be moving forward, although slowly. If Tom is no longer involved, it's possible that the business is still operational today. Following Marcus' involvement, it may now have a better grip on inventory and financial monitoring.
The material in this article is given only for educational purposes; Royal Pitch is not connected with WorldWide Trailers, The Profit, or any of its subsidiaries.
Visit the rest of the site for more articles.