Combat Flip Flops By The Basics Company
Flipflops And Footwear With A Military Motif (For A Good Cause)
Matthew Griffin And Donald Lee Are The Owners
The Asking Price Is $150,000 For A 10% Stock Stake
Final Offer: $300,000 In Exchange For 30% Ownership
Mark Cuban, Kevin O'Leary, And Lori Greiner Were Among The Sharks That Took The Bait
Bullets vs. Business
Season/Episode: Episode 16 Of Season 7
Combat Flip Flops was created by Matthew Griffin and Donald Lee to help women, children, and other underprivileged people living in war-torn areas. Their purpose is inspiring, and their product is innovative. They're looking for $150,000 in exchange for 10% ownership. They create interesting things in perilous environments, and the sharks are well aware of this. It's evident from the start of Griffin and Lee's presentation that this company has multi-million dollar potential.
The brand is represented by a variety of items, which are distributed across the world. Their footwear, which is their best-selling and most recognizable product, is created in Bogota, Columbia. Belts, sarongs, scarves, and cashmere goods are created in Afghanistan, employing women and sending young girls to a school who may not otherwise have a chance. In Laos, one division of the company produces jewelry from salvaged landmines. They create peaceful, long-term change in communities that need it the most by producing a commercial product using local resources, employing local workers, and respecting regional culture and traditions.
"Businesses Are More Strong Than Bullets," They Say.
While the two founders describe their amazing backstories, samples from Colombia, Afghanistan, and Laos are handed around. They both served in the 2nd ranger battalion, 75th ranger regiment, and completed two tours in Afghanistan and one tour in Iraq. They had always spoken of creating a company together, no matter where they were stationed. It had been their ambition for years, and with the sharks' support, it may now become a reality.
Calculating The Facts
The first combat flip flop, dubbed The Floperator, is the company's most popular product. However, the company also offers the AK-47, a popular men's sandal, as well as a comprehensive range of jewelry, accessories, and women's fashion. The Floperator is used as a starting point for determining financial wellness.
Cost Of Production: $20 For Basic Materials + $4.90 For Delivery – A Total Of $25 Per Pair (Includes Air Shipping)
Price At Retail: $70
89 Percent Of Revenue Is Generated Online
$39,000 In Yearly Sales
A Net Profit Of 5% Is Expected From Projected Sales
Daymond John is well-versed in the difficulties that their sector faces. Will they be able to scale this up or down as needed? They're candid about their company's prospects: they don't know how to scale, but they know people who do.
Mark Adds, "I'm A Firm Believer In Business Above Gunshots." "We Have To Take Advantage Of The American Dream."
Robert is interested in learning more about scaling: how can they scale up their goods to meet demand? He tells her, "I'm going to tell you right now, you have too many items."
Griff and Lee, on the other hand, are confident in their abilities to learn how to grow and meet increasing demand. They just secured a Canadian distributor who would distribute to 390 shops, and they are working on military distribution partnerships for their footwear line.
The Auction
Kevin says, "I believe what you're doing is wonderful, but the basics of the company, the diversity of your model, adds a lot of operational and logistical risk." He believes they should concentrate their efforts only on footwear. There's simply too much variety in this bargain to be comfortable. He's the first to go.
The two founders then mark Kevin with a fluorescent orange marker in a classic Shark Tank moment. They quip, "It's what we use to label the deceased." The same can be said about Robert, who follows Kevin out the door.
Lori comes up next, and she compliments them on how tough and noble what they're doing is. She agrees with the other sharks that the company should concentrate on one product that is their major strength before expanding. Lori would be prepared to make an offer if another shark joined her.
In a corner, Mark and Daymond discuss something. "We're both firm believers that business should always take precedence over guns. Focusing on the main product makes sense from a financial standpoint, but there's a wider picture here. We want more of whatever it is you're creating in Afghanistan."
Cuban offers $200k in exchange for a 25% stake in the company, a joint venture with Daymond. Lorie wants in, but Cuban and Daymond aren't interested.
Griff replies, "I believe the industry needs a feminine touch, boys." This seems to be sufficient to include Lorie in the investment, making it a three-partner venture.
"Then We'll Need 30%," Cuban Replies
"Can You Do $300,000 For 30%?"
After A Brief Tussle, The Three Sharks Agree And A Bargain Is Struck
Final Offer: $300,000 In Exchange For 30% Stock
What Happened To Them?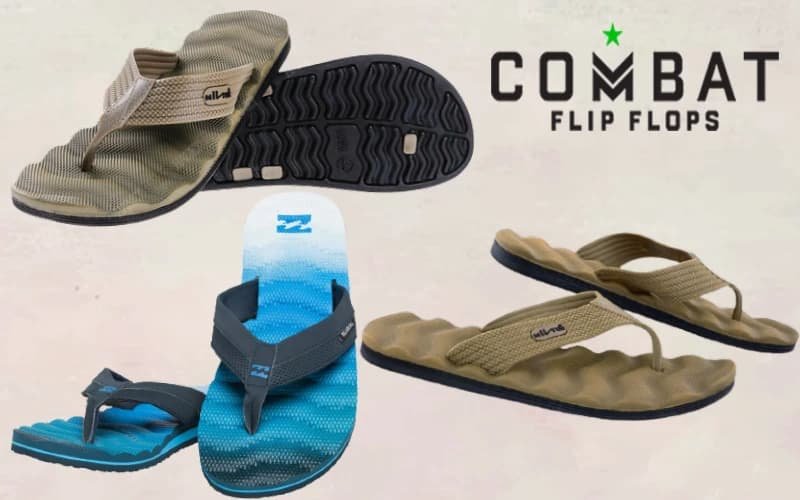 While the brand's main emphasis is still on footwear, the whole product range now comprises an excellent (if somewhat simplified) selection of footwear, clothes, and accessories, including:
$39.99 For The Original Coyote Floperator
The Shadow Of The Coyote Floperator – $39.99
AK-47 Flip Flop For Men – $59.99
Flip Flops For Women (Two Styles) – $39.99 – $59.99
Boots For Women (One Style) – $59.99
Clothing, Scarves, Patches, Jewelry, And Hats Come In A Variety Of Pricing Ranges
The Combat Flip Flop product range is available to buy straight from the company's sleek, well-designed website or via Amazon. A nice, customizable form for business relationships is also available on their website.
Combat Flip Flops has seen an increase in sales since the episode aired, as well as a wave of buzz-worthy publicity from major news sites across the globe, including Fox News, Gizmodo, ABC, TEDx, BBC, and MSNBC.
It's inspiring to see a firm like Combat Flip Flop succeed in today's war-torn world, especially one with such a distinct and noble aim, unquestionable heart, and unrivaled skill.
Royal Pitch is not linked with Combat Flip Flops, Shark Tank, or any of its subsidiaries, and the information presented in this article is only for educational purposes.
Visit the rest of the site for more articles.