What catches your engagement when you first notice a business paper? It is probably the letterhead. An agile, precise, and refined letterhead immediately inculcates positivity in the audience's minds. As humans, you probably drop the idea of buying a product or service if its packaging, design, or appearance doesn't appeal to you. Similar goes with letterheads, it somewhat acts as the face of the organization. 
What Exactly Is A Letterhead? 
Getting straight to the point, a letterhead is the topmost portion of a business paper that comprises the business name, logo, address, and contact details highlighted. It comes in manifold colors, designs, sizes, fonts, and so on. The incorporation of letterheads can be traced back a long time. It is often used in various business documents, and some of its major uses are noticed in:
Notifications Made To The Public Or To A Specific Age Or Group
Invoices Created For Suppliers, Customers, And Clients
Offer Letters To Selected Candidates
Cover Letters For Organizational Promotions And Presentations
MoM Or Minutes Of Meeting
Internal Communication Among Departments
Platforms like Government, banks, local authorities, and similar ones are places that always count on the vivid details of your organization as displayed on the letterhead. These vital platforms count on the credibility of a business through its letterheads, therefore, it needs to be orderly. 
The importance of letterhead can be explained with the help of the recent times of digitization, The whole world communicates online, and that has even accelerated the use of letterheads. It has the abundant capacity to attract potential customers.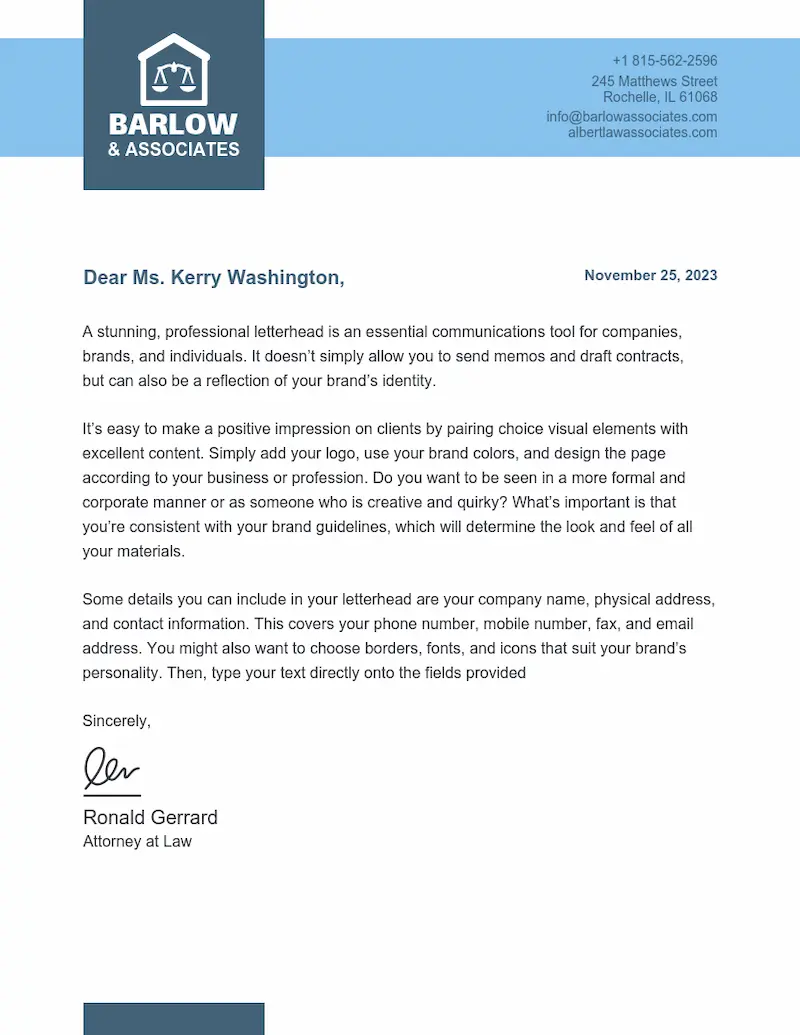 Why Do Businesses Need A Letterhead?
Your company's letterhead plays a huge role in determining success. Your letterhead has a lot to do with your client's perception since it appears at the top. If you are a startup or even an MNC, it is essential to display to consult some letterhead examples and create one for yourself. For now, let us get going with some of the benefits of having a letterhead for an organization. 
If there is something that letterhead offers, it is extreme professionalism. You will hardly notice a letterhead that is absolutely plain white and common. The reason is, it doesn't lend a professional appearance drawing professionals to even open it. Investing in a premium letterhead is essential since it would make your business stand tall among competitors. An exceptional free letterhead template that offers a polished and organized look will help.
Featuring your brand and logo on letterhead is a wonderful way to advertise your business. Through this, your brand might actually catch the sight of prospective clients thereby leveraging your business. A letterhead offers brand recognition and marks an authoritative presence across different mediums. The best part about using letterhead as a marketing tool is, you are receiving free marketing. 
Projects Flawless Communication
A letterhead makes communication easier in business by bridging the gap between the organization and its clients. This phenomenon contains numerous indispensable information like contact, address, logo, and name, all of which are extremely crucial for approaching. This is how you are able to track a particular organization years after associating with them – by locating their letterhead and reconnecting with them.
There is a very thin line of favoritism involved while selecting between two competitors. And, a striking letterhead may be one of the major determinants. Imagine offering a personalized letterhead as compared to a simple plain white one of your competitors. Yours will definitely raise the eyebrows of your prospective client. Creativity always pays off, and so will your professional letterhead. 
Strengthens Company Image 
Letterhead is an excellent method to skyrocket your company image. How? The visuals and information on your letterhead speak for your organization, and thereby also boosts your business image. Since letterheads are used for diverse purposes like communicating about a product or service, internal or external matters, publicity, notifications to customers, and so on. It is the first impression of your company, and your audience is going to talk about it. 
Things To Consider When Making A Letterhead 
Creating a letterhead will open doors to many possibilities. But, what all do you need to include on a letterhead? Below are some factors that will help create a letterhead. 
Don't Provide An Obtrusive Design
Offer A Simplistic Layout
Ensure To Have Informational Content In A Compact Manner
It Needs To Have A Professional Appearance
Invest In A Premium Letterhead Template
Scroll Through Numerous Letterhead Examples
A shabby letterhead might be the cause of your business's downfall. It silently acts as a generator of revenue and growth. There are people who consider it a waste of time, but it is ought to hamper their growth in the future. Therefore, don't take the risk, and spend time creating an amazing letterhead.