Mr. Green Tea is a second-generation gourmet ice cream business founded in Keyport, New Jersey, almost 50 years ago. Green tea, red bean, and ginger are among the luxury ice cream flavors available at expensive Japanese restaurants, which are mostly sold wholesale to Asian restaurants. Mr. Green Tea was founded by Santo Emanuele's oldest son, Richard, in 1968. After Santo died, Richard took over the company and recruited the support of his son, Michael.
Richard and Michael had made $2.5 million in Mr. Green Tea sales the previous year, but they were having trouble planning for the company's future. Richard sought to play it safe in order to preserve what they had built up, while Michael wanted to push the firm to new heights.
Mr. Green Tea Is Interested In Making Money
Episode 5 Of Season 1 Of The Profit
Mr. Green Tea has immense potential, according to The Profit presenter Marcus Lemonis, and the gourmet ice cream firm had what it takes to become a $50 million business. To achieve this high aim, the father-son duo would have to be more open to change and develop new tastes in order to attract and retain more consumers.
Marcus came to Mr. Green Tea's headquarters to meet Richard, Michael, and the rest of the company's staff. Mr. Green Tea's VP, Michael, revealed to Marcus that their gourmet ice cream was outsourced to a co-packer who was given a 20% profit on sales. Richard said that, despite a 20 percent yearly growth rate on average, they believed their inability to complete orders was the reason for their lack of expansion. Going via a co-packer reduced the amount of time they had to fill them, which hampered their growth plans.
Richard is a conservative businessman who was apprehensive about constructing a new plant to produce Mr. Green Tea ice cream. At the same time, Michael was concerned that if they were not as successful as they might be, they would be acquired by a larger, more advanced firm.
Marcus tasted the product while being toured around the kitchen. He stated his dissatisfaction with Mr. Green Tea's decision to provide just three tastes after 50 years in business: green tea, red bean, and ginger. He believed that the greatest approach to broaden the attractiveness of the brand was to create new ones, giving clients a wider range of options. Richard objected to the proposal, claiming that adding a new taste would be a pricey endeavor after purchasing new components and testing any new product additions. According to him, the procedure may cost them up to $10,000.
Marcus's success in business is due in part to the fact that he is a numbers person who approaches business in a quantitative manner. Michael, for one, has some great ideas for improving the firm, but he wasn't paying attention to the data.
Marcus then tried the mochis, which are individually wrapped ice cream balls coated in rice flour. They're tasty and little, which Marcus thought would make them great for retail shops and businesses. The operations manager then walked Marcus through Mr. Green Tea's daily operations, including the freezers and the three trucks that collect ice cream from the co-packer.
Michael mentioned that they required money to establish a new facility where they could manufacture their own ice cream and treble their production capacity. The gang set off on foot to the site where they planned to establish their new facility. The structure had been damaged in a recent storm, and Richard was concerned that restoring it to functional order would be too expensive. Michael was unconcerned, claiming that he could renovate the building and make it suitable for their requirements. Marcus agreed with Richard that the structure was in disarray, but he believed it could be repaired.
Marcus thought Mr. Green Tea's operations method was faulty and useless since they were giving away such a large amount of their profits to the co-packer who made their ice cream. Richard and Michael were given $600,000 in return for a 35 percent stock stake in the company. Marcus presented them the $600,000 check and walked out of the room when Richard stated he wanted more time to think about it. Michael was ecstatic about the potential of expanding their company, but Richard was not so enthusiastic about the notion of handing up such a large portion of their company, and he walked out.
Michael was eager to develop their firm and help his father build their family business, and he warned Richard that he was restricting the company's progress and growth potential. Richard admitted to Marcus that he was taken aback by how fast a proposal was brought to him, that it had caught him by surprise, and that he was concerned that the business's day-to-day operations might alter. Richard ultimately shook on the bargain when Marcus promised him that they would not.
Marcus would also have to assume entire charge of the operations for a week, which Richard reluctantly agreed to. Marcus said that his objective was to develop a new factory, increase the product range, and turn Mr. Green Tea into a great success. He also encouraged the father-son duo to focus on their relationship, both for their own benefit and for the sake of the firm.
Michael presented a concept for a gelato firm called Solo Gelato, in which they would offer just one robust flavor of gelato. Marcus was enthusiastic about the idea, but Richard was wary. Marcus and Michael both loved the name Keyport Creamery. Richard was deafeningly deafeningly deafeningly deafening
Marcus assisted Michael in negotiating a contract with the bank to buy the property for the new facility and attempted to persuade Richard that this was the best option. Richard ultimately got on board and decided to acquire the facility after Marcus painstakingly went through all the figures with him.
Mr. Green's Profit Motive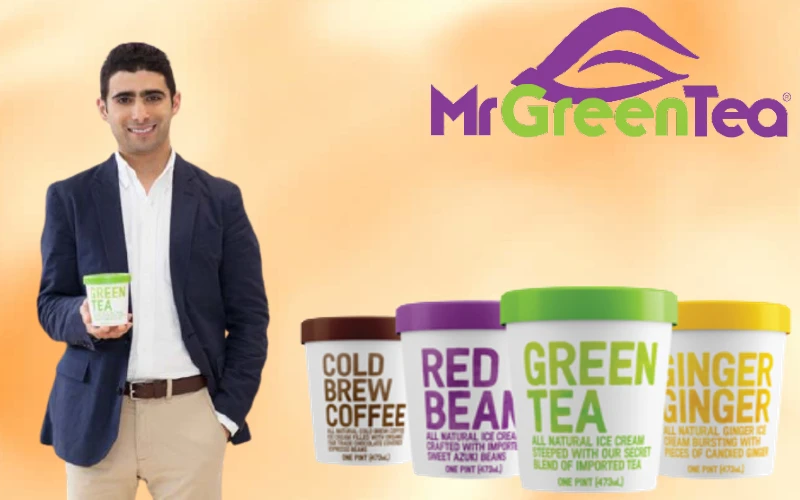 Richard and Michael appeared on The Profit for the second time, two years after son Marcus first entered their life. Mr. Green Tea's product range has been extended to include black sesame, chai latte, and fortune cookie tastes. Since their original appearance on The Profit, the father-son pair had witnessed a huge growth in ice cream sales and the value of the firm, generating north of $5 million in sales. However, the continuous tensions in a family quarrel between the two Emanuele generations continued to jeopardize the health of their company and relationship. Marcus arrived to check on the condition of company operations and to see what he could do to help Richard and his son resolve their recurring disagreements.
Marcus' visit started with a joyous reunion and positive sentiments but rapidly turned into a disagreement about the method and expense of testing four new tastes. Mr. Green Tea makes about $400,000 per year in profit, which Marcus claims could be considerably more if it weren't for the product and labor expenditures of inventing new varieties for their product range.
Michael, who has worked for Mr. Green Tea his whole career, begs for a piece of the business during a review of the company's finances, reminding Richard that his mechanical engineering degree may bring him a higher-paying and stress-relieving position in no time. Richard had a private meeting with Marcus to discuss his worries about his son having a part of the family company. Richard is certain that Michael's efforts would more than makeup for a "taste" of the equity after confessing he would throw his son out if he wanted to get out. Marcus finally devises a scheme in which Michael's ownership is linked to the firm's revenues or losses, allowing him to earn up to a 5% stake in the company.
Mr. Green Tea has developed walk-in shops, improved countrywide shipping distribution, and created a strong social media presence, all of which are critical components of current marketing efforts. Mr. Green Tea has teamed up with the Key West Lime Pie Company.
Mr. Green Tea, The Profit, or any of its subsidiaries are not linked with Royal Pitch, and the information presented in this article is only for educational purposes.
Visit the rest of the site for more articles.