In 2014, Vance Zahorski was out on the beach fishing with several buddies while attending a wedding. He caught a shark that had been trapped in his fishing line. Vance dropped his knife on the sand while struggling with his capture, almost chopping off one of his toes. The Line Cutterz ring was created as a result of that near encounter, and it allows you to cut the fishing line quickly and safely.
Vance had spent the past 14 years learning the industry by selling appliances and mortgages. With, he could use his business abilities and his love of fishing to launch a firm that would provide other anglers with a safer, more simple method to cut their lines.
Early on, Line Cutterz had a lot of success, and his company grew quite a following. Vance began extending his product line with a ring that keeps the fishing hook stable to facilitate knotting the line on it simpler, which helped Line Cutterz gain an international reputation among anglers.
Vance sought investment from the Shark Tank's business gurus in order to take these basic, useful fishing tools to the next level.
In Shark Tank, Line Cutterz tries to catch a big one
Season 8 Episode 9 of Shark Tank
Vance informs the Sharks that fishing is in his blood, explaining that he has been fishing since he was able to walk. He understands the lifestyle and the enthusiasm of others, therefore he begs for $120,000 in return for a 20% stake in Line Cutterz, which has earned approximately $280,000 in sales in its first year.
Vance demonstrates to the Sharks how easy and safe his device is to use for anglers. He cuts through many different lines, including one intended to reel in a 300-pound shark, to demonstrate how easily Line Cutterz cuts the fishing line. Vance's invention works as promised, and he claims it is the only one of its kind on the market.
Vance discusses the possibilities for marketing to other multi-billion businesses while passing out Line Cutterz samples to the Sharks. The Line Cutterz's ring design and concealed blade make it perfect for cutting sewing and embroidery thread, two industries he is unfamiliar with.
A-Line Cutterz ring is made for around $1.60 and sold for $12 per unit. The fishing gear was offered in over 100 places and is expected to expand further in the next year.
Vance attempted to sell Line Cutterz in Walmart stores, but he was never able to reach an agreement. Vance was concerned with the huge price gap between his previous retail agreements and the world's biggest box store chain's request to reduce the retail price to $4.99. Kevin shows his displeasure with this choice. Vance said that he was more concerned with establishing the brand at his price points.
The Sharks are now nibbling on Line Cutterz. Vance wanted the Sharks to know that, despite fishing being one of the world's most popular pastimes, he was serious about Line Cutterz and its success. He turned down a six-figure income and used the proceeds from the sale of his home and gun collection to start his own company.
He informed the Sharks that he's moved on from fishing line-cutting rings to selling clothing, which elicited a chorus of moans from the team. The apparel industry is difficult to generate substantial profits in, and they all advise Vance to concentrate on the fishing gear side of the company.
Robert refuses to negotiate a deal with Vance because he believes the long-term prospects are too hazardous. Mark isn't a fisherman at all, therefore he has no knowledge of the company or industry, and he doesn't submit a bid for Line Cutterz.
Daymond is curious about Vance's plans for the investment funds he has sought. Marketing, inventory, and staff recruitment are the three areas that need the greatest attention. With operating the business, creating the website, and constructing displays for his goods, he's stretched himself fairly thin. He'll need some assistance if he wants Line Cutterz to achieve its full potential.
The product portfolio, as well as Vance's attitude and approach, impress Daymond. He provides the $120,000 Vance had requested, but in exchange for a 40% interest in the company, which is twice what Vance was proposing.
Kevin expresses his displeasure with Vance's decision to reject Walmart's offer. While seeming to be about to make his own offer, Daymond interrupts to ensure that Vance wants to hear Kevin out, pointing out that his own offer may differ. Vance believes he owes it to himself to hear what the Sharks have to say. Kevin declines, claiming he has no interest.
Lori agreed with Kevin that turning down Walmart's offer was a bad decision. She loves Vance's branding and thinks he's a good, clever businessman, but she feels his price structure is too expensive, so she's out, too.
Daymond and Vance demonstrate their negotiating abilities by agreeing to Daymond getting a 33 percent stake in the company in exchange for a $120,000 investment.
What Happened to Them? After Shark Tank, Line Cutterz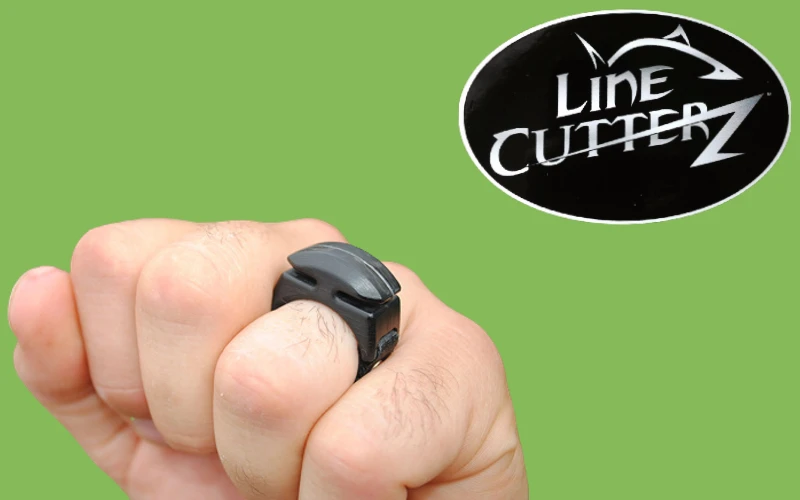 Vance sold more goods in the three weeks after his Shark Tank appearance than he had in the previous year. Line Cutterz has finally made it into Walmart, where it can be found in 50 stores and hundreds of small retailers throughout the nation.
The product line continues to grow, with new applications such as the Flat Mount Line Cutterz, which attaches to flat surfaces and has a broad variety of uses.
Line Cutterz was featured in the Bikini Bowfishing 2018 calendar by Bikini Bowfishing sensation Jaclynn Crooks. Vance was also in talks with a number of other famous fishermen.
Vance was granted a patent and developed the DBA Thread Cutterz, which can be used for sewing, cross-stitching, knitting, and quilting.
Scuba diving, cutting guitar strings, piper strings, butcher's string, balloon tying, and crafts are just a few of the other uses for the Line Cutterz ring.
Royal Pitch is not connected with Line Cutterz, Shark Tank, or any of its subsidiaries, and the information given in this article is only for educational purposes.
Visit the rest of the site for more articles.