"At homeless shelters, socks are often the most requested apparel item."
Randy Goldberg and David Heath started a sock company after being inspired by this Salvation Army remark. They decided to do the same with socks, using Tom's Shoes' altruistic model of donating a pair of shoes to charity for every pair bought.
Randy and David were assisted by Steve Lowenthal, the former President of Gold Toe Socks, through the two-year process of creating and testing their invention. They came up with a design with distinctive qualities based on long-held, established traditions in the sock manufacturing business after a lengthy period of trial and error.
"Bombas" means "bumblebee" in Latin, and Randy and David believed that their sock company would be a hive where they could give back to the community and help people who were less fortunate.
The goal of a month-long Indiegogo campaign was to earn $15,000 for development, but it ended up raising more than $140,000. Their corporate concept, which included a humanitarian component as well as a commitment to exceptional customer service, drew a broad group of rich investors who shared their philanthropic goals.
Randy and David decided to enter Shark Tank with the hopes of taking Bombas to the next level.
Shark Tank's Bombas
Season 6 Episode 1 Of Shark Tank
The pair of entrepreneurs indicated to the Sharks that the company selling athletic socks had been approached in the same manner for many years, asking for $200,000 in return for just a 5% stake in Bombas. Randy informed the group about the two years he spent doing extensive research and design, which resulted in "the most comfortable pair of socks you'll ever wear," with seven significant advancements.
David explained how their firm is altruistic, noting that for every pair of socks sold, they contribute one pair to people in need. As the Sharks received sample socks, they discussed the changes they had made along the route, including the use of Peruvian Pima cotton, better stitching, the removal of toe seams, and the addition of patented arch stitching. The panel was pleased by both the work put into establishing a high-quality product and the company's charitable side.
Robert, a seasoned runner, wanted to discover what set Bombas apart from the plethora of rivals available today. David said they looked at a lot of the other top-selling sports socks, from premium running socks that cost more than $20 to low-cost, mass-market packs that cost a quarter of that. Following their due diligence and study, they were able to reduce manufacturing costs to only $9 for their product, which still included a pair of donated socks for every pair sold.
So far, all sales have been retail, with no wholesale agreements in the works. Bombas had been in business for nine months and had brought in $450,000 in revenue. Mark was especially taken aback by the fact that all of the transactions had been completed online.
Their predicted sales statistics for the first year were $1.1 million, $2.7 million for the second, and upwards of $4.9 million for their third year in operation, according to David. Their average profit margin, which included shipping expenses and contributions, was 54 percent. While the company's development had slowed in recent months, David had raised $900,000 in venture financing to enhance the marketing side of the firm, valuing Bombas at $4 million.
Kevin pulled out because he thought the value was "ludicrous" without any market exposure.
While Robert was thrilled with their $400,000 in income, he was afraid that Bombas would not be able to sell socks alone, as socks are often offered as an accessory. David said that they had spent no money on client acquisition or promotion and that all of their sales had come from favorable word of mouth. The funds would be used to engage someone to handle the acquisition of new clients in order to dramatically raise base sales. Robert loved the socks but didn't like their response, so he left.
Lori also objected to the policy of engaging outsiders to find and sign new customers, believing that they should be the ones to find and sign clients rather than outsourcing it. She, too, had left, leaving Mark and Daymond alone.
Mark was concerned that Bombas had reached a plateau too quickly, that the markup should be greater, and that this would impede the company's capacity to grow profits over time, so he left as well.
Daymond was the Shark who had worked in the fashion sector. David increased his offer to $200,000 plus a 10% share in Bombas. The offer was offered just to Daymond, who informed them he was on the verge of leaving the Sharks and replied with the $200,000 for a 20% stake in the company.
At this time, Randy and David didn't have much leeway. Daymond informed them that he was still on the verge of dropping out, and he declined their offer to meet with their financial consultants. They had to make a choice on the spot, without the help of the person who had significantly overvalued the company in the first place.
After much deliberation, David and Randy decided to negotiate a deal with Daymond for $200,000 and 17.5 percent ownership in exchange for Daymond financing their inventory.
What Happened To Them? After Shark Tank, Bombas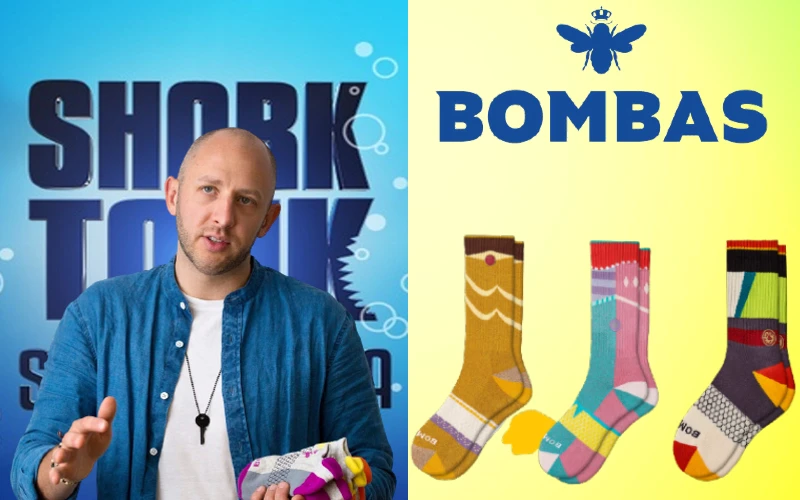 Daymond has said that his transaction with Bombas was one of his top three investments in Shark Tank history. He has worked with Randy and David to improve their brand and raise awareness via high-profile engagements, such as a visit to the Today Show, which resulted in a substantial rise in sales and $1.1 million in predicted annual income.
With zero negative internet reviews and a seemingly endless stream of positive remarks about the business and the goods, their emphasis on customer care has paid off.
The material in this article is offered only for educational purposes; Royal Pitch is not linked with Bombas, Shark Tank, or any of its subsidiaries.
Visit the rest of the site for more articles.