In 1999, Sharla McBride was working as a court reporter when she first tried kettle corn. She fell in love with the salty-sweet dessert while camping with pals. She quickly purchased a popcorn machine and began producing her own quantities of the delectable snack. Sharla began selling her handmade kettle corn on weekends, and in 2000, she signed her first contract with Ovations Food Service as "The Kettle Corn Hut." The company was a success, but Sharla had no clue what kind of success was in store for her.
Sharla didn't know she had found her true passion until 2005 when she established her first kettle corn shop in Downtown Disneyland, where thousands of tourists loved her kettle corn every day. She left her job as a court reporter the next year to focus solely on selling kettle corn and established a second shop in Disneyland. Planet Popcorn was created, and that was just the start.
Planet Popcorn earned contracts with country fairs in Orange County, Los Angeles County, Fresno County, Alameda County, and the Del Mar Fair after receiving rave reviews.
More events quickly followed, spreading the word about Sharla's incredible popcorn all across California, Arizona, and Nevada. Sharla had transformed a tiny weekend business into a multi-million-dollar popcorn corporation ten years into her business endeavor. Planet Popcorn had installed a third Disneyland booth, and she'd extended her product range to include gourmet funnel cakes and crepes.
In 2013, Levy Restaurants and Planet Popcorn teamed together to offer their delectable treats at the Las Vegas Speedway. Planet Popcorn landed contracts with the Oakland Athletics and Oakland Raiders a year later. Planet Popcorn seemed to be unpoppable for a brief time.
But appearances aren't always deceiving. Despite Planet Popcorn's ascent to prominence and association with well-known brands, the company was losing hundreds of thousands of dollars each year owing to poor mismanagement. To keep Planet Popcorn afloat, Sharla was obliged to approach her mother for a second mortgage. Could Marcus Lamonis, entrepreneur and presenter of The Profit, assist in saving and reviving this company?
Continue reading to find out
Episode 3 of Season 1 of The Profit
When Marcus arrived in Sharla's cart, the first thing he noticed was how delicious her popcorn was. The second thing he observed was that Planet Popcorn was a cash-only establishment, with no credit or debit cards accepted. A cash-only business exposes itself to the risk of theft and money disappearing. There was no safe, no security cameras, and Sharla was seen on video stuffing money into a bag. Marcus saw cash all over the place as he entered the back offices, remarking that he could have easily walked away with $20,000 in cash without Sharla knowing.
While there was no money in the kitchen, it was a disorganized disaster with many bags of popcorn that had no means of being tracked or inventoried.
Marcus said that he would be ready to invest in Planet Popcorn provided Sharla agreed to put in the necessary effort to grow the company. When Sharla told Marcus that she had expanded Planet Popcorn by adding items and expanding the number of outlets, he pointed out that producing money did not necessarily imply that the company was profitable. He advised her to focus on her current popcorn companies rather than expanding and branching out.
Marcus met with Sharla, her fiancé, Steve, and Sharla's mother to explain the adjustments he wanted to make for the company's benefit, which included:
Developing a website that can accept online orders
Getting a storefront at Disneyland, pointing out that the Disney side of the business was lucrative, while the concession side of the business paid nothing for a lot of effort.
Keeping a single emphasis on popcorn rather than diversifying onto other goods
Planet Popcorn's business methods have been severely tightened.
Sharla voiced her apprehension about abandoning the kiosk business model. Marcus believed it was her mother's limited perspective that was putting her in danger of losing everything.
The Profit presenter proposed a $200,000 contract in return for a 50% stake in the company, giving him financial authority over Planet Popcorn. He also said that for one week, he would be in charge of all company activities. Steve stormed out of the meeting because he thought the offer was absurd. Sharla remained, but informed Marcus she couldn't give up complete financial control of the company she founded and developed. He said that her business would collapse without the financial injection he was providing, claiming that Sharla lacked a thorough grasp of how material costs influenced pricing and revenue creation. Marcus also told Sharla that he had bought the domain names "planetpopcorn.com" and "popone," which she had forgotten to register.
Sharla's accountant, Casey, believed all Marcus said and agreed to join in a heartbeat, persuading Sharla to accept the arrangement.
When Marcus took over, one of the first things he did was clean up the office and install security cameras at all Planet Popcorn sites. He put in place a system to manage their inventory and a point-of-sale system to keep track of the goods – and, most crucially, the cash. Marcus hired a site designer and a packaging specialist to help them modernize their brand.
Sharla agreed to modernize the packaging process and come up with more imaginative product names, but she was adamant about not changing the logo's style. Marcus concurred. While Sharla didn't understand why they needed to switch from bags to tin containers, Marcus explained that they could charge more since the tin would be regarded as having greater value. Customers may also bring their empty tins back for a discount on refills.
Marcus hired a forensic accountant to go over the accounts after discovering Sharla had little interest in learning about the business side. Planet Popcorn had lost $400,000 more than the initial estimate, according to the accountant.
The last straw came when Marcus learned Sharla was attempting to purchase the domain name "popone.com" from beneath him. Marcus pulled out of the agreement because he could no longer trust her, even if it meant her mother would lose her home.
Planet Popcorn has a future after The Profit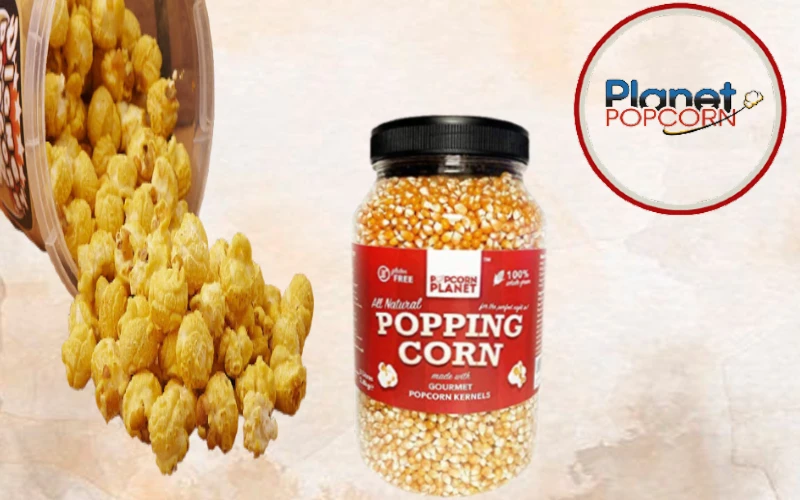 Sharla ultimately lost her Disney contract and had to rebuild her company from the ground up. However, all was not lost for the inhabitants of Planet Popcorn. Sharla was able to mend her strained connection with Marcus by investing $50,000 in Planet Popcorn in return for a 40% stake in the business.
The website for Planet Popcorn is up and running, with the latest updates mentioning the COVID-19 epidemic. Their Facebook profile has current updates from June 2020, however, their Instagram account had just 321 followers as of that month.
The company's facilities at LegoLand California and the Irvine Spectrum Center have both closed, and all sales are now conducted only via the company's website.
Planet Popcorn is still in business today, although the planet's future is unclear, as it seems to be lost in space. A tiny but dedicated fan base, hard effort, and a well-targeted marketing campaign may be enough to re-enter this once-towering popcorn planet's orbit around the sun.
Royal Pitch is not connected with Planet Popcorn, The Profit, or any of its subsidiaries, and the material given in this article is only for educational purposes.
Visit the rest of the site for more articles.