Grease Bags from The Basics Company
Tangela Newsome is the owner of this business.
Product: Compostable bags for removing oil from the kitchen
Price: $75,000 for a 25% ownership stake.
Final Offer: $75,000 for a 50% stake in the company.
Barbara Corcoran, the Shark Who Took The Bait (aka Barb Shark)
Before going on Shark Tank, get some grease bags.
Season/Episode: Episode 13 of Season 8
After hearing that Shark Tank was holding a casting call in her town, LaTangela Newsome, a feisty, sharp-dressed entrepreneur from Allen, Texas, auditioned on the spur of the moment. She hadn't sold any of her Grease Bags (compostable bags for disposing of kitchen grease) at the time of her audition, but she was confident and determined.
"I wasn't ready [for the show], but I figured if I didn't make it, I'd try again," she adds. "I stood for hours and hours and hours and hours, but it was all worth it."
She finally appeared on Shark Tank Season 8, Episode 13 to sell her revolutionary kitchen waste disposal device in the hopes of receiving a substantial investment from one of the sharks.
A Quick Recap of Grease Bags on Shark Tank
Newsome, dressed in a pristine white suit and shoes, enters the stage and introduces herself with her typical Texan charm. Her grin is huge, her accent is strong, and her hair is curly. She's in front of the sharks today asking for $75,000 in exchange for a 25% stake in her business, Grease Bags. She's a lady with numerous skills, the most notable of which is her ability to cook at home. What do you do with all that oil when it's time to clean up? Fats, oils, and grease are causing cities to waste hundreds of thousands of dollars on pipeline repairs. Grease blockages caused by individuals pouring their leftover cooking grease down the drain may cost homeowners a lot of money in repairs. Newsome believes that there must be a better way.
Newsome's product is a set of handy, disposable bags for properly disposing of cooking oil. Newsome points out that even the packaging is biodegradable. She shows how to use the product by pouring liquid oil from a frying pan into one of her grease bags. She claims, "I am currently the only one having an environmentally safe solution for at-home grease disposal." This is a bold assertion that attracts the sharks' attention.
Newsome gives out chicken wing samples along with her prototype bags so the Sharks may try the concept out for themselves. Barb Shark is curious as to what happened to the grease she put into the demonstration bag. She explains, "We have a mix of all-natural oil-absorbing substances."
She then shows how the components in the bag may absorb a lot of oil. She puts the unique mix into a tumbler of oil and water and watches as it absorbs the oil. She then puts the water into another glass, which is clear since the oil has been absorbed entirely by the mix. "Wow," Cuban exclaims. "Congratulations." The sharks are clearly pleased, as shown by their off-camera responses.
Calculating the Facts
Barb Shark is the first to inquire for financial information. She adds, "I need to know the price," and Newsome gladly obliges.
Retail pricing for a set of three bags is $12.99.
Production cost: $2.34 for 3 bags
82 per cent profit margin
So far, no sales have been made (the production/prototype phase is still ongoing).
Newsome is cautious to point out that she isn't certain what her total expenses will be after she begins selling the goods. As a result, she has attempted to raise the selling price enough to cover expected expenses.
The Auction
Lori is the first to withdraw, claiming that she has never fried anything in her life and has no understanding of the business. That is a valid point.
Barb Shark interjects with a crucial question: can she pour hot oil into the bag directly? "The bag isn't heat-tempered right now," she adds. Kevin replies, "That's a big issue." And it's correct. The fact that you have to wait for the oil to cool before putting it into the bag is a significant flaw that affects the product's marketability.
Mark Cuban inquires about the heat-tempering issue. Newsome tells him that it can, but that it will render the bag non-compostable if he does so. So there's an inherent tension and a tradeoff here: she could make the bag heat-tempered and grab the hot grease business, but she'd lose the eco-friendly marketing aspect and lose her environmentally concerned consumers in the process.
Mark Cuban is correct in pointing out that the eco-friendly, ecologically aware population isn't known for doing a lot of frying in the first place, thus her primary target market may not exist. As a result, Cuban is no longer in the running.
"For appearance, I give you an 8.62 out of ten," Kevin adds, "but I would never utilise your product." This doesn't help me since I fry bacon. "I'm leaving."
"I give you a ten for presentation; you did an excellent job," Robert remarks. "However, this is a difficult one." She attempts to sell him again, but Kevin tells her to wait a minute while he thinks about it. After a brief pause, Robert adds, "There's simply too much unknown with the product." "I'm leaving."
Newsome seems to be sad now that all of the sharks have been eliminated. "Is that everyone?" she inquires.
Barb Shark says, "I ran out so quickly earlier…pretend let's it didn't happen." Barb is the centre of attention as everyone's heads turn in surprise. Barb double-checks the figures with Newsome and then asks if there's any way she can reduce the retail price from $12.99 to $6.99, thereby halving the price (and her profit margin). Newsome believes that it's feasible since each bag costs just $0.78 cents to manufacture. "On that contingency, I'll give you the money if you reduce the price to $6.99 – but I want half the company," Barb adds. Barb Shark is seeking 50 per cent equity instead of Newsome's initial offer of 25 per cent. Newsome mulls it over for a few moments before accepting Barb's offer.
In the closing seconds of the piece, Newsome exclaims, "I can't believe it." She expresses her gratitude for the offer and the fact that Barbara believes in her via joyful tears. Newsome adds, "I believe she'll be an excellent partner."
Final Offer: $75,000 in exchange for a 50% stake in Grease Bags.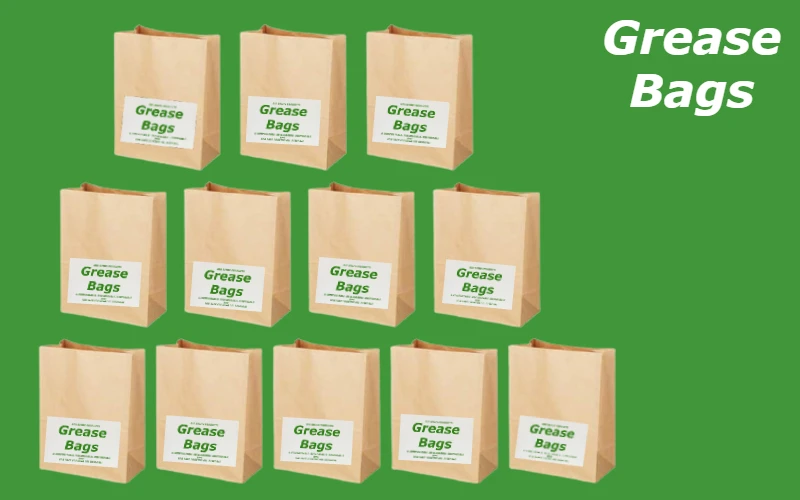 After Shark Tank, Grease Bags
Despite the fact that Newsome and Barb Shark reached an agreement on air, the transaction eventually fell through. Newsome's material costs were just too high to support the $6.99 price reduction. Newsome attempted to anticipate a surge in orders in anticipation of the well-known sales bump that all companies get after appearing on the programme. She had to pay for supplies out of her own pocket, and then she didn't have enough money to send her customers' preordered items on time. Some of those clients were understandably unhappy, and her customer service deteriorated as a result. But she soon recovered control and managed to keep the company viable.
The product is currently available for $8.99, which is a good compromise between her original retail price and the price recommended by Barb Shark.
Overall, Newsome is thankful for her time on the programme and the challenges that forced her to simplify her company. "I believe if I hadn't gone on Shark Tank, it would have been one of those situations where we wouldn't have pushed ourselves when things got tough."
Grease Bags may be ordered online, and the Grease Bags website is still operational.
Disclaimer: The material in this article is given only for educational purposes; Royal Pitch has no affiliation with Grease Bags, SharkTank, or any of its subsidiaries.
Visit the rest of the site for more articles.