Anthony Leggio and his fiancée, Kristen, relocated from Long Island, New York, to Surfside Beach, South Carolina, to establish a family. With a $200,000 loan from Anthony's father, the pair launched ASL Sign Sales & Service, a one-stop-shop for all types of signs that caters to a broad variety of companies and sectors. The shop's overhead was rather high. To get the firm off to a good start, he needed to invest in the newest industrial printing equipment as well as full-service vehicles.
ASL Sign Sales & Service had a profit of $45,000 in its second year of operation, selling $300,000 worth of merchandise. Anthony is a driven entrepreneur who believed he could accomplish so much more with his company. He had a reputation for being a bit of a hothead. Is Marcus Lemonis capable of calming Anthony down enough to strike a settlement that benefits both of them?
Profitable ASL Sign Sales & Service
Episode 16 Of Season 2 Of The Profit
Anthony gave Marcus a tour of the facilities when he arrived at ASL Sign Sales & Service. Josh was in charge of the shop's machinery as well as all of the design work. Josh informed Marcus that everyone likes to keep Anthony outdoors when Marcus inquired what he did in the day-to-day operations of the firm. Everyone felt that Anthony should be kept out of the sales process since he was too pushy and aggressive. Even Kristin acknowledged that Anthony could be obnoxious and boisterous at times.
Anthony had just recently started receiving payment, and Kristen, who was crucial to the operation, had yet to get paid. Anthony assured Kristen that she would not go hungry and that he would provide her with everything she needed.
Marcus met Anthony's father, Louis, after seeing the floor, the production area, and meeting the sales personnel. Anthony has never repaid the $200,000 loan used to launch the company. Marcus was taken aback and pondered what more he needed to know about the guy with whom he was considering doing business. Louis said that his kid pretended to know everything and refused to accept any criticism or recommendations.
Marcus didn't have to wait long to see Anthony's methods of dealing with difficulties firsthand. A client came into ASL Sign Sales & Service needing to renovate a sign for their company a mile away. Anthony took over Josh's chat and made his pitch, offering to include business cards as part of the purchase. Marcus asked Anthony how he might have improved his sales speech after the buyer had departed. Marcus informed Anthony that he could have given him more business cards, and Anthony retorted that he wasn't taking his business seriously enough.
Marcus sought to reassure Anthony by saying that he was just trying to learn as much as he could about how ASL Sign Sales & Service was operated and managed. Marcus went away after removing his sunglasses.
Examining The Financial Situation
Marcus was thrilled to see that ASL Sign Sales & Service's sales had risen year after year and that they presently had a positive cash flow, with $135,000 in receivables, The initial loan from Anthony's father, however, was not recorded, and Marcus discovered that Louis had been paying their rent on time each month.
During his separate conversation with Kristen, Marcus discovered that despite his financing and her hard work, neither she nor Louis had any stock in the company. Marcus sought to convey to Kristen how Anthony's attitude and behavior may jeopardize the company's profitability and any future deals he could make.
Marcus and Anthony got together at a nearby restaurant to see if they could come to an agreement. Marcus was perplexed as to why Anthony had phoned The Profit since the company was doing so well. Instead of working with local businesses, Anthony intended to grow ASL Sign Sales & Service to serve huge national corporations. Marcus believed he could conduct business with Anthony to have all of his sign requirements met, but he didn't have to be partners in service to do so.
Marcus prefers to work with individuals he believes he can rely on. He wasn't sure Anthony would agree to the types of improvements Marcus wanted to make to the procedure. He wasn't ready to write a check just yet, but he wasn't going anywhere. He'd keep working with Anthony to see where ASL Sign Sales & Service might go in the future. On this accord, the two shook hands.
Marcus began by working on the building's façade. He cleaned up the trash that had accumulated in front of the business. The interior of the shop was then straightened and organized by Marcus, Anthony, and Kristen.
Anthony, Josh, and Marcus visited Pirate Land, a client whom Anthony had met when Marcus initially entered the shop. Anthony stopped Josh many times while he discussed the project's design features with the client. Marcus eventually encouraged Anthony to just let Josh speak and make his case. Josh estimated that the task would take three weeks, but Anthony stepped in and said they could do it in one week. The client remained there, perplexed, and the meeting concluded without a sale.
Marcus had spoken with a few individuals about Anthony, and the majority of them believed he would not be a suitable business partner. He eventually chose to leave ASL Sign Sales & Service without making Anthony an investment offer.
After The Profit, ASL Sign Sales & Service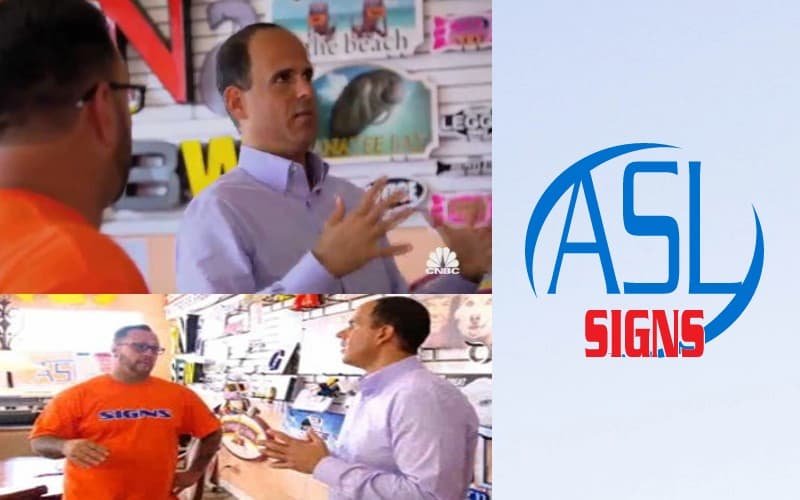 Despite the fact that Anthony and ASL Sign Sales & Service were unable to negotiate a contract with Marcus and The Profit, they had remarkable success and development. They have a strong social media presence, constantly updating their Facebook page with new signs they've created for some of the area's most well-known businesses, such as Sago House Furniture, BNC Bank, and Fairfield Marietta.
Anthony and Kristen look to be engaged to be married, and the crew stays the same. ASL Sign Sales & Service provides lighting choices and will soon include vehicle wraps to their product range, in addition to personalizing signs of all sorts.
Royal Pitch is not linked with ASL Sign Sales & Service, The Profit, or any of its subsidiaries, and the material presented in this article is only for educational purposes.
Visit the rest of the site for more articles.