Hugo Maisnik had always been a dreamer and an inventor, as far back as he could remember. When a shipment arrived at his father's printing shop with all of its contents destroyed save for one piece of plastic, he had the idea for his Amazing Tape. Hugo envisioned a high-strength tape with no adhesive from that piece of plastic, and Hugo's Amazing Tape was created. He went across the nation selling the non-adhesive, transparent tape at trade fairs, living rooms, and anywhere else he could.
Kathryn Saltsburg and Lauri Frasier, Hugo's children, have seen their parents devote all they had to make Hugo's Amazing Tape a success. Hugo died less than a year ago, and his daughters want to continue on their father's legacy. The two actresses believe in the idea and are looking to the Sharks for funding as well as much-needed business guidance and assistance. They're looking for a $50,000 investment in return for 50% ownership of the company.
Hugo's Amazing Shark Tank Tape
Season 9 Episode 23 of Shark Tank
Kathryn and Lauri go straight into the Shark Tank, demonstrating how amazing their invention is to the panel. Hugo's Amazing Tape is self-sticking and does not need any glue. The sisters pull and tug on the tape to demonstrate its strength and durability. They attempt to rip and shred the super-strong tape with bulging veins, grunting, and sweating…to no effect. Hugo's Amazing Tape is crumpled and a bit worn, but it isn't broken.
Hugo's Amazing Tape seems to have hundreds of applications. A handful of these are shown by the two enthusiastic entrepreneurs:
So your casserole doesn't spill in the vehicle, wrap up your potluck offerings.
Whether you put it in the freezer or microwave it, it stays firmly attached.
Wraps embroidery threads without leaving a residue or sticking.
This really amazing tape, according to the sisters, can be used for anything from wrapping plants to tying cables and extension cords. It's a year-round item with an almost limitless number of uses and applications.
Lauri agrees that the sisters put on one of the most interesting presentations she has ever seen as Kathryn gives out Hugo's Amazing Tape samples. The sisters tell the emotional tale of their father's modest beginnings and how the idea for the company never left him while the Sharks play with/test out the product.
The product's patent lapsed when their father died, but they're still selling it online, at trade fairs, and out of the trunks of their vehicles, according to Lauri.
The Sharks are dissatisfied with Hugo's Amazing Tape's packaging, which comes in three sizes and comes in rolls. According to the sisters, they buy meter rolls for $1.27 and sell them for $12.95. They claim that sales have totaled approximately $500,000 over the last two years, with $27,500 sold so far this year.
Robert muses aloud on why he couldn't just call the tape's creators and order them himself. The sisters aren't sure how to respond to it. Robert goes on to say that he could simply purchase the tape himself, bypassing them as intermediaries. Mark, on the other hand, believes they are receiving a terrible bargain from their Taiwanese suppliers.
Barb is curious as to what the two did for a career before starting Hugo's Amazing Tape. Kathryn is a hairdresser who also performs voiceover work, and Lauri is an actress and a mom. During her breaks, Kathryn was selling the tape to her hair salon customers and processing the orders.
While Kevin believes their performance was the greatest "good bad theatre" he's seen in a long time, he doesn't believe Hugo's Amazing Tape is a real company in which he should invest. He's the first to go.
Hugo's Amazing Tape was their father's legacy, which the sisters use to tug at the Sharks' heartstrings. They wanted the company to thrive in his honor, and they thought it was a wonderful product that was unlike anything else on the market at the time. Sure, their father's creation was a reusable tape that adhered to itself – but it was so much more. It was a celebration of their father's lifetime ambitions.
While Robert admires their efforts in memory of their father, he does not view it as a viable economic prospect. The expense of distribution and the loss of the patent is just too much for him; he, too, is out.
Meanwhile, Mark and Lauri have been having a private billionaire meeting in the corner. They enjoy the product and believe it does what it claims. Lauri put it to the test with water, and it worked well, leaving no residue. The two entrepreneurs feel the company has promise, but they do not believe the two sisters are capable of running it. Not in such a complicated and competitive market. Mark and Lauri want to completely buy them out. They offer $100,000 for the company in return for the assurance that Hugo's legacy would be well cared for.
The two sisters exchange glances. They reflect on their father's innovation and what it meant to him and his family. Wouldn't it be enough for Mark and Lauri to take Hugo's Amazing Tape and make it a success? It is, according to the sisters. They agree to the terms and get a tenth of a million dollars in cash.
Hugo's Amazing Tape Lives On: After Shark Tank, Hugo's Legacy Lives On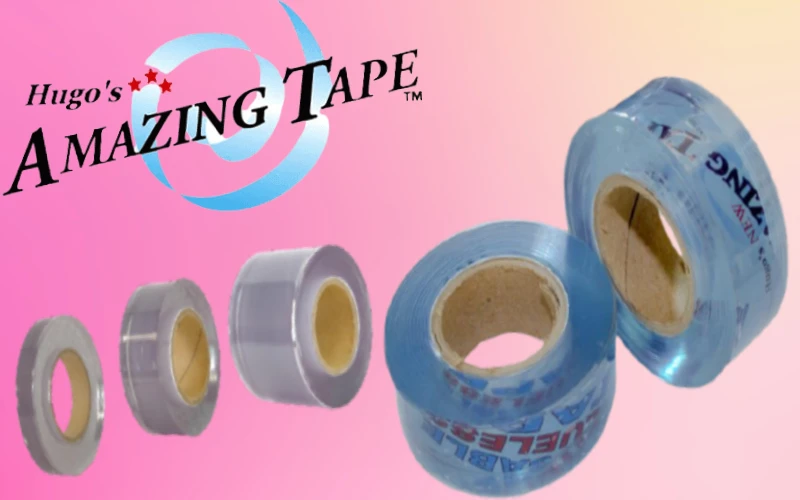 Hugo's Amazing Tape is available at Walmart and on Amazon, as well as in shops. It's likely that your local hobby store has it in a range of sizes and colors as well.
Mark and Lauri have left the company, having sold it as soon as they had recouped their investment. (After all, they are sharks.)
Hugo's Amazing Tape, in summary, was a success, and Hugo's legacy has endured. Hugo's Amazing Tape is a success, and he would be pleased that his children performed so well on national television. Hugo's background, the narrative of how he developed Hugo's Amazing Tape, and his travels across the nation trying to market it – back when Hugo's Amazing Tape was only a concept – are still chronicled on the website.
Royal Pitch is not connected with Hugo's Amazing Tape, Shark Tank, or any of its companies, and the information given in this article is only for educational purposes.
Visit the rest of the site for more articles.