Ice Age Meals is a paleo and zone diet-friendly meal delivery business. Meat, vegetables, nuts, seeds, fruit, carbohydrate, and no sugar are all part of these diets. These aren't your typical frozen meals; Massey prepares and cooks them in tiny quantities, then flash freezes them and delivers them right to your home. Your body will want the over 22 meals devised by Nick Massey's imagination, and your palate will be delighted with every mouthful.
The Origins Of Ice Age Meals
Nick Massey, the founder, is here to dispel nutrition misconceptions and show us the reality about food. Ice Age Meals' 'Chief culinary ninja' founded the firm out of his enthusiasm and is working towards a good goal. He had studied culinary arts and had been cooking for more than 20 years. During his career, the chef worked in 25 different restaurants. In Aspen, Colorado, Massey got the chance to work as Lance Armstrong's personal chef. The roots of Ice Age Meals were sparked by the short years he worked with Armstrong. With the knowledge, he gathered as a result of his experiences working with Armstrong. To build PaleoNick.com, Massey was able to combine his interest in CrossFit, which was inspired by Armstrong himself, with the culinary arts. This, which debuted in the summer of 2012, inadvertently sowed the seeds that would later bloom into Ice Age Meals. Massey posted weekly video segments of paleo cuisine and had a series on CrossFit.com prior to the launch of the business in 2015, strengthening the convergence of his two hobbies. Massey started marketing the meals he liked preparing and eating in 2014. The positive reaction prompted him to devise a strategy for bringing ready-to-eat meals to the rest of the globe. In 2016, Ice Age Meals went on the market after establishing a packaging and distribution network and launching an official webshop.
Scuba Diving With Sharks
Season 8 Episode 2 Of Shark Tank
Nick paced nervously in front of the Shark Tank's entrance doors. He pumps through a few sets of pushups to release his tension since he has nowhere else to put it. When the moment comes to go through the double doors, do it with caution. He's bright-eyed and charismatic, with a broad grin across his face. Greeting the sharks with an incredible greeting and inspiring the same zeal in them. He introduces himself and offers a $1,000,000 investment in exchange for a 10% stake in his firm. The judges are taken aback and have a lot of questions. He starts by serenading the sharks with a song filled with brilliant rhyme that explains his aim, allusions to the paleo diet, and his to-your-door delivery system. By tank norms, this was an unorthodox pitch, but everyone appeared to appreciate it more than his assessment. Following that, he presented his best-selling butternut squash lasagna, to which all of the judges praised him for his fantastic recipe and outstanding cooking talents. Robert Herjavec, who had already been stirred by Nick's food, inquired about his overall sales, to which Nick replied with $1.5 million. The sharks were awestruck, to say the least. Mark Cuban inquired about his previous month's sales. Despite Massey's easygoing approach, Nick prompted with 130,000, laying the last nail in the coffin and showing Ice Age Meals was not a joke. Everyone now wants to know more about the guy behind it all, especially now that the company's financial health is as solid as ice. When questioned whether a contract had been reached with CrossFit, a large organization that runs gyms throughout the world and conducts the annual CrossFit Games, he comes to a fork in the road when asked about his profession, education, and thrilling experiences. Nick's offer was inspired by this agreement, which led to his positive assessment of the firm. When the sharks detected blood, they headed straight for the kill. They fired three bullets in surprise that he would base his evaluation on a transaction about which he had no information. They tossed the agreement out the window because they couldn't understand why Nick valued the firm at ten million dollars. When asked the question, he only wanted the judges to believe in him, but with no data or real evidence, it seemed as though the sharks were closing in. To maintain the mood, all of the judges save Lori Greiner performed poetry on why they couldn't invest, despite their admiration for his lovely demeanor and delectable cuisine. Without tangible proof, no one was prepared to take the chance.
After Shark Tank, Ice Age Meals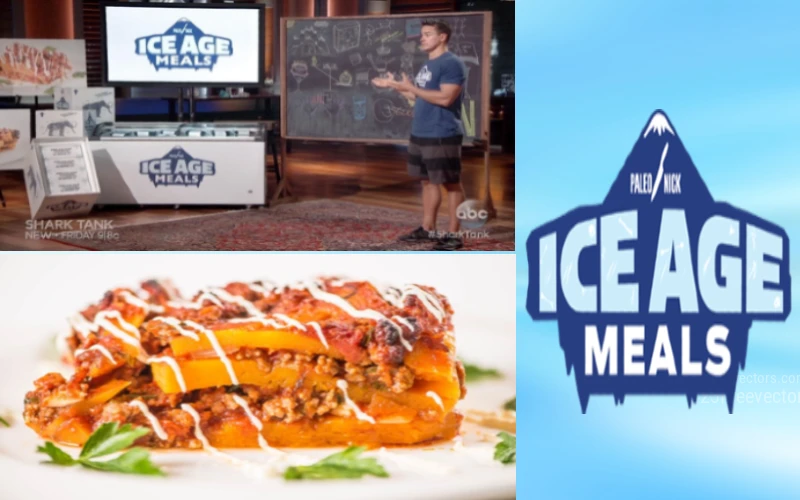 Despite the fact that Nick did not get a contract with the Sharks, he got so much more from the experience. Ice Age Meals has achieved enormous momentum as a result of the publicity obtained from being on a televised part of Shark Tank, selling over $1,000,000 in the 45 days after the show aired. Don't forget about CrossFit; they've worked out the kinks and are now partners. Paleo Nick currently maintains a kiosk at the yearly CrossFit games to promote his brand far and wide, upholding the CrossFit insignia. In an interview, Nick said that the product has remained the same since Shark Tank, as has the company's dedication to establishing a culture where being healthy is enjoyable. He also says that they've tripled their employees, which has resulted in a lot of adjustments. A freezer facility, new equipment, and office space were added to the company's activities. Ice Age Meals has benefited from Shark Tank's exposure. Ice Age Meals, according to the 'Chief culinary ninja,' is a billion-dollar corporation with a business plan inspired by Amy's Kitchen. Ice Age Meals isn't simply another meal delivery business, according to Massey. He's thinking about broader things, like the genuine effect that will be felt if Ice Age Meals becomes a household name. When you can go to your local grocery store and pick up a nutritious paleo dinner, just as you can with your other favorite foods.
The material in this article is given only for educational purposes; Royal Pitch is not linked with Ice Age Meals, Shark Tank, or any of its subsidiaries.
Visit the rest of the site for more articles.