From tees to rompers, there's something for everyone.
Rachel Nilsson, a Utah native, founded her first clothing business when she was only 19 years old. It was so popular that she couldn't keep up with manufacturing, even after employing a seamstress to assist her. Rachel eventually decided to leave the company.
Rachel chose to sell her children's old clothes online years later as a stay-at-home parent whose family needed financial assistance (her husband was in doctoral school). When she saw that the best-selling items were those she had created herself, she came up with an idea: a baby and toddler romper that could be taken off from the neck down instead of having to deal with snaps and a wriggling kid. She fashioned a prototype out of one of her husband's old t-shirts and discovered that the neck's elastic and suppleness made it simple to remove for diaper changes.
She went to work for a manufacturing company in Los Angeles since she didn't want to do the sewing anymore. She made $792,000 in sales in a little over a year, mainly via the internet. She needed funds to assist finance her inventory expenses since she had been doing so well. Rachel launched her business on the 19th episode of Shark Tank's 7th season, with promising sales and a great product in hand.
Her proposal was for $200,000 in exchange for a 10% share in her business, Rags to Raches.
 Rachel Astounds the Sharks
Shark Tank Season 7 Episode 19
Rachel recognizes that her business is doing well and that she wants to see it expand even more, but she's having difficulty choosing whether or not to enter the retail market since she's worried that rivals would copy her idea. She's killing it online with a strategy that involves introducing limited-edition designs and marketing them to her Instagram followers. With rompers ranging in price from $37 to $49 and an average manufacturing cost of $7 to $10, she has a good profit of $280,000. She informs the Sharks that she needs funds to cover inventory expenses.
Rachel continues changing her mind about whether or not she wants to go into wholesaling with stores, despite Rags to Raches' tremendous online success. Mark doesn't like how indecisive she is, so he withdraws. Rachel seems to recognize the potential for profit by expanding into retail, but she is (understandably) concerned about knockoffs. While she has a strong brand, she is vulnerable to rivals attempting to replicate her idea at a much lower price range, about $19.99 per piece.
Daymond makes Rachel an offer that would enable her to earn money by licensing her clothes, but it would require her to create a sub-brand for stores while still selling her current line online. Daymond's offer is $200,000 for a 20% stake in the company. Lori acknowledges that she would have made the same offer as Daymond, but she believes that Daymond is better at it. She's no longer with us.
Then Kevin and Robert make similar proposals so Rachel doesn't have to plagiarise her own brand. Kevin wants to sell Rachel's goods on his Something Wonderful website, which specializes in wedding and engagement products but also caters to families with children, so he sees a market for her there. Robert owns the Tipsy Elves site and would want to sell her goods there. Rachel is aware of Tipsy Elves and claims to be a fan. She asks Robert whether he would be willing to take a 15% share rather than a 20% stake. Rachel and Robert reach an agreement at 15% after some deliberation and bargaining.
Rachel's decision to accept Robert's offer is puzzling, given that Tipsy Elves – mainly a Christmas clothing business – has just $15 million in yearly sales compared to Something Wonderful's half-billion. It's possible that he was prepared to negotiate a 5% reduction in his share.
Today's Rags to Raches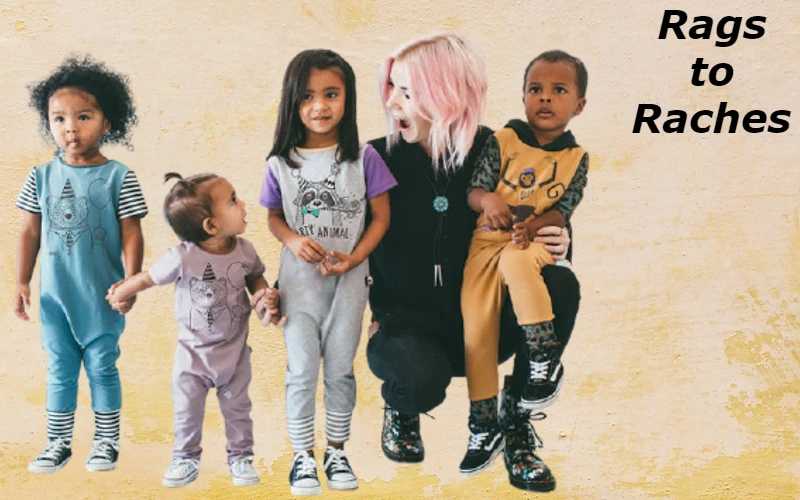 Rags to Raches' sales quadrupled in less than a month following her debut on Shark Tank in February 2016. They needed to employ a fulfillment firm since they had so many orders, and over 100 shops wanted to sell the rompers.
Surprisingly, the agreement with Robert did not go through. In the end, none of the partners seemed to be offering her the best bargain. Instead, she's grown her company solely via word-of-mouth and her wildly popular Instagram account, which has over 271,000 followers. (It also helps that her story has been picked up by major media including Forbes, Vogue, People, Us Weekly, and The Huffington Post.)
The Rags collection has expanded to include shirts, dresses, and accessories, as well as adult-oriented items on the internet. Rags were able to move away from an online-only strategy and bring her goods into different retail locations thanks to a $1.5 million investment from a venture capital firm in December 2018. Nilsson will be able to move closer to her objective of extending Rags into the national marketplace in the near future, particularly now that Nordstrom carries the brand and she has a contract with Disney.
Rachel has stayed true to her strategy of offering limited numbers of goods that are only available on the internet. Because followers must pay attention to know when to purchase Rags' unique products, this approach has resulted in greater Instagram engagement. Rachel's participation in Shark Tank helped to increase her visibility, but her skillful use of Instagram as a sales platform has helped to increase client loyalty. Followers view the Rags creator as genuine, enthusiastic, and inspirational, and their interactions with her goods confirm that she sells high-quality, stylish things.
There's also the obvious draw of a narrative that might happen to Rachel's millions of Instagram followers. She's a mother, just like them, but she's also enjoying a version of the American ideal that's becoming more uncommon. She began with nothing and has since ascended to the pinnacle of success. She got there by relying only on her own abilities, inventiveness, originality, and commitment to her goals.
Isn't it a true rags-to-riches story? Don't we all deserve to be that fortunate?
Royal Pitch is not connected with Rags to Raches, SharkTank, or any of its subsidiaries, and the material given in this article is only for educational purposes.
Visit the rest of the site for more articles.