Breast sweat is something that the vast majority of people will experience at some time in their life. Erin Robertson is all too familiar with the challenge. She was getting ready for a first date, and she was sweating profusely down her front due to the summer heat, a malfunctioning air conditioner, and simply being human.
Erin got her hands on a sewing machine and taught herself how to operate it using YouTube tutorials after attempting the standard cures — washcloths, baby powder, t-shirts, and the like. Is it her creation? The Ta-Ta Towel is a towel that is shaped like a lot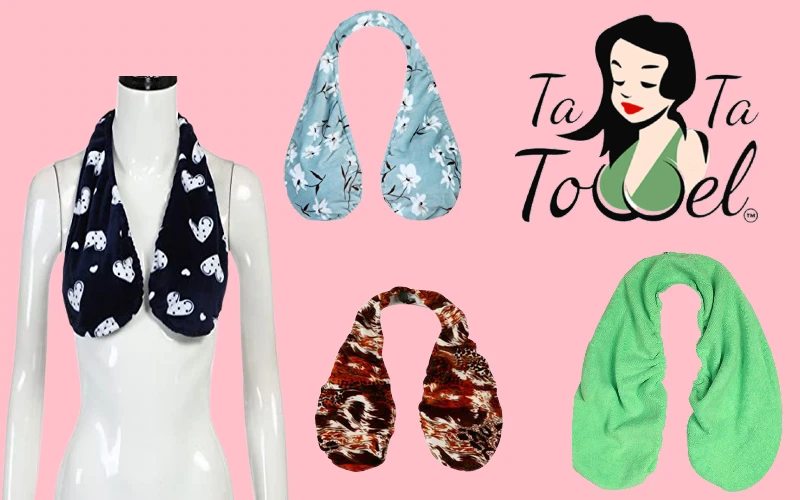 The Ta-Ta Towel is a dual-sided cloth that is soft and comfy. The Ta-Ta Towel has an absorbent, elastic terry fabric on one side. A softer material consisting of jersey cotton, bamboo, or modal is used on the opposite side. The garment has an elastic band that keeps everything in place by cinching beneath the breasts and behind the neck.
Erin discovered that the Ta-Ta Towel was much more than just a way to keep breast perspiration at bay after giving out prototypes to pals. The Ta-Ta Towel has become a pleasant solution for the various difficulties that women endure, from avoiding rashes to keeping breasts clean and dry at the gym to being used as an inner-bra liner for nursing mothers.
Shark Tank's Ta-Ta Towel
Season 10 Episode 2 Of Shark Tank
Erin walks into the Shark Tank with models on stage wearing the towels. "Bob sweat," she said, describing the condition that so many well-endowed ladies suffer. She said her towels are so soft that they make your ladies feel like they're "on vacation in a hammock someplace." One of the models even knelt to show how everything was "kept in place."
The Sharks were blown away by Erin's stats. After becoming popular on social media, she sold $1.1 million worth of Ta-Ta towels in only the first year. Erin had gone from having no idea how to thread a needle to running a seven-figure company out of her homeroom. She informed the Sharks that she sells all of her items online and that all of her towels are created by women for women in environmentally friendly factories. She requested $200,000 in return for a 10% stake in her company.
Lori rushed in with an offer, seeking to work with Erin on a 50/50 basis. Erin, on the other hand, had to reject since she had already taken on a prior investor and only owned 90% of her firm. Lori's second offer was $200,000 in exchange for a 40% ownership in the business. Erin agrees.
After Shark Tank, A Ta-Ta Towel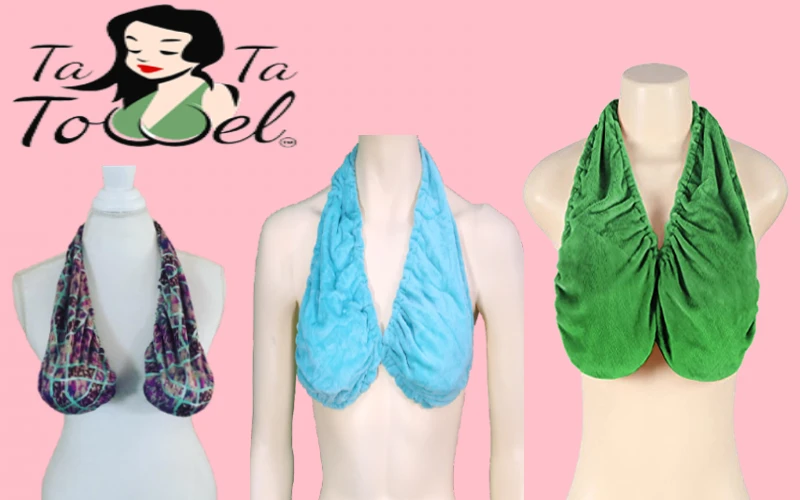 Erin claims that the show's visibility has helped her company. It's been described as a "second viral run," with purchases streaming in. Ta-Ta Towels are now available in a variety of designs, including festive themes during the holidays! For cup sizes C and higher, Ta-Ta Towels are available. Erin has extended her product range to include Testie towels for both men and women.
Ta-Ta Towels has 66K Facebook fans and 175K Instagram followers. Despite the fact that there are a few knockoffs available in other retailers, it seems that sales on the internet outnumber any other 'want tobe' Ta-Ta Towels."
The product has received amazing reviews on social media. Several YouTubers have even created films demonstrating that this is the product that ladies didn't realize they needed. It's been featured on GlamourZone, The Real Daytime, and YouTube channel As/Is, among other programs.
The Ta-Ta Towel is now on an upward trend and shows no indications of stopping down anytime soon.
Disclaimer: This post is for informative purposes only; Royal Pitch is not linked with Ta-Ta Towels, Shark Tank, or any of its subsidiaries.
Visit the rest of the site for more articles.