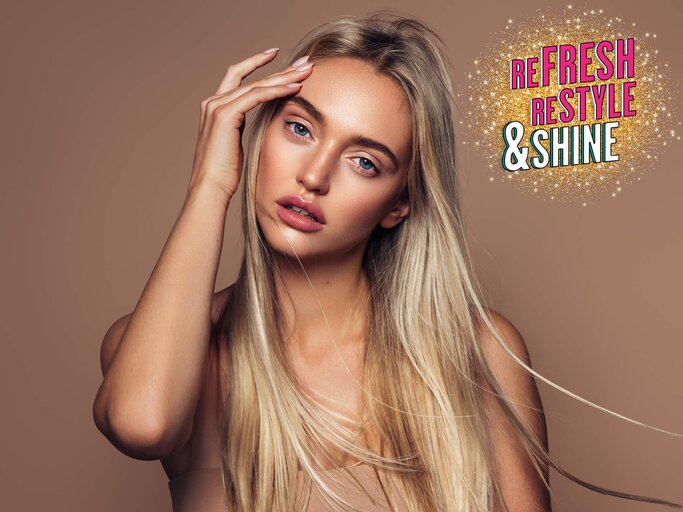 The right hairstyle and care makes thin hair look fuller.
Photo: gettyimages.de | CoffeeAndMilk
Are you dreaming of a wavy mane and more volume? We can help: These care and styling tips make fine, thin hair look fuller and strengthen fine hair!
Not all of us are lucky enough to be blessed with full, strong hair — in fact, more than a third of all women have fine hair. Officially, the diameter of 0.04 millimeters is the upper limit for hair that is described as fine. In normal hair, the diameter measures 0.05 – 0.07 millimeters and in thick hair it is even 0.08 millimeters. But don't worry, even with thin hair you can style dreamy hairstyles – the right care and the right haircut are particularly important to strengthen fine hair.
The hair structure tells you whether you have thin, normal or thick hair. Important indications are not only the diameter, but also the circumference of the braid and the drying time. If your braids measure less than 5 cm and your hair dries very quickly, you have thin hair. With a diameter of just 0.04 millimeters, you can hardly feel a fine hair between your fingers. Thin, fine hair is very sensitive – it is particularly damaged by external influences such as strong heat, UV light, chlorine or chemical treatments. In addition, due to its small diameter, it tends to break hair and split ends. But what annoys us the most: fine hair lies particularly close to the scalp and becomes greasy and stringy more quickly. Many women with thin hair therefore dream of more volume.
The fact is: Fine hair needs intensive hair care that is specially tailored to the structure. Since it gets greasy very quickly, regular hair washing is a must. However, you should also be careful not to overdo it with washing your hair, because if you wash your hair too often, the protective layer of the scalp is attacked. This then additionally stimulates sebum production and a vicious circle is created. Better to give your hair and scalp a breather between washes. Dry shampoo can be used to keep the hairstyle from becoming stringy. This contains fine powder particles that virtually absorb excess fat and thus matt the roots. At the same time, dry shampoo gives more grip and volume.
When washing your hair, the following applies: less is more, because too much weighs down the hair. Tip: A walnut-sized portion is sufficient.
For the perfect care of thin hair, experts recommend using two shampoos. A volume product for the roots and a moisturizing shampoo for the ends. The conditioner provides fine hair with moisture and prevents split ends and hair breakage. It is important here that you only distribute the conditioner into the lengths and tips, as the hair is only weighed down unnecessarily. Even when using a hair treatment, the product should only be applied to the lengths and tips.
Massage your head, because this increases blood flow to the scalp and supplies it with the nutrients from the care products. The hair gains vitality and grows healthier. Care products with ingredients such as wheat or provitamin B5 strengthen the hair and make it look fuller. Also make sure the shampoo and conditioner are silicone and sulfate free.
Never brush fine hair wet, as it breaks more easily in this condition. Better: Comb dry hair with a paddle brush. Hold each strand at the base so that there is as little tension as possible on the individual hair.
Women with fine hair usually have the same problem: their hair lacks strength and volume and is difficult to style. The following tips apply to thin hair:
Apply a small amount of volume mousse to towel-dried hair. This gives the hair more fullness. Dry shampoo and sea salt spray are practical styling aids and add extra volume to the hairstyle. First blow dry the hair upside down until it is almost dry. Then start with a paddle brush at the roots and use the hair dryer to pull against the direction of growth towards the tips. Important: Finally, blow-dry with cold air so that the hair cools down.
Never spray hairspray from above but from below, otherwise it weighs down the hair. Or: Spray the hairspray directly onto the brush! Since thin hair often becomes electrostatically charged, it is advisable to buy an antistatic brush. It helps prevent hair flyaways. Move the parting to a different spot at regular intervals—just moving it an inch or two is enough. This prevents the approach from lying flat.
Tie a high bun or a bun in a bun before you go to bed for more volume and light waves the next morning. Is your hair so thin that your scalp shows through? You can cheat optically with some eyeshadow. Choose the same tone as the hair color and lightly dust the hairline with it.
Although backcombing or a perm creates more volume, it unnecessarily damages the hair structure. You should also keep your fingers off the straightening iron, because the straighter the hair, the thinner it looks! In order for the hair to fall more boldly and voluminously, the tips should be trimmed every six weeks.
The right haircut is extremely important for fine hair. The general rule is: long hair quickly appears lacking in strength and volume, as the length makes it heavier. For this reason, it is better to avoid a long hairstyle. Better: A short to medium-length haircut, such as a pixie cut, a bob hairstyle or a trendy long bob. In addition, gentle layered and fringed cuts make fine hair look fuller. Be careful, the hairstyle must not be cut too layered, because if the lengths are thinned out too much, you get the exact opposite instead of the volume effect.
More volume with hair color and highlights? That's right, blonde highlights actually work like an optical illusion and conjure up more structure and volume. A real push-up effect can be created on women with brown hair using warm reflections. The "Balayage" and "Babylights" highlighting techniques involve a color play of highlights and shades, which creates more volume and makes the hair appear livelier. In addition, the hair structure is roughened by oxidative hair colors, which makes it easier to grip.
Visit Royal Pitch for more useful, amazing and informative articles!